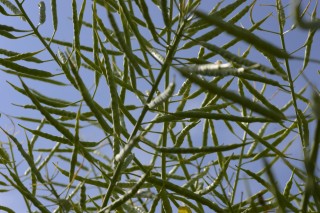 Oilseed rape remains one of the most profitable break crops and has a key role to play in the rotation. This is particularly true where there is a black-grass issue due to the ability to use non-resistant chemistry. However, increasing levels of erucic acid are proving problematic. Oilseed rape is an expensive crop to grow so any rejections due to erucic acid exceeding the contracted maximum levels is not a position you want to find yourself in.
The causes of erucic acid in oilseed rape samples remain unclear. Meanwhile, the number of incidents where contractual limits are exceeded could increase if the maximum permissible level of oil from oilseed rape is reduced to 2% from 5%.
However, there are key points within the crop's life cycle where planning and timely intervention can mitigate the risk:
Think about the quality of seed
As we approach harvest, now is a good time to be thinking about the standard of next year's crop. It is not thought that elevated levels of erucic acid are linked to specific varieties.
For farm saved seed you should look at getting the crop sampled and tested. This can be carried out using the gas chromatography method. Also known as 'wet chemistry' this process is considered to be far more robust than the so-called 'rapid test'.
All certified seed– supported by a new voluntary code of practice – is tested using the gas chromatography method to ensure that erucic acid levels are at (or close to) zero.
Avoid cross contamination
It is always important, but even more so at harvest, to ensure trailers are clean. This is especially crucial if you are relying on external hauliers or have any High Erucic Acid Rape (HEAR) varieties on the farm.
To identify any points of contamination, retain samples of seed. Keeping a minimum amount back from each load that leaves the farm (and ideally from each variety and field during harvest) can help to support any re-tests if required. Additionally, HEAR crops are an obvious source of erucic acid so recording their whereabouts on the farm – both previously and where it may be grown in the future – will help to reduce direct contamination and lower the risk of cross pollination.
Maintain good stubble hygiene post-harvest
Volunteer rapeseed can remain viable within the seed bed for 15-20 years so it's important to take necessary steps to prevent its contribution to erucic acid levels. Good stubble management following harvest is key. Studies have shown that fresh oilseed rape seeds have no primary dormancy, developing it over the first month after shedding. Water stress and darkness are two of the key drivers behind the initiation of secondary dormancy, so fresh seed buried into dry soil has the greatest potential to become dormant.
Clearfield technology certainly has a role to play too – particularly if there is any uncertainty around the historic locations of HEAR crops, as mentioned above. This is true also if there are problems with some of the weed species known to have elevated levels of erucic acid in their seed. For example, charlock, wild radish, wild mustard and hedge mustard can be quite problematic. While Clearfield is not a complete guarantee, its technology can significantly reduce the risk of contamination from volunteer and weed sources.
While industry research is ongoing to try and understand the exact cause and root of the problem, these steps will minimise the risk to your investment.
For more help with any of the above or if you have concerns, speak to your agronomist or contact Frontier direct.