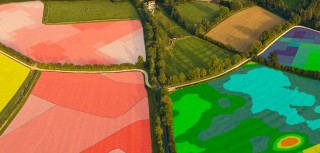 Between the showers, combines are rolling across the country with the purpose of gathering the result of a year's work. At the same time, many are gathering important information in the form of yield maps, but are you using your data to its full potential?

The more years of yield data you have, the more valuable that data is, but it's never too late to start. One year of yield mapping information can provide invaluable insight into farm business performance and it isn't just about confirming where the 'good bits' and 'bad bits' were. How did different crops or varieties perform? What were the differences between soil types or locations? The questions we can ask of our yield data are endless.
One of the biggest challenges around yield data has been the lack of a straightforward place to view and analyse it. MySOYL now provides growers with these functions. Regardless of your combine colour, we can import your data from one year or twenty.

After your data is imported, you can make a start in using it in combination with all your other precision crop layers such as nutrients, soil types, or previous yield data. This means you can start to ask questions of it. It is worth pointing out the obvious that yield = income!
An example
"I wonder what variation in yield there was across that wheat block?"
"How does that look with soil type?"

"OK, so this heavy soil type needs its pH keeping a careful eye on. Is it just this year or has this happened before?"

This simple example shows the level of detail and insight given by collecting and analysing yield data. To find out more about how to get the best from yours, speak to your local advisor or call 01635 204190.




​Tom Parker​
Head of products and technology
For specific advice for your business related to this blog or any other aspect of precision crop production get in touch with SOYL.