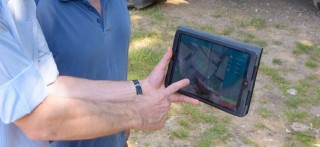 I spend a lot of time with farmers and agronomists talking about how they can be more efficient with their time. One of the ways they can achieve this is through capturing observations in the field, using digital tools such as the MyRecs app within MyFarm or the iSOYL Scout app.
Recording black-grass and locating the actual affected area using GPS, whilst also attaching a photo sounds like a useful tool to me. Recording observations is not just useful for noting weeds or disease though. I spent the day walking with an agronomist in North Yorkshire recently, where I discovered a new, and perhaps obvious, but very valuable use for recording observations...
The scenario was that the agronomist used his mobile phone to record particular weed issues of note in one of his farmer's fields; Barn Lane Field. He captured a picture at the same time and added a caption to describe the findings along with a GPS tag to mark the exact location in the field. As we continued walking, I noticed that the agronomist was still taking pictures covering a wider landscape of the field. When I asked exactly what the agronomist was recording, he replied "I'm capturing the general health and the growth stage of the crop. I'm also adding comments about weed control and what the next action should be. In this case, that is to revisit in 7-10 days. When the farmer and I look back at this information in weeks, months or even years to come, we will be able to see exactly what Barn Lane Field looked like and how the crop was progressing on the 12th of March 2019." This is a great way of making use of the digital tools we have available to us nowadays, I thought.

It then dawned on me as to exactly how useful this prior captured information is to the farmer of course, who is in frequent contact and communication with the agronomist. Recording observations like this, with the use of photographs, gives the agronomist and farmer a better base to form their discussions. The evidence captured can be used to make smarter and more efficient decisions. For example, the visual pictures of how the crop is progressing will enable the farmer to determine when the right time to go spraying is, rather than watching a neighbour or referring to a default calendar date.
The MyRecs app also provided a time saving when field walking because we used the field mapping/boundary functionality to navigate whilst on farm, in conjunction with the device's built in GPS. We used this to locate the exact fields we needed to visit that morning and plan a route. This saved us time in the field as the housekeeping had been done in advance by drawing the field boundaries. That's a job that doesn't need doing again.
I know what you're thinking - "I don't have time for that". Having seen the tools being used first-hand, I do not see this as more work, in fact, I know it was not more work. What it is, is a change of habit, that's all. My advice is to start small and start taking photos in the field. Your mobile device has the capability to take photos, and really impressive quality ones at that. Experiment how this works on one area of your farm to start with or maybe even just on a particular crop, such as wheat. You'll be amazed how simple, yet effective it is.
Here's to working more efficiently!