Week Ending 19th January 2018
Wheat
Support for UK feed prices
Domestic feed wheat prices remain supported particularly in the north of the country as poultry and pig units continue to take cover. Good demand in the first half of the season for feed and industry made a heavy dent in local northern supplies and as a result we're now seeing a consistent trade flow of wheat travelling further from south to north. The south of the country is still holding an exportable surplus that is far from competitive into current export market values. Now looks like a good time to take advantage of supported domestic prices.
Elsewhere stocks weigh heavy
Some European export-driven origins are struggling to sell old crop wheat above the cost of production due to the glut of cheaper stock from their competitors. Russia looks set to top the export charts this year, already half way through a record 35 million tonne campaign. They continue to find demand into the world's biggest importer, Egypt. This week they comfortably won a tender to ship 295,000t to North Africa in February and will continue pricing competitively in order to shift record stocks.
Slightly bearish USDA report
For a fifth consecutive year, world wheat production and ending stocks will reach record levels. This was confirmed by last Friday's USDA report which increased global wheat production to 757 million tonnes. This represents a 2 million tonne increase since last month's report and a 6.6 million tonne increase year on year, with huge crop gains in Russia the main contributor. Ending stocks were increased in the USA to almost 27 million tonnes due to an upturn for imports and reduced demand. In the EU, stocks increased to 12.6 million tonnes due to a smaller export programme which only fuels the bearish downturn in EU farm gate prices.

---
Barley
Old and new crop malting barley comes under pressure
This week has seen a decline in values of crop 17 and 18 malting varieties but for different reasons. A lack of brewers pricing malt has resulted in a prolonged absence of EU maltsters in the market for old crop and markets tend to drift lower where there is no support. As for crop 18, traders are reading reports of increased areas being devoted to spring barley production both at home (AHDB Early Bird Survey) and in the Baltic states (due to wet weather curtailing autumn sowing). This is forcing export offers lower into limited demand so each cargo trading is happening €1-2 lower than the last.
Feed barley markets remain firm
News of further feed barley tenders for Saudi Arabia and Iran have helped perked up values for EU barley. Values in France have risen on the back of this news. Meanwhile in the north of England spot demand into Cumbria and the North East for the animal feed compounder market (due to the current poor weather and last year's challenging silage harvest) keeps prices moving steadily up. Long holders of feed barley need to consider selling remaining stocks as and when these tenders come to the market.
---
Oilseed rape
EU votes to ban palm oil as biodiesel feedstock
Oilseed rape values have weakened further this week amid a bleak vegetable oil environment. Palm oil came under pressure as the European Parliament voted to ban palm oil as a feedstock for biodiesel production in the European Union from 2021 onwards. And they have also frozen all biodiesel inclusions to 2017 levels. While this is bearish in the short term it may add support in the longer term to rapeseed and soya oil which will see small increases in demand.
Dry weather persists in Argentinean soyabean growing areas
Weather conditions in Argentina continue to give some cause for concern as dry weather persists in the main soyabean growing areas. Latest estimates indicate a 52.0 million tonne crop in Argentina which would be a four-year low. Globally, world soyabean supplies are expected to increase leaving global stock levels at 92 million tonne which will allay any fears should Argentina have any production problems.

---
Pulses
Old crop feed bean prices in East Anglia have firmed up over the past 10 days as exporters look to take on further supplies to cover February sales. Whilst there is some ripple effect in terms of price there is very little demand in other areas in the UK and the continued rise in sterling looks like cooling any further demand.
Human consumption markets still remain very quiet and with sterling versus dollar rates touching $1.40 we are unlikely to see any interest from buyers in the short term. Longer term we may see some interest coming back to the UK as Baltic supplies dry up and the Australian crop, 40 pct less than last year, starts to rise in value as buyers chase reducing supplies.
---
Fertiliser
As we get to the end of January attention is once again focused on CF Fertilisers and what they will do with their nitrogen price. Imported volumes remain limited and whilst this will give further strength to CF's appetite to move prices on a slower than expected start to January prices may remain relatively flat until we get into peak usage period in Feb/March. Current offers remain good value against alternatives and our advice is to get product booked for delivery in next few weeks.
To help farmers cope with the increased volatility we see in today's fertiliser markets Frontier introduced Flexi N. This is a price risk management tool that enables farmers to commit tonnage which is then delivered half before harvest and half before December with payment in February. The price the farmer pays is based upon the average price for the period from the start of the campaign (June) to December. This year growers who used Flexi N paid just £189/t for Nitram which is a great result bearing in mind how quickly Nitram prices rose from September onwards. Flexi N will be available again next season with an expanded product range available. Please talk to your Frontier contact for more information.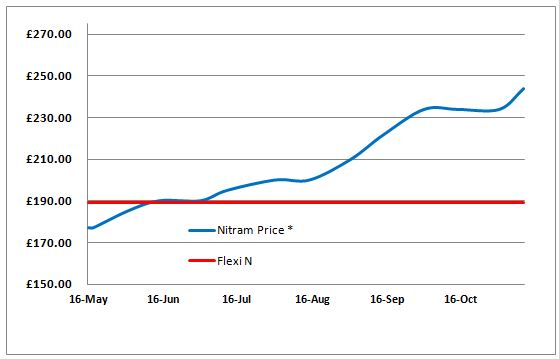 Phosphate and potash markets remain quiet and prices stable although blenders are still reporting they have available capacity which is providing opportunities for competitive offers depending on grades and locality. The feeling from the trade is that commitment from grassland farmers is behind a normal year and this may lead to some congestion at blenders during the spring. This is further reason to book early whilst blending capacity and haulage availability is not limited.
---
RESERVE A PLACE AT A 3D SEMINAR
Over the next few weeks there is plenty of opportunity to meet the grain trading and fertiliser teams at a Frontier '3DThinking' event. Check for your nearest here.
---
Feature article of the week
Exploring your options for cover crop desiccation
At this point in the New Year (and if you haven't already) it's time to plan how you're going to break down your cover crop. While it's true that frosts can do some of the work, most winters (including this one) won't kill cover crops outright. How yours is destroyed can be as important as what was actually grown to allow for the best entry into your spring crop.​
Where do I start?
There are a few things to think about before destroying your cover crop. Soil type is important to consider as well as the actual cover crop in the ground and the drill being used for the following cash crop.
Management is generally easier on light and medium soils where spraying and/or grazing cover crops in the coming weeks (with some degree of incorporation ahead of a spring crop) is suitable. On heavier soils, particularly where surface structures and drainage are poor, management can prove more difficult. Often desiccating a cover crop early enough to allow the soil surface to dry will prove beneficial. If your cover crops were part of your EFA they must have been retained until at least 15th January 2018. Biofumigant crops have specialised destruction requirements to follow too.
What are my options?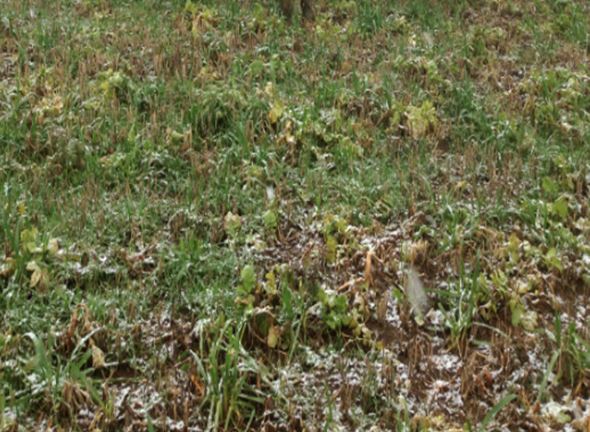 Frost
Autumn established covers can be killed off by frost action and followed with rolling.
Grazing
This provides a financial gain, reduces any residue to contend with and there's the bonus of some nutrients being made more plant-available. Livestock will graze between 50-80% of the crop but if you do opt for this method it should be approached with care. Doing it for too long on heavy soils can impact soil structure via surface capping. Grazing will not always lead to full destruction either – some plants will grow back so additional methods are likely needed.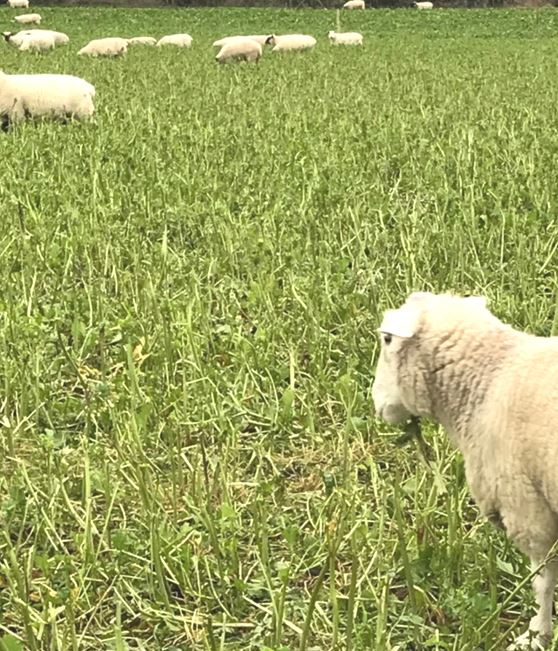 Non-chemical means
Flails or toppers can do similar work to livestock by chopping the cover crops into mulch. However, this leaves a mat of residue which stops the soil surface drying – particularly on heavy soils.
Machinery
The desiccation method needed depends on which of the below methods were used to incorporate the cover crops:
Ploughing in the cover crop into the soil;
Minimum tillage to incorporate the cover crop residue;
Direct drilling into the standing cover crop.
Before going ahead with any destruction you should consider weed pressure on the farm and which crop will follow.
Ploughing is an option but has drawbacks from a soil biology view. It creates a conventional seedbed and much of the work of a cover crop (capturing nutrients, stopping soil erosion etc.) have been achieved by the time the plough is put into the ground in spring. Depending on the cover crop size, canopy flailing may need to be considered before ploughing for ease.
Min-tillage (to create a seedbed in front of the drill) can be used too although this operation is probably influenced by cover crop residues. Flailing may need to be considered and/or much earlier destruction of the cover crop by chemical means to allow time for the residue to die down and become workable. Often 6-8 weeks is best for this, so early planning is required.
Direct drilling or 'drilling on the green' can be a preferred option as it reduces costs and increases soil benefits. Specialist drills may be required – disc drills are usually the most favourable. There is mixed opinion on whether you should flail/crimper roll or chemically destroy the crop long before drilling, or spray the cover crop days before drilling so it is effectively still green. On-farm experience and trials will be the best way to decide.
If black-grass control is a main driving force on the farm then little disturbance in the spring is key for reducing 'fresh' germination. A delayed drilling approach will allow a spring flush of black-grass.
Chemical desiccation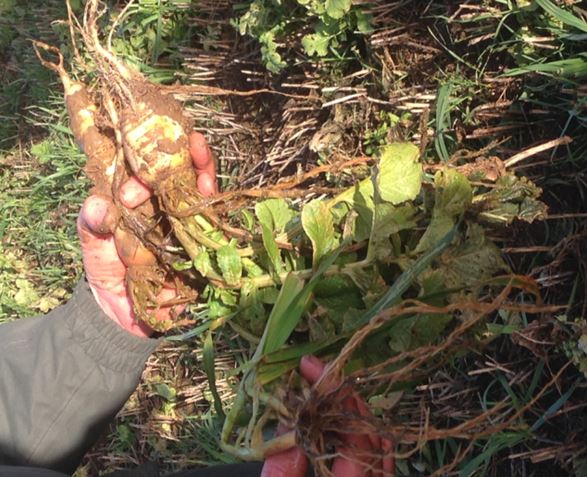 This tends to be easier for most farms. Having been re-registered, glyphosate is the obvious option in most situations either as a split dose or as one dose if the canopy/weed pressure is okay. If significant crop die-down is required early application is best as glyphosate takes longer to work in the cooler winter/early spring months. Earlier applications aimed at 'opening up' the crop may benefit from the addition of 2,4-D (as in Kyleo) or carfentrazone (Shark) as these work faster – on brassica species in particular. They can also help glyphosate with other weed species such as cranesbill, nettles and willowherb.
You should always consider restrictions related to the following crop – these can vary depending on the type and how it will be planted. Two hits of chemical would be a wise choice to ensure any black-grass is controlled before planting another crop, but please ask your advisor for help with your own circumstances. Particular attention should be given to cover crop destruction in front of sugar beet, spring beans and peas because the herbicides may not cover wide weed spectrums.
For expert guidance on applications pre-cereals and pre-sugar beet/pulses speak to your local Frontier agronomist.
Spring drilling
Cover crops will naturally loosen soil and create tilth with vertical soil structure. There's usually no need to destroy this with cultivation or ploughing. You may choose to direct drill or minimally cultivate to establish the following spring crop; however this may be a challenge on heavier soils.
Rob Nightingale, agronomist
This blog post first appeared on 19th January on the Frontier website.