3D Thinker blog
Welcome to 3D Thinker blog, where Frontier's experts share regular views and updates on topical crop production matters, the latest industry news, events and trials progress and results.
To read new content as soon as it's posted, sign up for email notifications here and follow us on Twitter.
---
7th December 2017
---
Gearing up for Christmas - Swaffham, Norfolk
December marks the start of the festive period and as the song goes, "It's the most wonderful time of the year." However, for a young aspiring agronomist December is not all about winding down, but gearing up! The winter months give an ideal opportunity for meetings, discussion groups, farm planning, cropping reports, assessing harvest results and performance and training courses.
A morning can be very well spent going through next season's nutrient and manure management plans or going over the new, ever changing and more detailed, Red Tractor standards. Nutrient management plans must be completed before fertiliser is applied and manure management plans must be in place before the 31st April, so a start made in early December ensures compliance for the spring.
I am currently touring the east to collect data for farms that have employed the Frontier MyCompliance team to complete their compliance plans. Each meeting takes about an hour of the famer's time and 4 weeks later a comprehensive up-to-date plan arrives in the post.
There's nothing like planning ahead
We recently ran a farmer meeting to discuss the 2019/2020 beet crop – a little early I hear you cry, but I think this is the perfect time to start thinking about this valuable break crop. Field selections, planned lifting times, soil sampling, cover cropping, storage, previous crop and following crop are all important decisions to be made – not to mention variety selection. It is also important to have the discussion about the possible loss of Poncho Beta and Cruiser Force (neonicotinoid) seed dressings and what implications this might have on beet growing going forward.
The winter months also give us, as a team, time to meet up and discuss strategy for the spring, talk about what worked well and not so well during the autumn, complete some IT training (a quick lesson for some...) and to discuss the recently deciphered trials results from the summer. Yield results are important but it is often the more detailed analysis that gives the most value – buying yield is not always the most profitable! These meetings are detailed, intensive and require a fair bit of note taking, but a good lunch and plenty of coffee sees us all through and it is great to catch up with colleagues in anticipation of our Christmas party!
No hibernation here
As the temperatures drop, the winter drilled crops begin to slow, disease pressure falls away and weeds stop emerging so the requirement for crop walking drops. That said, it is still prudent to check anyway as you just never know.
The lack of daylight and upsurge in training means that December can often be a hectic, busy month. So, spare a thought for your agronomist this Christmas period, stuck out in the cold and sleet and snow. Next time he/she pops round to go through a plan or go over some results, give them a hot chocolate (and don't be afraid to add some marshmallows).
Matthew Hardy, Agronomist Swaffham Office, Norfolk
2nd June 2017
The plots here at Ledbury 3D Thinking site are looking fantastic as the different varieties start to show their true colours, both visually and agronomically. With the wheat, barley and oats all starting to finish ear emergence it won't be long until we hear the distant hum of combines.
Conditions at the site have been similar to those recorded across the country, with the long periods of sunshine being broken by occasional light rainfall. The showers we've seen at Ledbury demonstrate how localised the rainfall has been lately; the site has seen only 35mm of rain since April, whereas Madley, which is also in Herefordshire, has seen 92.8mm in the same time period. This difference in conditions may prove interesting when harvest finally arrives and shows how the varieties have coped with the climactic stress.
In preparation for our 3D Thinking open days at the site on 27th and 28th June, testing of the different varietal properties continues. Pictured below is a nitrogen tester from Yara which determines the level of chlorophyll in the leaves and can consequently be used to finalise nitrogen recommendations for the season. It's a valuable tool which can be used on farm to sample and fine-tune the fertiliser strategy and provides an interesting insight into the varietal response to the same dosing at the trial site.
If you are interested in attending the open days and seeing the trial site and N-tester first hand, please talk to your local Frontier advisor, email This email address is being protected from spambots. You need JavaScript enabled to view it. or book a place online here.
Emma Adams, trainee agronomist, western blogging team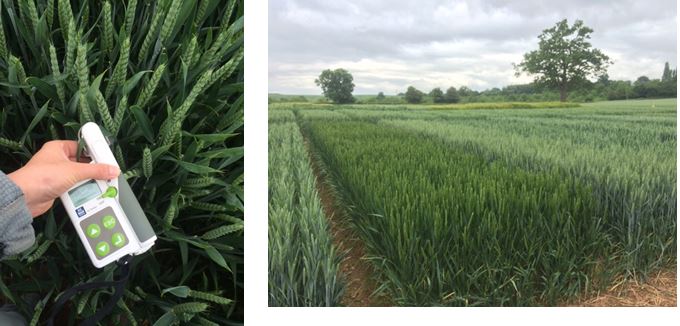 17th May 2017
Fungicide trials show clear differences
The first visual signs of differences between fungicide trial plots is beginning to show at our 3D Thinking site in Ledbury.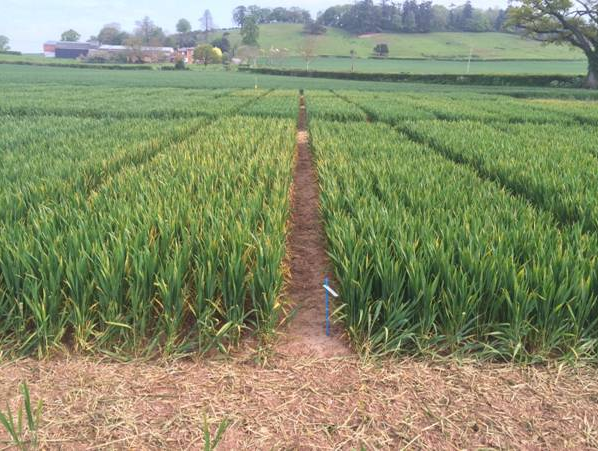 Pictured is a fungicide trial on Reflection winter wheat. We can see and compare the untreated plot (front left) with treated plot (front right). There is a clear colour difference across plots, with the untreated plots being starkly yellow in appearance due to high levels of yellow rust and underlying Septoria infection. Meanwhile, treated crops have maintained a higher green leaf area percentage.
Closer assessment of the crop reveals a clear difference in green leaf area between the two treatments. This difference should translate into increased yield when the combine enters the field this harvest!
I hope that lots of local growers will come and see our trials at the site this summer. We are having two open days and I'll be there along with the rest of Frontier's western team. Join us and you can compare the plots for yourself!
Visit our events page and search 'Ledbury' to see what we have planned an book a place.
Emma Adams, trainee agronomist, western blogging team
25th April 2017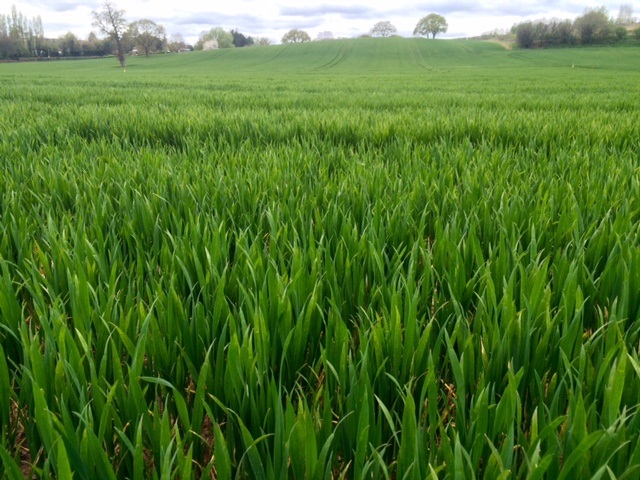 Almost 50 winter wheat varieties are grown at Ledbury 3D Thinking site. Everything is looking well at the moment thanks to the kind weather, with low levels of disease. T0 sprays were applied earlier this month so the crops will have had their first lot of growth regulation and fungicide treatment to protect the leaf 4 of the wheat plants.
Many of these plots are milling varieties. Bread remains one of the UK's favourite foods, with nearly 12 million loaves sold each day requiring milling of just over 6'600mt of Group 1 wheat. Although the traditional farmhouse loaf is still a firm favourite, its UK demand has declined over recent years and millers have seen this demand replaced by other forms of bread, such as sandwich thins, bagels and brioche.
This growing shift in product demand means millers now seek different qualities in wheat and require varieties to be more versatile, with the ability to perform consistently across a range of applications. Millers state their interest on named varieties after they have done their own extensive trials. This means that they partly rely on a variety's genetic profile to deliver the attributes needed.
One of the highlighted varieties this year is KWS Zyatt. A newcomer to the AHDB Group 1 Recommended List, it's generating a lot of interest for its potential on yield, specific weight and hagberg scoring. It has some unique adaptable qualities for the millers which extend its appeal across most bread making categories.
Agronomically, KWS Zyatt is a high yielding variety for the east and west regions. It's relatively early to ripen compared with its equivalents, works well as a second wheat and prefers heavier soils, which would suit many situations within the Three Counties. A good overall disease package makes this variety a sound bet, particularly as an upgrade from an older milling variety or an alternative to Skyfall, without the sprouting risk. It's important to note that KWS Zyatt's protein content, however, is not the highest in its category and because of its high yielding attribute, nitrogen applications may have to be adjusted to achieve full protein specification.
Milling premiums have unfortunately not been a marketing highlight for this season, so many will be questioning whether to continue with them. At moments, feed actually traded above milling within the Three Counties due to the role reversal in supply versus demand. Looking back at the last five years though, the average full spec milling premium has been approximately £22.00/mt, ranging from £11 - £41.50/mt (based on Oct - Dec pool Group 1 premiums).
When selecting a Group 1 seed, it's essential that the end market intention is set from the start. For the milling growers, the most important and ideal combination to safeguard against a low premium season is the selection of a high yielding variety coupled with high protein contents. To achieve this, close attention must be paid to the nitrogen plan and method with foliar applications, which has now become imperative to securing a desired protein level to avoid fallback claims.
It's not easy making decisions on an unknown like milling premiums, especially when the last eight months have been disappointing. Focusing on the factors that can be influenced will be crucial in increasing overall margins. To quote the Spanish writer, de Cervantes, "all sorrows are less with bread", and it will help demand too!
To observe and compare all existing and new wheat varieties, speak to your local Frontier contact to arrange a visit to Ledbury 3D Thinking site or join us for our 3D Thinking open days on 27th and 28th June.
Victoria Godsall, farm trader, western blogging team
27th March 2017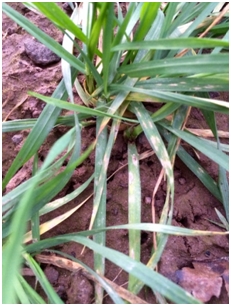 We're preparing for T0 fungicide applications at Ledbury 3D thinking site at the moment. The powdery mildew has continued to spread and has now reached higher than expected concentrations within the wheat crop, as shown in this photo of Reflection. It seems that there is a particularly high pressure for the disease this year, as it's been seen across the West Midlands in multiple varieties including Leeds, Santiago and JB Diego. This has influenced our decision making for the fungicide programme, as we have made sure that mildewicide chemistry has been included with protectant and curative activity to reduce the damage from the disease.
Emma Adams, trainee agronomist, Western blogging team
16th March 2017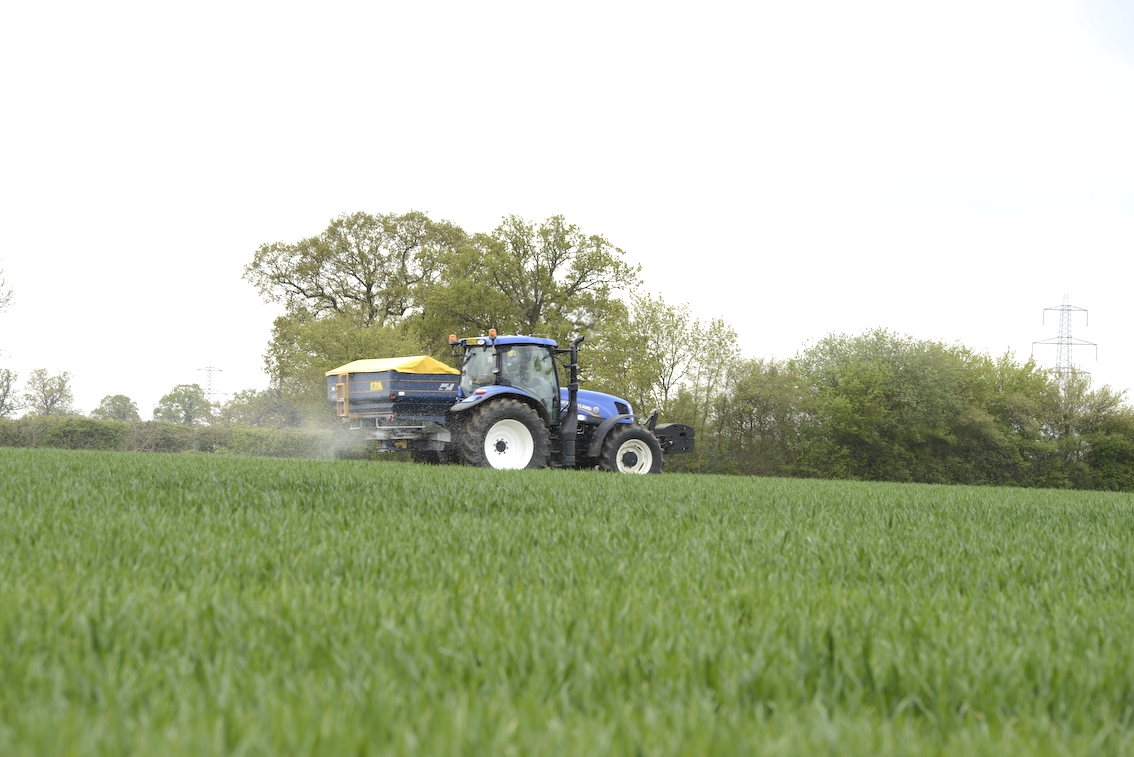 Soil temperatures at Ledbury trial site are up to 7.6oC, two degrees warmer than this time last year. With these warmer soils, crops are starting to race away.
We've had little opportunity in the west to get nitrogen fertiliser on the winter crops until this week. Local growers should take the chance where possible, though if field drains are still running and ground is travelling soft, it will be safer to hold off a little longer. Backward winter wheat, barley and oilseed rape should be prioritised, but don't starve the forward oilseed rape crops. Don't forget sulphur applications either - cereals and oilseed rape almost always require sulphur as there is now so little deposition from the atmosphere. This must come from alternative sources like ammonium sulphate fertiliser or organic manures.
Fergus Hawkins, agronomist, Western blogging team
9th March 2017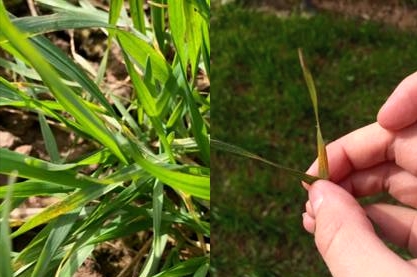 This week we held a team meeting for the western agronomists and grain traders at Ledbury 3D Thinking site. The trials are looking fantastic. Autumn herbicide programmes have been very effective, allowing crops to push on without competition now that the days are getting longer and temperatures are on the rise.
However, despite the ideal conditions at the site, disease is still starting to creep in. There was evidence of yellow rust in the Reflection variety plots. As a variety with a resistance rating of 3 for yellow rust, this one is always at risk of succumbing to the disease. Yellow rust has also been seen in the surrounding counties in Reflection and JB Diego, which has a higher resistance rating of 5. With all varieties, this highlights the importance of a well constructed fungicide programme in the spring to keep the crop green and growing to maximise yield.
Emma Adams, trainee agronomist, Western blogging team
6th March 2017
A new week and a new challenge: mildew. On a quick inspection of the trial site, we have started to find traces of powdery mildew, as seen here in Reflection winter wheat. It will now be a case of watching the weather over the next couple of weeks to decide whether the first fungicide sprays will continue to be preventative or need a change of chemistry to be curative. Watch this space for further updates on how the different varieties and crops are coping with this first arrival of disease.
Emma Adams, trainee agronomist, Western blogging team
24th February 2017
I visited Ledbury 3D Thinking site earlier this week to check progress in the trials. Consistent with recent visits, the site is looking very clean at the moment, perhaps more so than we'd expect at this time of year.
Early 2017 has been very dry in Ledbury compared to last year. January was the wettest month of 2016, with a huge 103.2mm of rainfall recorded at the site, whereas this year we saw only 28mm in the same month. February is also drier so far with only 25.2mm to date, less than half the 55.2mm of last February.
We also record average soil temperatures, measured at 10cm depth, and while the difference from January to February was 6.15oC in 2016 compared to 4.66oC in 2017, soils have been colder overall so far this year. As well as rainfall and soil and air temperatures, our weather stations (as shown in the photo) measure relative humidity, wind speed and direction and solar radiation.
Rain is forecast, so we'll have to wait and see how this year's weather conditions influence disease levels at the trial site and the varietal response we see in the crops.
With local growers experiencing similar conditions, it's business as usual for most at the moment, though as growth starts to kick on in the next couple of weeks, crop walking will increase which may highlight some challenges. Keep reading our blog for observations from the trials and how the team deals with any issues arising.
Emma Adams, trainee agronomist, Western blogging team
16th February 2017
At last it's warming up a little. Our Ledbury 3D Thinking site is now sitting at a more comfortable 10oC following last weekend's cool spell.
That warmth is welcome because although it seems like a while since we've experienced a hard winter, this year we have been treated to a few weeks of frosty weather.
Those frosts seem to have done little to slow down our wheat trials. Out walking the plots this week, many are looking rather lush for mid February.
KWS Siskin and Skyfall have tillered quite vigorously as shown right, and although slower burning varieties such as Graham and Revelation have not tillered out as much, they remain just as lush.
An average growth stage across all winter wheat varieties is GS23/24.
Keep checking in as an update on our winter barley and winter oat varieties will be online shortly.
Fergus Hawkins, agronomist, Western blogging team
14th February 2017
Over the last week, over 100 growers attended our local 3D Thinking meetings to hear the latest findings and advice from our Discovery, Development and Demonstration programmes. With breakfast events held in Herefordshire and Gloucestershire and an evening meeting in Worcestershire, there was a large attendance from across the West Midlands and Wales. The meetings gave an overview of current issues faced by growers in agronomy and the grain markets, with an additional fertiliser strategy overview kindly presented by CF Fertilisers.
A highlight of these events was the local and national 3D thinking trials results shared by David Robinson, head of innovation and knowledge transfer. At Ledbury trial site in 2016, the average winter wheat yield ranged from 8.17 to 10.61t/ha, with the highest overall yields from the varieties Sundance, Reflection and KWS Trinity. The varieties with the highest specific weights were Costello, Marlowe and KWS Silverstone, whilst Reflection, Marlow and RGT Knightsbridge demonstrated the largest response to fungicides, all increasing over 3t/ha in yield. These results reveal the importance of local trials in demonstrating varietal performance under the weather and soil conditions relevant to growers in the surrounding area. Keep reading our blog to see how this year's varieties perform.
For details of upcoming local events, check Frontier's event page regularly and follow Frontier on Twitter.
Lee Ward, agronomist, Western blogging team
2nd February 2017
A new year and a new trial site
Addressing the challenges facing local farmers through Discovery, Development and Demonstration is the aim of Frontier's new 3D thinking trial site at Robin Smith's The Vineyard Farm, Donnington Nr. Ledbury, Herefordshire.
The site was drilled on 6th October 2016 and includes variety trials of 51 winter wheat varieties, 21 winter barley varieties and 5 winter oat varieties, which will all be grown to standard protocols and monitored throughout the growing season before being taken to final yield for assessment. Additional winter wheat trials are focusing on fungicide programme efficacy and the impact of seed treatments on crop performance which will also be assessed and taken to final yield.
In the west we enjoyed good soil conditions and moisture following drilling, but an open autumn resulted in approximately 70mm less rainfall than in the same period in 2015, causing establishment concerns in some areas. Nevertheless, the trial plots have taken advantage of the warmer than usual conditions and have all grown well throughout autumn and into winter. After an initially frosty and cool start to 2017, soil temperatures remain just below 5oC and ground conditions are still wet.
Here at Ledbury 3D thinking site we look forward to the challenges of spring, discovering the traits of the varieties as they develop and demonstrating the results to local growers.
Jon Allard, regional agronomy manager, Western blogging team