MyTechnical Blog
Welcome to MyTechnical Blog, where Frontier's experts share regular views and updates on topical crop production matters and the latest industry news..
To receive an email notification each time new content is posted to this blog, please click here to subscribe. Your data will be used to create automated notifications to blog posts. Your data will not be used for any other purpose. You can unsubscribe at any time, simply by clicking the unsubscribe link on the blog notification email. You can also follow us on Twitter.
To skip to a previous entry, please use the dropdown menu below.
---
13th December 2017
---
Ease the record-keeping burden with an online crop records system
The annual task of compiling the previous 12 months worth of spray applications certainly doesn't evoke much excitement when on the to-do list. Even so, in order to satisfy the relevant assurance obligations such as Red Tractor, it is an essential task often requiring considerable amounts of both time and attention to detail.
The recording of spray application details still remains largely the preserve of pen and paper, either directly onto the recommendation sheet provided by an agronomist or into a notepad which sits in the sprayer precisely for this job. Either of these handwritten methods are effective, but necessitate the further task of ensuring that this information makes it back into the farm office in a legible form for safekeeping.
Subsequently, the last few years have seen an increasing number of UK farmers record these spray application details into an electronic crop records system such as Gatekeeper or Cropwalker FM. The re-recording of information into one of these systems undoubtedly improves the ease with which historic spray records can be subsequently found for an inspection, but also create more of a drain on time with all application information having to be entered twice.
With the demand on time that recording information in the cab as well as into a secondary electronic system creates, an increasing number of farmers are moving to an online system requiring the input of this information only once from within the sprayer cab.
MyFarm
The Frontier MyFarm website and associated MyRecs app have been developed to ease the burden of on-farm record keeping. The MyRecs app for iPad/iPhone allows spray recommendations to be completed from a mobile device directly from the sprayer cab. MyRecs will function either with or without an internet connection and will wait until an internet connection is achieved to transfer information both to and from the MyFarm website.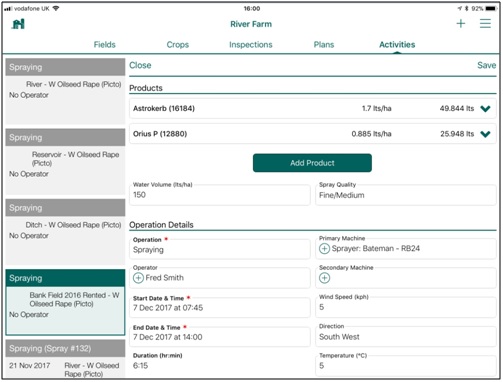 Completing the application of a recommendation via the MyRecs app for iPhone & iPad.
Application information inputted into the MyRecs app automatically saves back to the MyFarm website, removing any need to enter this data on more than one occasion. As an online system, multiple users are able to have access to MyFarm & MyRecs so the record-keeping workload can be shared. A sprayer operator is able to complete spray applications from their mobile device, with a farm manager also able to log in separately and see an overview of the spraying completed as well as that yet to be done.
The overarching benefit of a system like MyFarm and MyRecs is the very real timesaving that it offers through the automatic updating of your farm crop records. This means that as well as saving time throughout the season, it is also far easier to locate and ensure the accuracy of spray records for the farm when required for inspections such as Red Tractor. In addition to a field-by-field summary, MyFarm is able to provide a full application report depending on your requirement.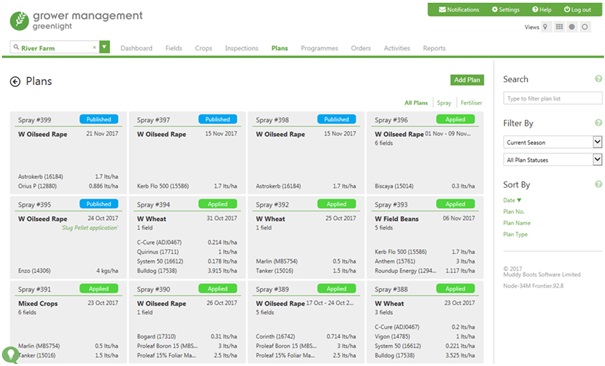 Spray plans completed in the field update the MyFarm website to show those yet to be applied.
The MyFarm crop records tool (including the MyRecs app) is free to Frontier agronomy customers, with free trials also available. For any more information on MyFarm, including the other tools it contains such as iTrac and MySOYL, please email This email address is being protected from spambots. You need JavaScript enabled to view it. or call us on 03330 141141.
Oliver Barker
Project co-ordinator

For specific advice for your business related to this blog or any other aspect of crop production get in touch with Frontier.
---
6th December 2017
---
First look at a 'new-look' RL List
This week saw the annual publication of the AHDB Recommended List. This year sees a new look to the list with a move back to a one-page wheat round up. This is likely to be welcomed by many of us as it's easier to view, especially if this carries through to the printed version.
Welcome new varieties
Although wheat varieties are down to one page there are still a weighty 41 to choose from. What's encouraging is that the five new wheat additions this year (Elicit, RGT Gravity Gleam, KWS Jackal and Elation) are varieties that appear to have strong yield scores. In the case of Elicit, it also offers stronger septoria resistance to the Group 3 sector.
New Group 4 hard wheat RGT Gravity now has the accolade of being the highest yielding variety as both a first and second wheat. Meanwhile, Gleam (also a Group 4 hard) has an excellent balance of very high yield and strong disease resistance for Orange Wheat Blossom Midge (OWBM).
KWS Jackal (a soft Group 4) now tops its Group and appears to have performed well in the north. Interestingly, RGT Gravity was released in small quantities last year due to exceptional performance in Frontier 3DThinking trials. Feedback on performance at establishment this season has also been very positive, even where it was drilled later.
Oilseed rape has seen the most significant change in how the Recommended List is structured with all regional varieties now on the same page. This makes it easier to compare those varieties which are recommended for one region with each other. The new OSR recommendations are mainly for the north, all of which are conventional open-pollinated varieties. There is one addition to the full UK list and that is a new Turnip Yellows Virus (TuYV) resistant variety, Architect. What is clear is that the trend for growing northern-suited varieties in the east and west of England may be compromising yield. There is 8% deficit between Barbados and high performers (such as Flamingo) when they are grown in the east and west.
Winter barley has remained relatively unchanged with no new 2-row feed additions. There are two potential new malting varieties, but until full approval is achieved there will be relatively minor interest. There are a few 6-row additions and these highlight the yield improvement that that hybrids have shown for the last few years.
The new candidate lists are now also available and give us an insight into varieties for the future. OSR tends to hit the market first with new varieties such as Ballad and DK Expansion likely to be available for drilling in 2018. These have looked very promising in 3DThinking trials so far.
We are looking forward to continuing following the progress of these new candidates this season. This simplified new layout is a very welcome tool to help us do that.
Chris Piggott
Regional Seed Manager, Central/South/Eastern regions

---
1st December 2017