MyTechnical Blog
Welcome to MyTechnical Blog, where Frontier's experts share regular views and updates on topical crop production matters and the latest industry news..
To receive an email notification each time new content is posted to this blog, please click here to subscribe. Your data will be used to create automated notifications to blog posts. Your data will not be used for any other purpose. You can unsubscribe at any time, simply by clicking the unsubscribe link on the blog notification email. You can also follow us on Twitter.
To skip to a previous entry, please use the dropdown menu below.
---
15th November 2017
---
Enhanced Metaldehyde Stewardship and Red Tractor
Since October 2017, adherence to the Enhanced Metaldehyde Stewardship has become a requirement of the Red Tractor scheme. The newly updated Combinable Crops and Sugar Beet and Fresh Produce standards will now be part of future crop audits and may have left you with several questions.
What does this mean for me?
It will impact most growers and requires Integrated Pest Management (IPM) of slugs to be practiced (and recorded) before applications of metaldehyde are made.
What does an IPM approach to slug control involve?
It is a step process that includes identifying the potential risk factors associated with slug damage, considering cultural control methods to help reduce slug habitats and the trapping and understanding of thresholds to help ensure treatment decisions are justified.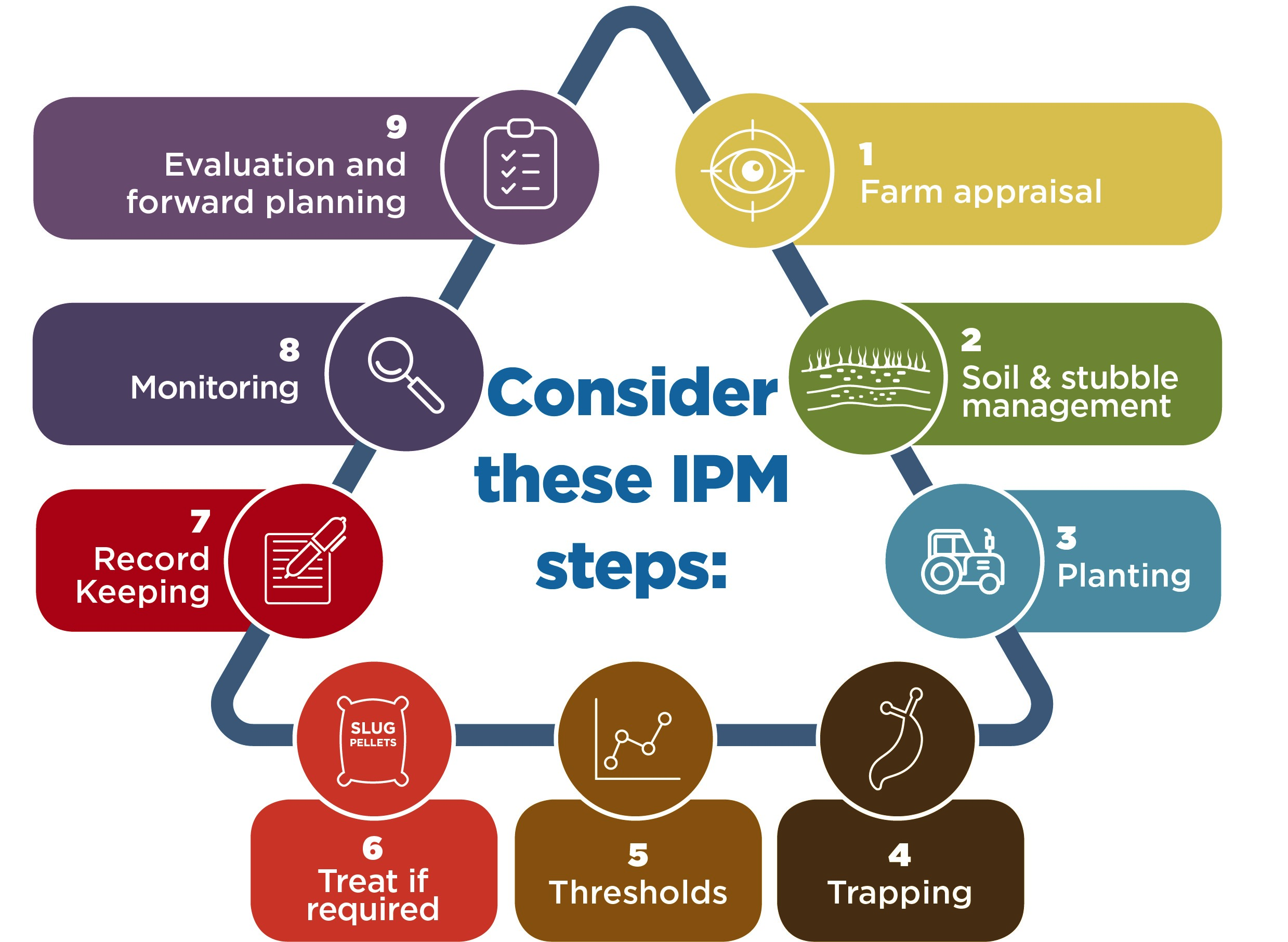 The monitoring of crops, while they are most vulnerable, is one of the final steps to assess if further applications are required. However, there is no real start or end point to IPM – it's a cyclical process that continues year-on-year.
Throughout this process, record keeping is essential to help justify treatments and for forward planning to improve IPM programmes for the next year. Two good information sources are 'A comprehensive guide to IPM for slug control' produced by the Metaldehyde Stewardship Group (you can request copies by emailing This email address is being protected from spambots. You need JavaScript enabled to view it.) and AHDB's 'Integrated slug control IS04 AHDB Spring 2016'.
What else is new?
No pellets are allowed to fall within a minimum of ten metres of any field boundary or watercourse.
Previously this was six metres and only applied to areas adjacent to watercourses. The field boundary can be defined as from the edge of non-cropped land (land taken permanently out of agricultural production) and the 1-2 metre strips adjacent to hedgerows and watercourses established as Cross Compliance buffers.
What should I do?
Best practice is to use the minimum active per ha required, minimising drainage and run-off losses. The maximum individual application rate is 210g metaldehyde a.s/ha*. However for the additional protection of water BASIS advisors may recommend a lower rate.
Between 1st August to 31st December the maximum total dose that should be applied is 210g metaldehyde a.s/ha*. The maximum total dose applied in a calendar year is 700g metaldehyde a.s/ha. This is also the statutory maximum.
Is there anything else I should know?
Applications should be avoided if heavy rain is forecast or drains are flowing. Again, best practice is to ensure application equipment is well maintained and correctly set.
Finally...
Metaldehyde products are going through re-registration by CRD – the Chemicals Regulation Division of HSE. In addition to water, the risk assessment for this requires increased protection of birds and small mammals which has resulted in the Enhanced Metaldehyde Stewardship becoming a 'CRD-agreed' condition of metaldehyde product availability. The regulators will be monitoring this scheme closely.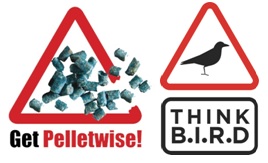 Andrew Hunt, agronomist
For specific advice for your business related to this blog or any other aspect of crop production get in touch with Frontier.


---
8th November 2017
---
Have you got worms?

With winter fast approaching, it's time to reach into the back of your truck, grab your spade and start digging to look for those all-important earthworms.
The Lumbricus terrestris (as the common earthworm is scientifically known) comes in all different shapes and sizes and although small, offers significant benefits to agriculture simply due to its natural activity within the ground. The way it feeds and burrows helps to incorporate organic matter into the soil and provide better drainage, encourage topsoil formation, improve structure and enhance nutrients. Having earthworms present in your field can be a reliable indicator for the condition of your soil, as well as give an insight into the effects any current agricultural practices are having.
Because of this, digging a hole is one of the first things I do when I arrive on farm and it always surprises me how few people see this as common practice. A spade is arguably the most important tool a farmer can have in their toolbox and consistently digging throughout the season can help to identify areas of compaction and pans throughout the profile. Importantly though, it can unearth how many of those little invertebrates we really have in our soils.
What does the number of worms tell you?
Soil scientists believe the optimal number of earthworms to indicate healthy soils is 400/m². The best time to look is from now to the end of winter – particularly after rainfall (which is never too difficult given the high levels we've experienced recently!)
The quickest way to identify whether you have the recommended worm-count is to dig a 20cm³ block of soil (about the width of a spade on all 4 sides) and break it apart with your fingers into a bucket or onto a sheet. Ideally you want to find an average of 16 worms in each 20cm³ area that you dig. This can be quite an arduous task so if you are short for time, try to dig a similar sized hole and see if you can find small tunnels throughout the profile of your soil as these are evidence of earthworms being present.
If you have got lots of worms this would suggest you've created a great environment for them to thrive in and hopefully your crops will do the same.
What if there aren't any worms?
If you find you haven't got many worms, this could be down to undesirable soil conditions (such as it being too dry, warm or acidic), heavy machinery practice or tight cropping rotations that don't favour high worm populations.
However, even where worm counts are low, making some simple changes perhaps to farm practices, rotations or soil nutrient levels could help you to create more suitable conditions for earthworms. Because they are able to establish quickly, they could be contributing to your farm's productivity in no time.
So, dig out your spade and let's find out if you've got worms!
Ashley Huntly-Rugg, crop production coordinator
For specific advice for your business related to this blog or any other aspect of crop production get in touch with Frontier.
---
7th November 2017
---
Potato sprout suppression: CIPC fogging in 2017 and future development
Given recent regulatory changes how can potato store managers adapt working practices to ensure CIPC fogging remains an effective tool even at new lower dosage levels?
The CIPC Stewardship Group has widely advertised summer 2017 changes to CIPC potato sprout suppressant labels that, amongst other requirements, brought in reduced individual and maximum total doses (detailed in table below). Alongside this, the Sutton Bridge Crop Storage Research (SBCSR) has been on hand to provide the store set up advice necessary to comply with the new requirement for active recirculation of the CIPC fog during and after application.
Total dose:
Fresh market: maximum 24 grams per tonne (but see cold storage limits below). Processing: maximum 36 grams per tonne (including fish & chip shop use)
Individual dose:
The maximum individual dose is 12 grams per tonne
Cold storage for fresh market:
Where storage will ultimately be at 5°C or below, only one application should be made, before the crop temperature is reduced below 7°C.
Harvest interval:
The latest time of application is 14 days before removal from store for sale or processing.
Advisors:
Recommendations must be made by BASIS qualified advisors who have inspected the crop.
Equipment:
Application equipment must be inspected and certificated annually by NSTS.
Applicators:
Personnel must be qualified to NPTC PA1, PA9 and should be members of the NAAC CIPC Applicators' Group.
Stores:
Store managers/owners must have inspected and reported stores as fit for application using the
Potato Industry CIPC Stewardship Group (PICSG) Store Checklist. This is a Red Tractor Assurance requirement.
Responsibility:
Overall responsibility for CIPC use lies with the crop owner – not the store manager, CIPC applicator or BASIS advisor.
See CIPC
Low dose CIPC programmes: The trial data below shows a programme of low dose applications of Gro-Stop Fog giving effective sprout suppression of three potato varieties from October 2016 to July 2017. This programme of 12g CIPC per tonne followed with three applications of 8g CIPC per tonne fits with the new 36 g CIPC per tonne maximum total dose for processing crops.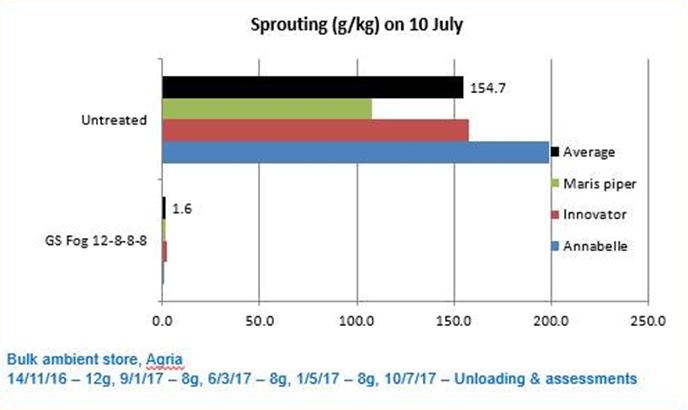 CIPC particle size and size distribution: Efficacy of fogging with low dose CIPC is improved if CIPC particles within the fog are close to the optimum size for even distribution and persistence on the stored crop. Can we improve on these features of the fogs we currently use in the UK?
Working with Certis, Frontier is assessing a new Eugenol based CIPC formulation, Gro-Stop Electro, on stored 2017 crop. Eugenol is both an EU approved active substance with no MRL, and a very effective carrier of CIPC. In the assessment Frontier has applied Gro-Stop Electro with its high volume Electrofog applicator. The Gro-Stop Electro formulation optimises CIPC particle size into a narrow single peak of particle sizes when applied through an Electrofog – see graphic below.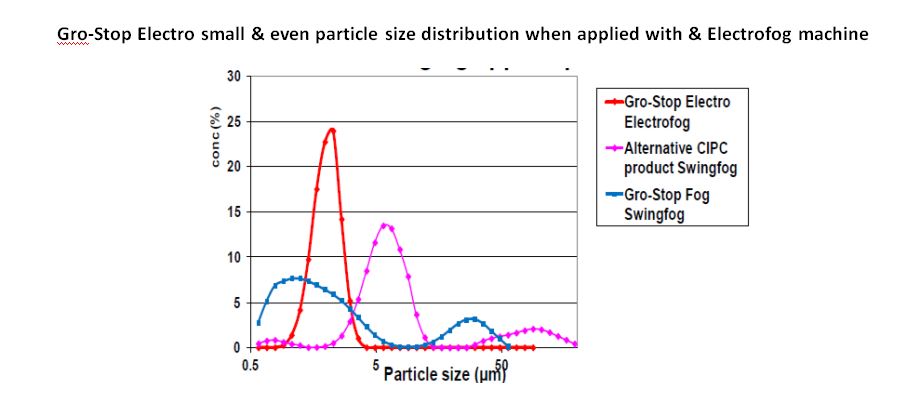 These trials results demonstrate that by using new formulations of CIPC in combination with high volume Electrofog applicators suitable for the UK, we can further improve the reliability of low dose programmes of CIPC required to comply with the 2017 labels.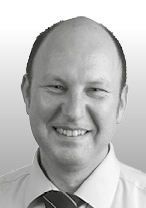 Reuben Morris, crop production specialist
For specific advice for your business related to this blog or any other aspect of crop production get in touch with Frontier.
---
2nd November 2017
---
So how have your crops yielded this year?
There have been some fantastic crop yields reported this year. Early harvested sugar beet crops are yielding particularly well, with 100t/ha already talked about and plenty of growth to come from crops still in the ground. Forage maize crops are also performing very well, as did the hybrid rye crops foraged earlier this year. The cereal harvest was clearly incredibly frustrating with the stop, start and protracted duration but it did include some very high yielding first wheats. However, second wheats and barley crops fared less well.
So, why am I talking about yield performance? Clearly the positives are great to hear and vital for profitable business, but they must also be understood in regard to the phosphate and potash that is removed from the soil by these yields. It's so important to understand this to be able to maintain the fertility in your soils. If you look at the table below, you can see the influence yield has on P & K removal. These figures are from the Nutrient Management Guide (RB209), except for hybrid rye which come from our replicated variety trials for the last two harvests.

Obviously, the other side is that if you had fields where the yields were lower than normal, the offtakes would also be lower. Accurately taking account of your yields this year, and including any extra or lower removal in this year's P & K applications, will significantly improve the management of your soils. To help accurately calculate your removals and plan this year's applications, please use the Potash Development Association (PDA) Calculator. It will also highlight the nutrients required to build your soil levels if you are below the target levels for arable and forage crops of P Index 2 and K index 2-.
Alternatively, you can use the SOYL Calculator which shows the P & K removal over the rotation. If you need any further help with this, please speak to your local Frontier or SOYL contact.
Once you've worked out your P & K requirements for this year, do make sure you are using good quality, water soluble materials where the nutrients are readily available to your crops. Along with the normal straight fertilisers (TSP, DAP & MOP), this also includes PK and NPK products and the organic materials such as livestock manures, digestate and sludges. There are other materials on the market, but before you buy them be sure to question the availability of the nutrients they contain and the subsequent value for money they represent for your farm.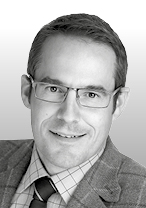 Edward Downing, National crop nutrition technical manager
For specific advice for your business related to this blog or any other aspect of crop production get in touch with Frontier.
---
10th October 2017
---
Controlling black-grass with a cultural method - is that possible?
Controlling black-grass in a rotation is a regular topic of conversation for many farmers – looking at how to best maintain, control and, more importantly, get on top of black-grass. After decades of research across the industry and experts recommending key steps on how to master the spread of this prolific weed, the simple answer is that sadly there is still no "silver bullet". However, there are lots of control measures that can be adopted to help. This invariably means changing cropping rotations, a shift in mind-set, possibly a reduction in margin/ha but most of all a greater level of attention to detail right across the cropping rotation.
What's new and potentially different in the market place?
Frontier, in conjunction with EW Davies farm in Essex, Rothamsted, AHDB and Primary Sales from Western Australia, is reviewing the chaff liner which is a bolt on attachment to the combine. It was developed to manage the major issue of glyphosate resistance to ryegrass in Australia (and we think we've got problems!). The idea is simple, remove the chaff spreaders and bolt on two hydraulic belt driven conveyors this places all the chaff behind the rear wheels in two neat rows.
Sceptics pointed to all the reasons this might fail in Western European conditions which are somewhat different from those our colleagues in Oz enjoy.
This has proved not to be the case.
With chaff deck attached to a Lexion 780 with 12m Macdon header, farm manager Jeremy Durrant has thrashed his way through 1,250 hectares in harvest 2017 across winter wheat, OSR, spring and winter barley, spring and winter oats, linseed and beans with not a single block or issue.
So what, you might think. Firstly, this demonstrates that the kit works in UK conditions. Then you ask, so what happens next? The principle is that as you harvest the crop you are collecting the weed seeds and merging them with the chaff prior to dropping them onto straight lines behind the combine. The straw can then be chopped over the top or baled behind. Evidence suggests that at harvest, 90% of brome and ryegrass, along with 30-50% of black-grass seeds are still on the ear. Jeremy runs a CTF operation with everything on 12m spacings so the chaff is dropped in the same rows each year building up and breaking down the seed bank.
You may say, I don't run a CTF so it's no use to me. Wrong! Half the farmers in Oz are on CTF with the others adopting the system and carrying out some form of cultivations, often working at 45% to the direction of combining. This is not an issue as the seed sits in chaff which is not spread by shallow forms of min till. There is one key requirement, however, for non CTF growers. The same combining lines must be maintained year on year to place the seed in the same place, reducing the spread of seed across the whole field.
So what next? There should be evidence of success based on plant counts before and after harvest where the trial has included chaff lining versus standard farm practices and we'll continue to build trials data.
Will this system eliminate grass weeds altogether? It's probably not the silver bullet we all dream of but coupled with chemical and cultural measures, it's an extra tool to the armoury.
Cost £9,500 to £12,500 excluding shipping, retrofitted to any brand or size of combine.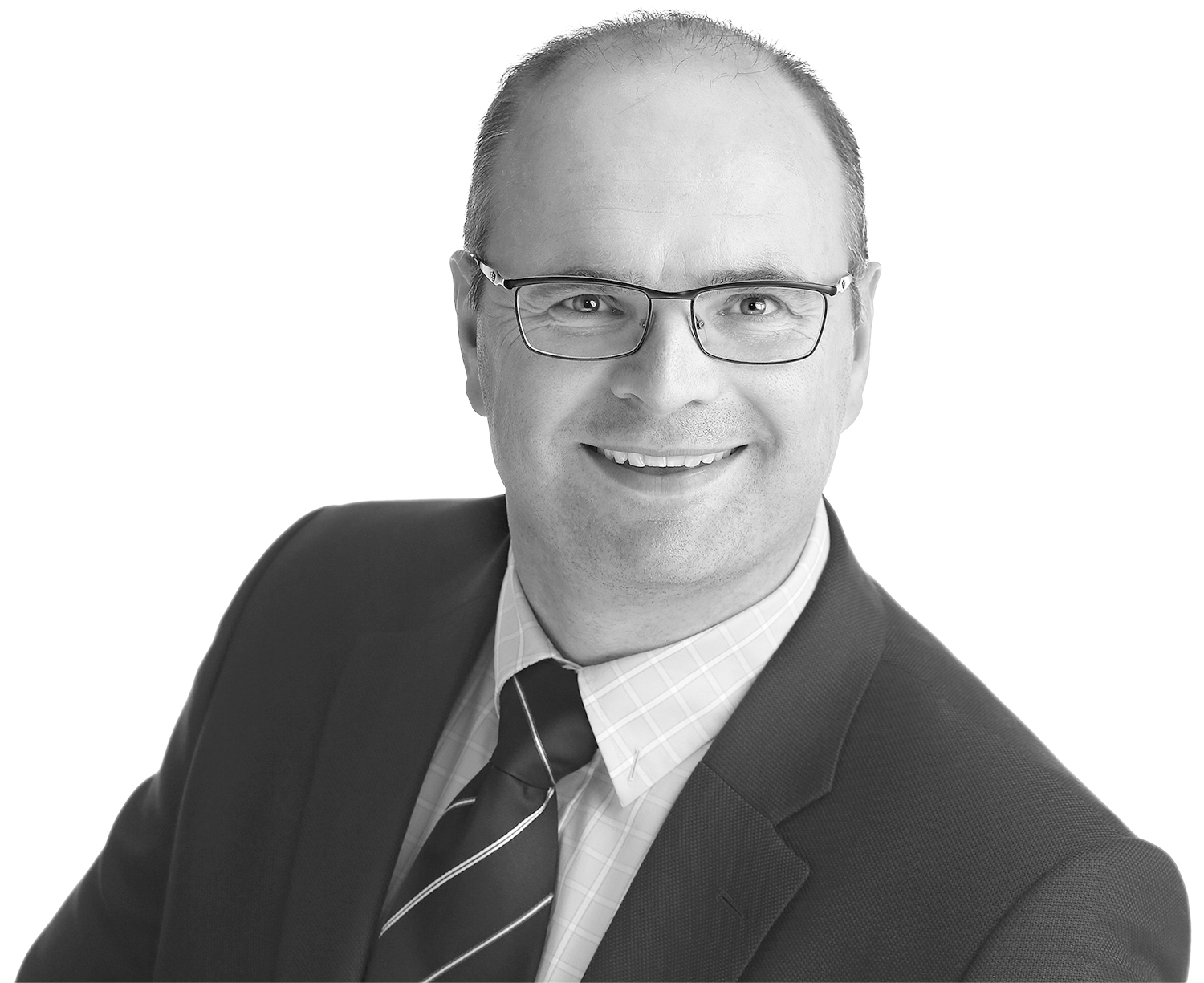 James Moldon, Head of technical services
For specific advice for your business related to this blog or any other aspect of crop production get in touch with Frontier.
---
3rd October 2017
---
Getting a grip on brome this season
The wet weather we've endured this summer has been depressing but it does have some advantages related to controlling troublesome brome grassweeds.
Brome plants have been able to establish well in moist seed beds in the last few weeks allowing us to take a stale seed bed approach to controlling them. Meanwhile, cereal crop drilling has been delayed by showers and this opens up a bigger window to get a head start on weeds before the crop goes in.
Brome is an ongoing problem for us in the North East. We've had a long term issue with sterile and great brome but more recently we're seeing increasing levels of soft meadow and rye brome appearing too, even in plough based systems. It seems the levels are increasing and control is more challenging.
Narrowing control window
Sterile brome is largely a cultural problem brought about by our need to drill early in order to establish crops ahead of winter and cold/wet soils. Traditionally, sterile and great brome have taken advantage of the short gap between harvest and drilling. This narrow window leaves agronomists and growers with little opportunity for stale seed beds and cultural control.
The problem is greatest in min till or direct drill systems. Ploughing helps to bury the seed and aids control because seeds buried to 15cm depth cannot emerge. This year however, plentiful moisture has encouraged rapid emergence of sterile brome. This, combined with delayed drilling due to the wet weather, should leave us with more opportunity for action and reduced levels of this troublesome weed.
In wheat and barley a combination of Avadex backed up by a full rate of flufenacet is a good starting point in a sterile/great brome control programme. However, these products need to be applied ahead of the weed's emergence for optimum efficacy.
The serrafalcus group (soft/rye/meadow bromes) which are now also causing us trouble are a more difficult proposition. In theory they should be left to mature in the stubble post harvest to allow them to ripen before cultivation begins. In reality this is difficult for us to do in the north and seeds are often inverted only to reappear causing headaches in the early spring.
For this reason residual herbicides are of limited use on this group and even the combination of Avadex/flufenacet will struggle to give season-long control. Ploughing will help to dilute the problem and, in most cases, reduce the concentration of seed on the surface. This is the best approach ahead of a barley crop. In wheat, Palio/Broadway Star used in the early spring can still give effective control of this group of weeds.
Brome is likely to remain an issue for us in parts of England and it's been singled out as a grassweed that could face resistance challenges. But every cloud has a silver lining and this year wet weather may well help us gain more control of brome.
Andy Roy, agronomist in North East England
For specific advice for your business related to this blog or any other aspect of crop production get in touch with Frontier.
---
2nd October 2017
---
Phoma - timing and plant size is everything
At this time of year young rape crops can be at risk of phoma damage and small plants with low resistance scores are most at risk. Catching the disease early is the most important aspect of control and what a difference a year makes!
Cast your mind back 12 months and OSR crops could largely be split into two categories, particularly in southern and eastern regions. Early August drillings found a bit of moisture and got away well in warm soils, but anything planted later effectively became a mid-September drilled crop, growing only when some much-needed rainfall came along.
By contrast, the catchy weather that hampered this year's harvest has meant no shortage of seedbed moisture and allowed crops to get off to a flying start whether drilled in late July or into September.
Weed control decisions have been easier this year too. Residual herbicide activity is more predictable with moist soils, and contact graminicides have been required early in the crop's life to deal with the big flushes of cereal volunteers that are a feature of the season.
The next consideration is disease control, specifically phoma. Anyone who collects weather data at home or on farm will have noted some significant and intense rain events during the 'summer' we've just experienced, but take note of how many days you saw some rainfall locally. With rain falling in 'pavement wetting' amounts around every other day across much of the country, we didn't get far into September before the 20 day threshold that is typically required for phoma spores to mature had been reached. Phoma spores require a few days of dry weather, then another rainfall event to trigger their release, after which new sown crops are at risk of infection.
This is where we find ourselves right now.
With visible lesions recently appearing on crops as far north as Yorkshire, down in Hampshire and across into Herefordshire, think about the varieties you have on the farm. There are some with very high potential for phoma because they don't have high natural resistance. These should be monitored as a matter of priority (see AHDB Recommended List or, if growing varieties not listed, the breeder or your seed supplier will be able to provide this information). Fungicide treatment should be considered if 10% of plants are infected and showing leaf lesions.
We're not short of treatment options, but timeliness is key to protecting crops. The leaf infection and loss of green area is not the issue, but if phoma is allowed to move into the stem it will restrict the flow of resources (water and nutrients) up into the canopy. Infected crops will inevitably underperform and are at an increased risk of lodging later on.
Similarly, with suitable conditions for establishing OSR stretching into the middle of September there are plenty of small plants out there at an increased risk of uncontrolled phoma developing into damaging stem cankers. The speed with which the disease transfers from the leaf down into the stem is determined by the distance it has to travel. Hence bigger plants with longer petioles afford greater flexibility around treatment timing.
Monitor your fields carefully over the coming weeks, prioritising small, slow growing crops and anything with lower natural defences for treatment as soon as possible if thresholds are reached.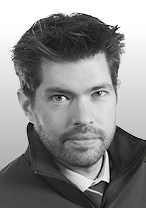 Paul Cartwright, crop production specialist
For specific advice for your business related to this blog or any other aspect of crop production get in touch with Frontier.
---
2nd October 2017
---
Grey partridges need you
After a long and protracted harvest for many we are now seeing fields cleared leaving land and farm managers who have an interest in farmland wildlife with a hugely rewarding and valuable task to undertake... counting grey partridges!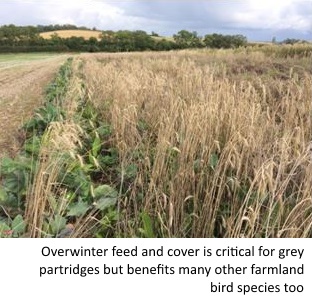 The grey partridge is a key farmland bird indicator species and helps to show that your hard work in terms of habitat management through voluntary work or agri-environment schemes is paying off. Counting greys will give you a great measure of the general biodiversity of your land. The general consensus is that if grey partridges are doing well on your farm, then all other farmland wildlife will be thriving too.
The voluntary Game and Wildlife Conservation Trust's Grey Partridge Count Scheme has been running since 1933 and provides a unique insight to the fortunes of a bird species which evokes great passion and enthusiasm among those working to encourage and support them on farm. Once you've gathered information you can add it to this count.
Ok, I have a few on the farm what do I need to do?
Access the online form provided by the GWCT here and start to record what you see on your travels round the farm. Please be aware that by their very nature grey partridges can be aloof so be patient and try and build up a picture of what you see over a couple of weeks. Whilst you are on your travels you can also record broods of wild pheasants and French partridges which is a rewarding exercise in itself.
I haven't got time to spend ages counting – can I be bothered?
This is the beauty of the scheme – you don't need to spend hours and hours at it. The edge of dawn and dusk provide the perfect time to observe and count wild grey partridges. From our own experience of counting partridges at Kings the best plan is to keep a running record of sightings on a map and then you can soon narrow down fixed coveys and avoid double counting. Encourage all those who work on the farm to keep an eye out and report in what they see. Your gamekeeper, contractor, shepherd, stockman and spray operators are all extra pairs of eyes. It's great to get everyone on farm involved in measuring the fruits of their labour. Habitat crops often need just as much TLC as the farm crops and many of these people on the farm will have been involved in ensuring crop success.
I used to find counting really easy – I know they are there but they seem to vanish. What's changed here?
Good farmland habitat consists of margins, blocks of wild bird seed, game crops and nectar flower plots all of which provide excellent cover for partridges to hide up in. The additional challenge for partridges is the increasing prevalence in many regions of kites, buzzards and ravens. These put pressure on birds who find the best method of survival is to keep their heads down and stay in the cover! This highlights the importance of having several pairs of human eyes looking for them on day to day travels as it builds up a more accurate picture.
Ok, but I haven't seen a pair of greys on the farm for a couple of years surely that doesn't count?
The GWCT Partridge motto is 'Every One Counts'. Even if you haven't got any birds on the farm now the information is priceless to the Trust who can continue to develop their data set to support current agri-environment policy and develop future guidance. If they know you haven't got birds but your neighbour two farms away has that presents a great opportunity to work together to support future stocks.
I have completed my count and I am pleased with what I have seen. What can I do to look after them?
Winter dispersal is common with grey partridges; it's what they do! However, there are a few simple things you can do to look after them:
Retain as much cover over winter in the areas you see them as possible. This gives them overhead sanctuary from raptors and corvids.
Ensure there is food available for them from now until late spring. Stubbles are valuable but supplementary feeding or a few hoppers in key areas will look after them as natural food resources run out.
If you are shooting and only have the odd covey about make sure your guns are aware and briefed to not shoot them! If you find a covey in a drive try and let them out of the side so they don't have to run the gauntlet.
I am not sure if I want to do this Partridge Count but am keen to learn more – who can I contact?
The GWCT team have a This email address is being protected from spambots. You need JavaScript enabled to view it. where you can send in your queries or questions. Alternatively you contact the Kings team for further details and guidance on getting the best from your farm habitats.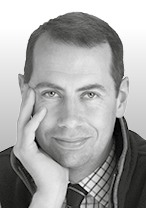 Richard Barnes, Kings sales manager
For specific advice for your business related to this blog get in touch with Kings.
---
28th September 2017
---
No-spray buffer zones - not all herbicides are created equal
No-spray buffer zones have become more common on Plant Protection Product (PPP) labels as greater environmental standards are applied by the regulators. No-spray buffers make products more difficult to use, but are good in that otherwise the affected products would not be available in the UK.
Products containing clomazone, a herbicide used by many growers, have varying rules depending on their formulation's volatility.
A history of no-spray buffer zones
My copy of the booklet written by the then Pesticides Safety Directorate (PSD) and Defra to introduce the aquatic no-spray buffer zone Local Environmental Risk Assessment for Pesticides 'LERAP' scheme to growers and agronomists dates from 2002. At the time, the crop protection industry put a lot of time and effort into training growers and agronomists how to apply LERAPs when using PPPs.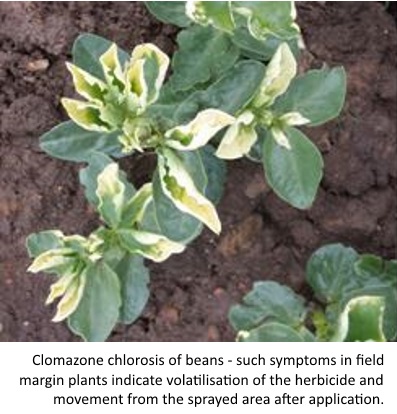 Over the intervening 15 years further aquatic no-spray buffers have been introduced with increased widths and different sprayer conditions of use. Grower training for these new aquatic buffers is almost exclusively conducted by the crop protection industry at VI NRoSO Roadshows. The regulators introduced these new aquatic buffers to allow some PPPs to remain available and some new products to be brought to the market so, from this point of view, they are a price worth paying.
No-spray buffers for protection of non-target arthropods have been on PPP labels for some time but went largely unnoticed initially. Increased scrutiny during Cross Compliance inspections made growers and agronomists take more notice of this type of buffer zone. These buffers are more difficult to manage as they apply to all field boundaries, not just those with aquatic features and so affect a much larger area of crop. As non-target arthropod buffers apply to the ubiquitously used pyrethroid insecticides, all growers and agronomists need to apply them.
CRD recently allowed use of wider non-target arthropod protection no-spray buffers and this enabled the first UK authorisations of the new insecticide Benevia 10OD (cyantraniliprole). Again, availability of current and new products is being both maintained and increased but only with greater environmental restrictions, as use of Benevia 10OD requires a 10m arthropod protection no-spray buffer.
No-spray buffer zones for protection of non-target plants?
Some herbicide actives are volatile in nature and so even when applied correctly can drift outside of the sprayed area and affect non-target plants. Manufacturers traditionally used granular formulations for volatile actives but improved technology now allows use of capsule suspensions that reduce drift. This is the case with the widely used broad-leaved crop herbicide clomazone that is only authorised for use in capsule suspension formulations.
However, capsule suspension formulations vary in how effectively they hold the active within capsules such that some clomazone products do not have a no-spray buffer for non-target plants while other products have one up to 10m wide. For instance, Cirrus CS and Gamit 36 CS do not have a non-target plant buffer whereas Blanco and Sirtaki CS have a 10m buffer. These varying buffer widths are a direct reflection of the regulatory assessment of the product formulations. Blanco and Sirtaki CS were found to be less effective at reducing drift of clomazone from the sprayed area after application.
No-spray buffer zones for protection of non-target plants clearly show that all formulations are not equal. Better to choose a formulation that does not have a no-spray buffer.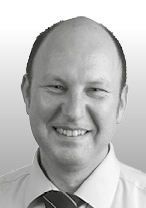 Reuben Morris, crop production specialist
For specific advice for your business related to this blog or any other aspect of crop production get in touch with Frontier.
---
25th September 2017
---
Accepting EFA changes... and embracing them!
The latest Ecological Focus Area (EFA) changes announced for 2018 have caused much speculation among my colleagues and growers too. In particular, people have been very animated about the loss of crop protection products within EFAs, with some seeing it as reducing the value of EFA options on farm. Meanwhile, DEFRA termed this as a complete BAN which has only added fuel to this fire.
Whilst the changes may be significant in some areas it is worth bringing a few things into perspective and remembering that although change is ahead, there are still good opportunities to be had with EFA. Let's not 'throw the baby out with the bathwater'!
Where a grower has more than 15ha of arable land, then the 5% area allocated to EFA features is required – end of, no question. The challenge is to continue making the most of this 5% of land, even without PPPs.
Growing nitrogen fixing crops, previously a simple means of delivering EFA for many land managers, becomes more challenging without glyphosate to destroy them. Consequently, many are likely to withdraw this crop from their EFA requirements if that happens. This in turn sends growers searching for the next 'broad hectare' option to fill that gap and there are a few options worth considering.
Catch and cover crops
For many, catch and cover crops will be the obvious choice. This could be a very positive step for the farm business, bringing as it does a range of benefits for soils. It may even be the factor that gets people who have so far been 'sat on the green cover fence' involved.
All this is great but what are the options for destroying green cover crops should PPPs not be allowed within EFA option schedules in the future? Good question, and there are a number of routes:
Fully invert/cultivate the crop. Although this won't fit with a no/min-til system. Deep-rooted crops such as tillage radish will be best avoided here.
Choose frost sensitive species within the approved list (vetch, mustard, phacelia) so that when spring arrives there is little crop left to destroy. However, EFA rules dictate the need for a cereal to be included too, such as oats or rye.
Graze crops down to bare ground.
Consider using a crimper to bruise/damage the crop prior to drilling a following crop. This is technique widely used in Europe and by many organic growers in the UK. Kings is working within a research group investigating the methods and best practice within this emerging area of crop destruction.
Longer term fallow options
These can include planting nectar flower or flower rich mixtures to benefit pollinators. This can be done on a field scale, within field areas or as a field margin; whatever works best for your purposes. This is a great way of utilising less productive land to deliver pollinator habitat. A well established nectar flower mix can deliver for 3-5 years whilst a flower rich grass mix could be left for many years with minimal management once established making it very cost effective with high delivery for farm wildlife.
Benefitting a shoot
If you have sporting interests and want to benefit the shoot, as well as offering support to farmland birds, you can establish wild bird seed mixtures in autumn or spring.
With the withdrawal of PPPs the autumn establishment window is becoming more attractive, as this reduces the challenge of spring weeds such as redshank and fat hen.
Spring planting without PPPs will require more care but great results can still be achieved. My advice would be to ensure seedbeds are well prepared using a stale seedbed technique with planting delayed until late May through to mid July. Getting a crop off to a flying start is critical so that it can get away from weed and pest challenges.
Longer term cover can be used to aid sporting interests. Plant a mix containing reed canary grass and perennial chicory. Poacher Leave-it contains perennial, biennial and annual species and is a popular choice where long term cover is required. Its numerous benefits include providing wild game with sanctuary from overhead predation; delivering nesting and brood rearing habitat; offering winter holding/driving cover and providing a windbreak to conventional game cover/wild bird seed mix areas.
So rather than dwelling on what has been and gone within EFA, take the opportunity to look at what's still on offer and consider how you can adapt to develop a legislative requirement into an asset for the farm business and the wider farmed environment.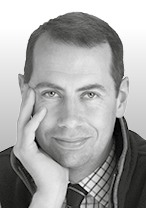 Richard Barnes, Kings sales manager
For specific advice for your business related to this blog get in touch with Kings.
---
21st September 2017
---
From 'must have' iPhones... to 'must have' wheats
Listening to the news this week about the launch of the iPhone 10 (or iPhone X as it's going to be known) and the eye watering price at which this new device has been listed, made me think about the annual new wheat variety launch we see in the UK.
I have no doubt that iPhone X will already have a sell out order book as people rush to have the latest mobile phone but for the vast majority of us what will the new device bring over the iPhone 6, 5, 4, or 3? I'm guessing we can still make phone calls, text each other, get on the internet and check our bank accounts etc. all the essential elements we've come to expect from a smartphone. I don't think iPhone X will do any of that 'techy' stuff any better. In other words the basic work is already at its full potential.
In a similar way, when I think about the wheat varieties that have appeared on the AHDB recommended list over the last four years I wonder how many of those new varieties will last long enough for us to see their real potential before we move on to the next 'must have' variety.
How much of their actual yield potential actually lies in our own and nature's hands each season? The mathematical model wheat plant has around 19t/ha potential yield and our responsibility as growers is to try not to lose too much of that potential.
The two world record winter wheat yields in 2015 of 16.5t/ha were grown in very different geographical locations in the UK. Reflection was the variety used in one and Dickens the other. Dickens (which was just slightly higher yielding) was listed two years before Reflection which only appeared on the RL in 2015.
What is more surprising (or perhaps not) is that both of these yields were superseded in 2017 by a yield of 16.8t/ha produced in New Zealand with none other than good old Oakley, first listed in 2007 a decade before we had Reflection.
In trials a few years ago we drilled a range of the latest 'must have' new wheat varieties alongside some of forgotten favourites such as Brompton, Haven, Beaver and Savannah. We subjected them all to the best TLC agronomy we could. Savannah was the highest yielding variety in this trial. I'm sure many growers with a few years under their belts will remember Savannah? This variety was first listed way back in 1995! It was the variety that had a blow up giraffe as a marketing gimmick one year at the Cereals event. It was quite a memorable sight, scores of farmers wandering the event with a small blow up giraffe tucked under their arm!
This highlights how much more genetic potential could be extracted from Savannah now than way back in 1995. With our better developed crop production skills and access to improved crop protection products we're far better equipped to drive crops further.
It is probably fair to say that genetic potential is there for us to extract, what is required is top rate crop production skills combined with the seasonal conditions to allow for the genetic potential our full 19t/ha potential to be realised.
Of course, we are also under pressure from the loss of actives, and traits are likely to become increasingly important in crop production. But I wonder if the top RL yielding varieties launched in 2017 the likes of KWS Kerrin, LG Sundance and Gravity will last long enough to compete for that holy grail of 19t/h or whether I will see the IPhone XX launched with its thought-induced mind reading dialling app first!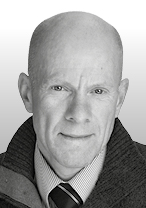 David Robinson, Head of innovation knowledge exchange
For specific advice for your business related to this blog or any other aspect of crop production get in touch with Frontier.
---
18th September 2017
---
Water use on farm and new Red Tractor standards
New standards for Red Tractor will be launched on the 1st October 2017. The standards bring a few key changes to the way growers record and manage water use for irrigation. The changes aren't particularly significant and are being introduced to further improve the way we manage use of water on our land.
They do, however, have the potential to catch out growers who irrigate crops only on an occasional basis.
One of the main changes to be aware of is the requirement for combinable crop and sugar beet farmers who irrigate to keep water use records. Meanwhile, growers of fresh produce will need to keep the same irrigation records, as well as completing a water risk assessment.
The changes will help ensure that irrigation does not contaminate crops, and avoids excessive use of water for ongoing sustainability.
What's new and how will it affect you and how you use water?
Combinable crop and sugar beet growers:
Where irrigation occurs, records of water usage (source of each application, volume and timing) must be kept along with regular laboratory water tests for microbiological, chemical and mineral pollutants. It is recommended that a water management plan is produced to identify opportunities for water use efficiency and waste reduction. This could include a computer model of the crop's water requirements, maintenance plans to reduce leakages, a policy to recycle roof water or winter rainfall, and a water audit. Read full new standards
Fresh produce growers:
As well as all of the above, there must be a crop-specific water risk assessment covering all water used in crop production; including irrigation, mixing of fertilisers and plant protection products, and crop and equipment washing (where appropriate). It should identify all microbiological (including E.coli), chemical and physical risks, all sources of water used on farm and all water distribution and storage facilities. There is a requirement to update this annually. Frequency of testing is in line with the water matrix appendix. This is to be completed and can be found on page 49 of the Red Tractor Fresh Produce Standards book 1st October 2017. The water test results for fresh produce must not only be carried out on irrigation water but also on the water used for mixing fertilisers and plant protection products as well as water used for washing crops and equipment. Read full new standards
Water use, cross compliance and irrigation for all crops
As well as Red Tractor regulations relating to water, under cross compliance regulations (GAEC 2 water abstraction) it is important to remember that you must have an abstraction licence from the Environment Agency to remove more than 20 cubic meters (4,400 gallons) of water from an inland or underground source for irrigation in any one day.
Abstraction licences from The Environment Agency (GAEC 2) – some key dates to be aware of:
Billing
31st March: If you hold a water abstraction licence to abstract water between April and October, expect to receive your annual bill for the forthcoming financial year on this date. Those holding two-part tariff agreements will also receive their first bill at this point.
30th November: If you have a two-part tariff agreement for your water abstraction licence, expect to receive your second part charge after 30th November.
Submitting water readings
31st October: If you hold a water abstraction licence authorising abstraction wholly within the months of April to October, the Environment Agency will make actual abstraction return forms available to you from 31st October. You then have 28 days to submit your readings for the water you have used for the year.
1st April: If you hold a winter or all-year-round water abstraction licence (authorising abstraction outside April to October), the Environment Agency will make actual abstraction return forms available to you from 1st April. You then have 28 days to submit your readings for water used for the previous year.
Meanwhile, new requirements for potato growers who irrigate are yet to be confirmed so until then, growers should follow existing guidelines as shown in Red Tractor's Assurance Crop Module: Potatoes. Remember, it is already a requirement here to have a completed Water Risk Assessment for potatoes.
As with most things related to cross compliance and Red Tractor, nothing is insurmountable but the changes will require growers, particularly those who irrigate only occasionally, to be aware and prepared to take some time to gather and submit the information required. There's plenty of help and advice available related to meeting these regulations and record keeping which will help ensure you meet all requirements, new and existing.
Fiona Spires, Agronomist and MyCompliance advisor
For specific advice for your business related to this blog or any other aspect of crop production get in touch with Frontier.
---
14th September 2017
---
Avadex – part of a pre-em herbicide stack to fight black-grass
When it comes to managing 'difficult' grass weeds in cereal crops there is no silver bullet. What's required is a long-term plan that encompasses a range of measures which can be adapted to accommodate local conditions and seasonal variations.
Herbicide programmes remain an essential element of black-grass control. With the decline in activity of post emergence contact herbicides in many areas, due to resistance, it is crucial that we capitalise on the levels of control afforded by the residual herbicides used in a stack.
Avadex is one such residual well-suited to stacking and this year it's available in a granular and liquid form, making it accessible to more growers.
Should you be using Avadex?
Growers with 'bad' black-grass problems are more than likely already using Avadex as part of the herbicide programme. However, if black-grass has only recently appeared on your farm, the first question is where has it come from? The reality is it is likely to have been imported onto the farm either on machinery or via straw or manure and is highly likely to carry some resistance. In these situations an early zero tolerance policy should be adopted and the inclusion of Avadex should definitely be considered.
When it comes to winter barley, post emergence grass weed options are limited, so again maximising the control from the pre-emergence spray is vital, Avadex will help with this.
If you have increasing problems with ryegrass and brome then think about including Avadex in the programme.
Why Avadex?
While flufenacet remains the foundation active ingredient in the stack, tri-allate (Avadex) has proven its worth by, on average, adding 15-20% to the level of black-grass control in trials, Figure 1. It also offers good activity against ryegrasses, wild oats and bromes (subject to germination).
A robust residual stack should focus on stacking different modes of action. With that in mind Avadex (which is in HRAC resistance group N) differs from the actives found in the likes Liberator and Crystal, meaning it is well suited to stacking with these.
This year Avadex is available in two formulations, the granule (Avadex Excel 15G) and a 450g/L liquid formulation (Avadex Factor). While the granule formulation remains the strongest product, the liquid formulation will allow those growers without access to the necessary application equipment to include the active ingredient.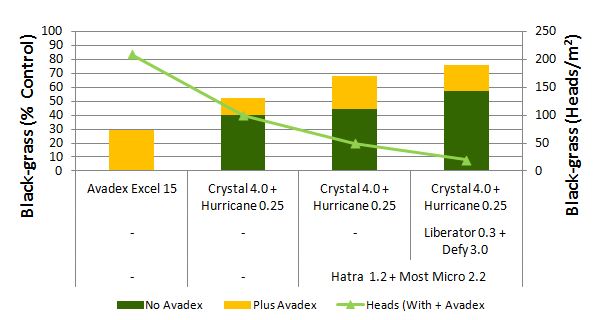 Figure 1 Frontier trial 2016/17. Benefit of applying Avadex pre-emergence as part of the residual stack. Pre-em applied 17th October, early post-em BBCH 12 – 2nd November and post emergence 29th November BBCH13 (black-grass growth stages).
Finally, I'll leave you with a few timely words of advice on effective use of Avadex this season:
Ensure drilling depth is correct – 40mm for wheat – barley is less critical
Ensure Avadex application equipment is calibrated and check spread pattern
Keep deflector plates clean and at the right angle
Operators need to be qualified to PA4 G if using the granule
Avadex has to be applied pre-emergence. Aim to apply as soon as possible after drilling and seedbed rolling
Always use as part of a sequenced approach with other active substances.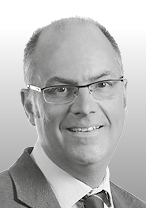 Dr Paul Fogg, crop production specialist
Liberator contains flufenacet and diflufenican. Crystal contains flufenacet and pendimethalin. Avadex Excel 15G and Avadex Factor contain tri-allate. Brand names used are Trade Marks of other manufacturers for which proprietary rights may exist. Use plant protection products safely. Always read the label and product information before use.
For specific advice for your business related to this blog or any other aspect of crop production get in touch with Frontier.
---
13th September 2017
---
Conditions looking good for early sown OSR... and weeds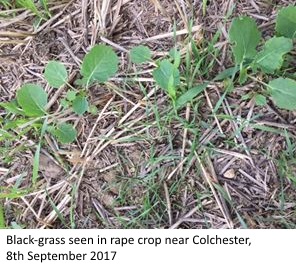 With soils generally moist and temperatures typically around 14-16oC, conditions are looking good for early sown OSR. However, inevitably this means conditions are also good for weed growth and we're already seeing flushes of black-grass emerging in young crops as seen in this emerging rape crop near Colchester earlier this week.
Timing is everything to gain control of these early grass weeds and they need a programmed approach; carbetamide (such as Crawler) and clethodim (such as Centurion Max) will provide early autumn control. Meanwhile, propyzamide (AstroKerb) is available to use later when soil temperatures drop and weed growth slows.
The importance of water conditioner and timing
Young grass weeds can be small, difficult targets and poor quality herbicide applications will compromise performance and increase the risk of resistance developing further. Clethodim is contact-acting so maximising deposition and retention on leaves will pay dividends. Using medium/fine spray droplets, applying to dry target leaves and keeping sprayer booms stable will all increase successful herbicide uptake.
Time clethodim applications for when black-grass has reached at least the 3-leaf stage. This ensures each plant catches sufficient herbicide to take up a lethal dose. Leave an interval of at least 10 days after any previously sprayed treatments (including micronutrients and biostimulants) and, if you are in a hard water area, ensure water is adequately conditioned.
To ensure effective herbicide performance, growers in hard water areas will need to take extra care. This is because the performance of some plant protection products is impaired by mixing with hard water.
The 'dim' group of herbicides are particularly susceptible to reduced performance in hard water situations (e.g. clethodim as used in early autumn control programmes). Frontier trials have clearly demonstrated the improvement effective conditioning of hard spray water, using a product such as Aquascope, makes to the performance of clethodim applied to black-grass in OSR.
Water conditioner should be added to the tank first and mixed with the full volume of spray water before adding clethodim (Centurion Max) to the tank.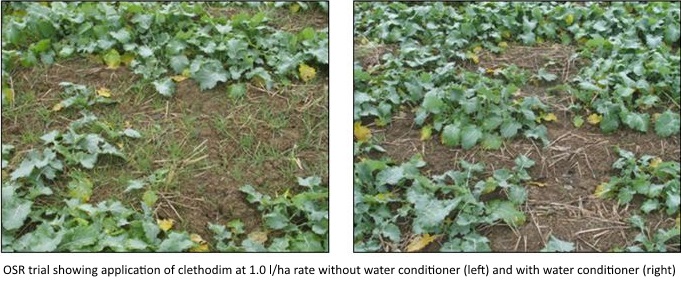 In a season of mixed conditions, there is some OSR still to drill but for those that got in early, the weeds are already demanding careful attention.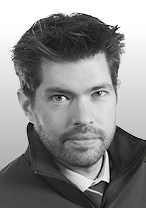 Paul Cartwright, crop production specialist
For specific advice for your business related to this blog or any other aspect of crop production get in touch with Frontier.
Brand names used are Trade Marks of other manufacturers for which proprietary rights may exist. Use plant protection products safely. Always read the label and product information before use.
---
12th September 2017
---
Hedgerows and woodland – Get ahead, get a plan
The annual period during which landowners are prevented from cutting hedges under cross-compliance recently came to an end. With this important annual restriction in place to protect wildlife from 1st March until 31st August, it's tempting to set about hedge cutting in earnest come September.
However, there are very good reasons to be selective with your hedge trimmers until January, or even February, to improve the biodiversity of your land.
Why are hedgerows so important?
Hedgerows serve a valuable purpose during the winter offering shelter and food for wildlife. Trim back too vigorously in autumn and you, and wildlife on your land, may pay later.
Delaying or staggering cutting will provide farmland birds with a source of food in the form of berries during the 'hungry gap'. This is the hardest time for birds during harsh British winters, but the rewards for preserving hedgerows go far beyond that.
Hedgerows and woodland edges offer massive benefits to a whole host of wildlife. They are a key element to farmland ecology providing habitats for various species and a number of additional benefits. For example, tussocky grass underneath a well-established hedgerow will give a home to ground-nesting birds and small mammals. These mammals will provide feed for birds of prey such as barn owls and kestrels. Meanwhile, the mammals' disused burrows will in turn provide overwintering habitat for vital pollinators such as the queen bee and predatory beetles.
It's all part of a fantastic farmland ecosystem that starts with a thriving hedgerow!
Come spring, hedgerows are the earliest source of pollen available to pollinators. A sympathetic autumn/winter hedge cutting plan will ensure fruit and pollen production is optimised. Some species, such as hawthorn, flower only on the second or even third year after cutting. Rotating hedgerow cutting in such situations, so that everywhere isn't cut back at once, will ensure a constant food source.
Hedgerow cutting

Before taking a blanket approach, assess the current performance and situation of each section of hedgerow. In this way you'll be able to create a management plan appropriate to each section. Your aim should be to cut back where essential and delay wherever possible to preserve hedgerows as much as you can.
Woodland planning
Management of woodland is another area that shouldn't be overlooked. Thinning, coppicing and clear felling will all help ensure there isn't a monoculture of tall trees without an understorey for woodland birds and other wildlife. Think about your ride management. Cutting swathes slightly deeper will create warm pockets in the sun and away from the wind. These will produce mini habitats for butterflies and pollinating insects in the summer months.
Planting hedgerows and woodland
Given the importance of hedgerows and woodland to the whole farm ecosystem the planting of new hedgerows and gap filling is vital. There are various grants available to support this through the Woodland Trust and the Forestry Commission (FC) - although the window for FC application this year's now closed.
Grants can be used on an estate to create corridors between existing woodlands or, on sporting estates, to link woodland with cover strips.
So before you fire up the hedge trimmer this autumn, take a closer look and see where you might be able to delay cutting until later in the winter.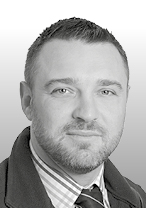 Meehal Grint, Kings technical advisor
For specific advice for your business related to this blog get in touch with Kings.
---
8th September 2017
---
Sugar beet choices for 2018
It's that time of year when growers are turning to the BBRO Recommended List (RL) to make selections for the season ahead. It's natural to be drawn to the varieties that have delivered impressive yields. That's important but there are other important considerations to heed – such as how early you will be drilling and how prone the variety is to bolters. Focusing only on yield potential could lead to problems with bolters later.
Many sugar beet growers had more trouble controlling bolters in the 2017 crop, the crop that is soon to be harvested. Clearly this was in large part down to the colder spring weather as this drives the big variations in bolting levels that we see between seasons.
The BBRO sugar beet recommended list provides a lot of detailed information that should be fully utilised when choosing varieties and, while yield is king, early sown bolters must be another of the first sections growers assess.
There are some impressive yield increases in the top line of the 2018 RL BUT a number of these high yielding varieties also have a red cross in the top line of the early sown bolters section. This red cross indicates some very high levels of early sown bolters, especially in 2016 and 2015 (compared with 2014 which was a low bolting season). Growers are only too aware that uncontrolled bolters leave a long term weed beet legacy that is very expensive to deal with.
Many growers plant as early as possible to maximise yield from a longer growing season utilising as much summer sun as we are given. This is a good strategy but when looking at the 2018 RL it is of paramount importance to match variety choice to the early sowing strategy.
Seek advice if you're unsure about variety selection. Avoid being tempted by high yielding varieties if your drilling plan and a RL red cross mean that there is also a likelihood of legacy of expensive long-term problems.
Want advice on this or any other crop production matter? Get in touch and one of our team will get back to you.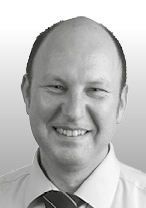 Reuben Morris, crop production specialist
---
4th September 2017
---
Mid Tier – five minutes to change your mind
Given my role, you will not be surprised to learn that I am almost fanatical about getting land managers and farmers to take a look at Countryside Stewardship and particularly Mid Tier agreements.
Oh no, I hear you groan! But give me five minutes and I will change your mind... It can't hurt to take a look, can it?
I know from my conversations, both at work and socially, with growers that people are apprehensive about Mid Tier agreements. Common worries are that there will be too much paperwork, the requirements to secure an agreement are unachievable or that implementing Mid Tier will simply take up too much time or cost too much.
But as someone who has helped steer growers through the stewardship process I say confidently that the benefits of Mid Tier – both financial and environmental – far, far outweigh the effort. With some planning and good advice, it's fairly straightforward to achieve a tidy and secure revenue stream from a Mid Tier agreement.
But there's too much paperwork, Neil!
The arable options in Mid Tier are far less onerous in terms of record keeping and evidence requirements compared to, say, the grassland options in Countryside Stewardship. Yes, you will be required to keep seed invoices and records of field operations for most of the options, but that is about as far as it goes.
Won't it cost me money, Neil?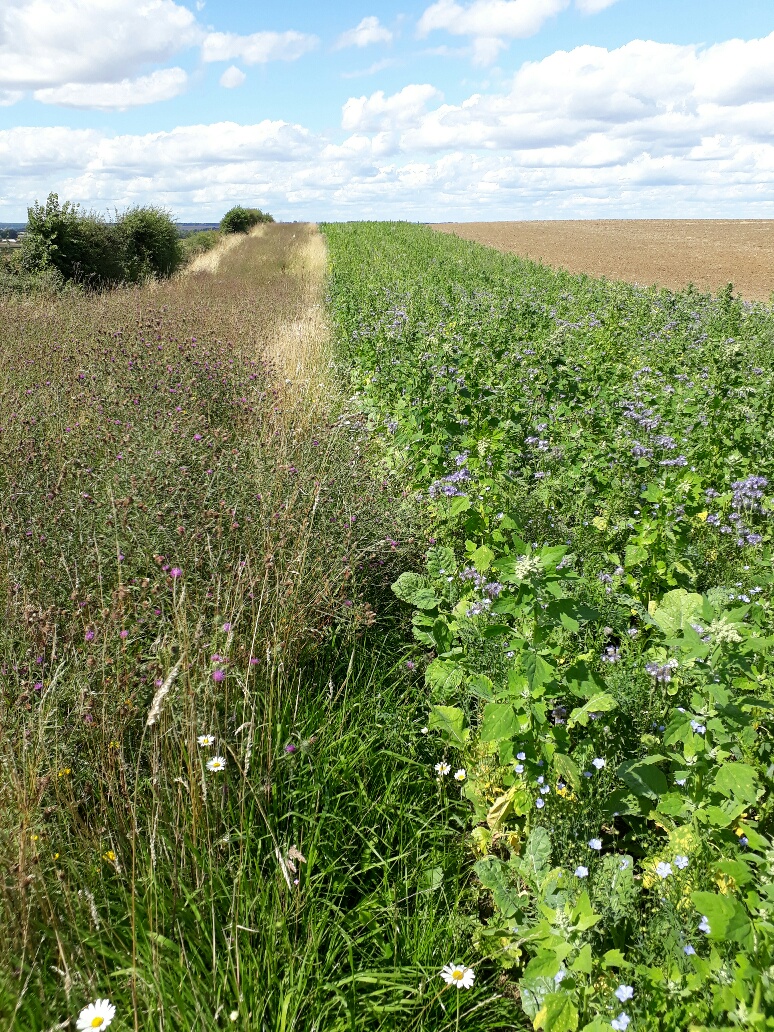 No, the whole point is it will help bring in more money! Yes, there is an outlay of some resources such as environmental seed mixtures, a little of your time and perhaps some good advice but the rewards should cancel these out... and then some!
Mid Tier to make a return from poorer land
On more marginal land, the grant rates for some of the arable options in Mid Tier stack up particularly well. For example, wild bird seed mixes pay £640 per hectare, nectar mixes are £511 per hectare, and wildflower margins are £539 per hectare. Using these options to take out less productive headlands, awkward corners, and straightening up of the cropped area can make life easier, particularly where big machinery is involved.
Mid Tier to tackle black-grass
Other options can help in the fight against black grass. Two-year sown legume fallows pay £522 per hectare and management is specifically aimed at preventing black grass seeding. Legume and herb rich swards provide excellent grazing and will suppress black grass. Paid at £309 per hectare, this is another very attractive option.
Mid Tier to support the shoot
Wild bird seed mixes can be adapted to fit in well with shooting interests, providing another win-win situation if entering into the scheme. Mixes with good agronomic options enable these plots to remain in the same place year after year. There is also an option for providing supplementary winter feeding for farmland birds which is grant aided at £632 per tonne, an activity that many gamekeepers will already be pursuing, albeit with different feed mixes.
Many of the options mentioned also form part of the 'Wild Pollinator and Farm Wildlife Package'. This is designed to address pollinator and farmland bird declines. A mixture of habitats across a minimum 3% of the farm can mean a considerable score uplift and ultimately give a much better chance of securing an agreement.
OK, the money and the benefits sound good but I don't know where to start
With Countryside Stewardship set to open for business next year, now is a great time to get some expert advice.
An initial consultation with me or any of the other Kings' MyCompliance advisory team is free of charge and comes with no obligation. I am always delighted to hear from growers who want to talk about Mid Tier for the first time... however apprehensive they are!
That apprehension is understandable after all the years of change and uncertainty we've experienced. As we navigate our way through a post-Brexit world the grants available mean that Mid Tier should be something every land owner and grower should, at the very least, explore.
If my blog convinces just one more grower to take a look at a Mid Tier agreement, I will be a happy man!
Neil Harris, MyCompliance technical advisor
Get in touch with Neil or the Kings team for expert advice on your approach to Mid Tier stewardship.
---
30th August 2017
---
Is flea beetle waiting in the wings?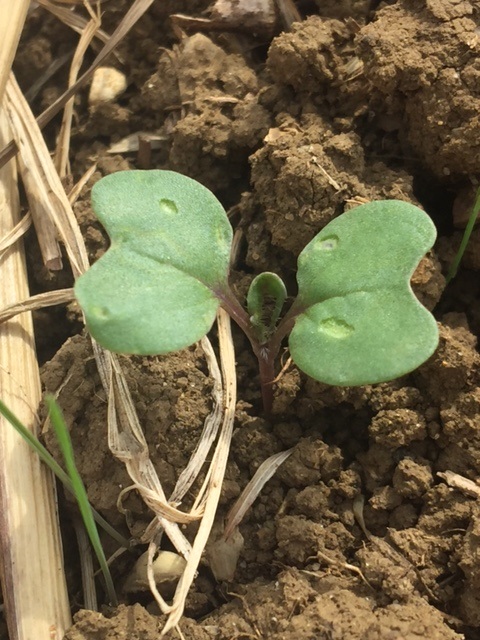 With early cabbage stem flea beetle (CSFB) activity generally lower than in recent seasons and fewer beetles emerging post-harvest, we could be forgiven for thinking we are safer from this troublesome pest this season.
But we shouldn't breathe a sigh of relief too soon because there is a way to go before our young OSR plants are 'out of the woods'. Although early drilled crops have grown readily in moist seedbeds and little or no damage has been reported, there are signs that seed being drilled now into drier seedbeds may face a more challenging time.
There is clear evidence of growing CSFB activity this week and that means that crops sown in the main drilling window (mid – late August onwards) are likely to encounter higher grazing pressure as they emerge.
Frontier agronomists have reported increased flea beetle activity this week in Oxfordshire, Hertfordshire, Bedfordshire, East Anglia, Lincolnshire and Yorkshire. We have even seen some evidence as far north as the Scottish Borders! With relatively little damage sustained to date, many crops have yet to be sprayed with an insecticide. However, beetle activity appears to be increasing with the temperatures and as drilling continues into drying soils, crops sown now could be at risk of damaging attacks.
The first photograph was sent in by one of our senior agronomists in Bedfordshire this week and shows classic shot-holing damage on OSR cotyledons. This is clear evidence that cabbage stem flea beetle (CSFB) are present, albeit there are low levels of damage... so far.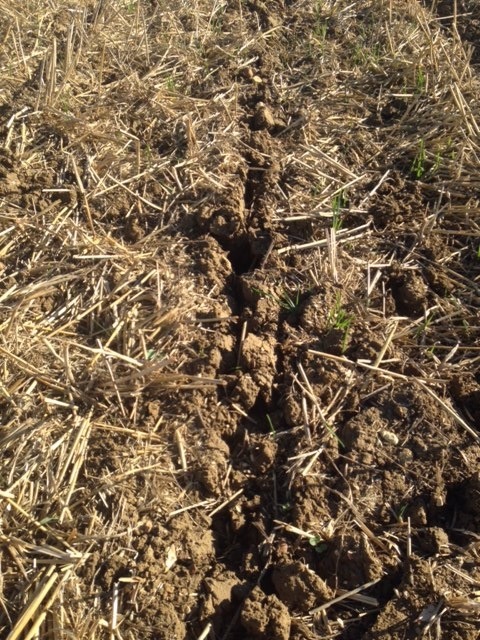 Add to that this second image taken this week in Lincolnshire, showing a field of recently drilled OSR sown on heavy land. The subsoiler leg has smeared the soil when wet, which has subsequently baked-out leaving the precious seed in an open, dry seedbed. Not an ideal start for a small seed when rapid and even emergence is the name of the game!
Getting a step ahead
Have you recently drilled OSR or are you about to load up the seed drill? The best line of attack against flea beetles is defence in the form of ensuring the most rapid emergence and robust early growth you can. Nutrition, good seedbed preparation, adequate consolidation and biostimulant applications as both seed treatments and foliar sprays will all tip the scales in your OSR plants' favour before the flea beetles move in on your crop.
The first few weeks of establishment are an anxious but important time for all of us involved in OSR management but prevention – in the form of good establishment - is always better than cure in the fight against the flea beetle.
Want advice on this or any other crop production matter? Get in touch and one of our team will get back to you.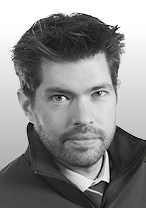 Paul Cartwright, crop production specialist
| | |
| --- | --- |
| Total dose | Fresh market: maximum 24 grams per tonne (but see cold storage limits below). Processing: maximum 36 grams per tonne (including fish & chip shop use) |
| Individual dose | The maximum individual dose is 12 grams per tonne |
| Cold storage for fresh market | Where storage will ultimately be at 5°C or below, only one application should be made, before the crop temperature is reduced below 7°C. |
| Harvest interval | The latest time of application is 14 days before removal from store for sale or processing. |
| Advisors | Recommendations must be made by BASIS qualified advisors who have inspected the crop. |
| Equipment | Application equipment must be inspected and certificated annually by NSTS. |
| Applicators | Personnel must be qualified to NPTC PA1, PA9 and should be members of the NAAC CIPC Applicators' Group. |
| Stores | Store managers/owners must have inspected and reported stores as fit for application using the Potato Industry CIPC Stewardship GroupPICSG Store Checklist. This is a Red Tractor Assurance requirement. |
| Responsibility | Overall responsibility for CIPC use lies with the crop owner – not the store manager, CIPC applicator or BASIS advisor. |