The latest edition of Frontier's e-newsletter brings you news and crop production advice from our expert team. We hope that you find this useful and informative. We welcome your feedback; you can email us at This email address is being protected from spambots. You need JavaScript enabled to view it..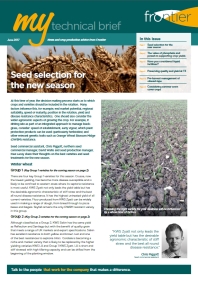 Topics covered in this edition:
Seed selection for the new season
The value of phosphate and potash in supporting crop yields
Have you considered liquid fertiliser?
Preserving quality and yield at T3
Pre-harvest management of oilseed rape
Considering summer sown crops.
Click here to view My Technical Brief
Having trouble viewing this link? Click here for a PDF version.