17th July 2017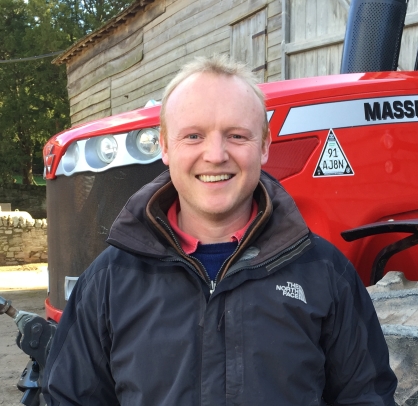 Following a busy spring season, more growers than ever are using Frontier's online farm management system, MyFarm. The tool, used to log field and cropping records, has recently reached a significant milestone, with 200,000 hectares of UK farmland now managed with the help of MyFarm.
Hundreds of growers use MyFarm, from 50 hectare farms to 3,000 hectare estates. The system enables growers to more efficiently and effectively manage all aspects of their farm business. With integration of the Greenlight Grower Management system, growers can access their field information, cropping and recommendations, as inputted by their agronomist, from any device with an internet connection, allowing easier access to information on-the-go.
Complementing the MyFarm website, the MyRecs app for iPhone and iPad enables growers to take their crop recording system out of the office and into the field. Capable of working without an internet connection, any application data recorded in the MyRecs app then syncs back to the MyFarm website where it is saved.
Growers already using MyFarm are finding many different benefits from using the system.
Quick and easy access
Sam Paton, manager at Norfolk Farm Produce has been using MyFarm this season in conjunction with Frontier agronomist, Tim Gurr to oversee over 750 hectares of a wide variety of cropping. During the busy spring season, great value is placed on the ease with which information can be accessed.
"The biggest benefit for me is that it's straightforward to use and everything is in one place," Sam explains. "We find the activity reports particularly helpful in providing a summary of what's happening across the farm."
Multiple account management
Tom Powell (pictured) manages over 800 hectares across three farms in Herefordshire with Frontier agronomist Lee Ward. He has found significant benefit both operationally and in terms of time management from using MyFarm and MyRecs this spring.
"As contract farmers operating over three separate sites, moving from account to account on the MyRecs app is a very simple process," explains Tom. "It makes record keeping across multiple accounts very straightforward.
"We're finding that the field record keeping with the iPad is an easier method of working than our previous paper based system. It allows me to change farm fundamentals such as field size so that my agronomist is instantly working on the same land areas that we are. Both my sprayer operator and I enjoy the fact that as soon as a new recommendation is published, we have it in our MyRecs app immediately."
Many growers are finding that mobile access to cropping and recommendations is improving their flexibility and speed of decision making.
"Whilst we like to be pre-emptive where possible, a lot of applications are reactionary and the use of MyFarm has shortened the management time required significantly. Certainly in Herefordshire, the weather windows are tight and the difference using MyFarm and MyRecs this season has been tangible," Tom adds.
Having also recently completed his annual Red Tractor audit, Tom found that MyFarm eased the burden of record keeping.
"The activity report within MyFarm was everything that we needed immediately for our application information, meaning that the audit went well and I was delighted."
Accurate reporting
The full passage of information from agronomist to farmer and subsequently to operator ensures that the data entry burden is minimised for everyone involved. This helps to produce accurate activity reports at the end of each growing season.
A recent addition to the MyCropRecords tool is the ability to produce cost analysis reports, adding further value to application information being recorded by assigning product and operation costs. Growers are able to produce cost reports by either field or crop as the season progresses; creating additional value from application information recorded throughout the year.
As well as the MyCropRecords tool and the MyRecs app, MyFarm contains a range of online tools and access to all of Frontier's existing online services, including iTrac and MySOYL.
To find out more about MyFarm, click here, speak to your Frontier contact, or contact the MyFarm support team on 03330 141141 or This email address is being protected from spambots. You need JavaScript enabled to view it..