The latest edition of Frontier's e-newsletter brings you news and crop production advice from our expert team. We hope that you find this useful and informative. We welcome your feedback; you can email us at This email address is being protected from spambots. You need JavaScript enabled to view it..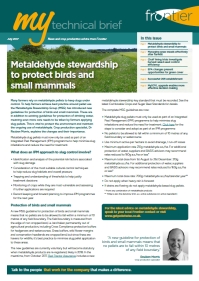 Topics covered in this edition:
Metaldehyde stewardship to protect birds and small mammals
Managing grass weeds effectively after harvest
Chaff lining trials investigate harvest weed seed control efficiency
EFA changes present opportunities for green cover
Successful OSR establishment
MySOYL upgrade enables more effective decision making.
Click here to view My Technical Brief
Having trouble viewing this link? Click here for a PDF version.