Frontier launches MyCropMarketing online grain trading platform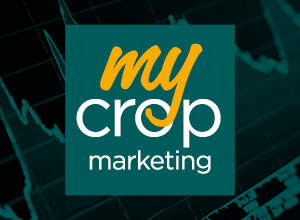 MyCropMarketing is the latest addition to Frontier's MyFarm service. The new platform lets growers view live market prices, trade grain, set price alerts and manage contracts all in one place.
Using a computer, tablet or smartphone to access MyCropMarketing, growers with a Frontier account can benefit from 24-hour market visibility and unlimited access to real-time grain prices. The platform also offers a new, robust and user-friendly way to trade with Frontier at the touch of a button. Growers have the flexibility to sell their feed wheat, feed barley and oilseed rape at their own convenience - including outside normal working hours.
To save time and get immediate prices, MyCropMarketing gives users the ability to save preferred collection addresses, commodities, specifications and varieties. There's also no reason to miss a spike in the market thanks to the platform's price alert feature. By setting target prices for each commodity, growers are automatically notified by email or text should the market reach their specified value so they don't miss the opportunity to trade.
Speaking of the platform, Frontier's grain director, Simon Christensen says, "We're always looking for new ways to support our customers. Developing and investing in new technology is a huge part of that.
"MyCropMarketing gives our growers market transparency and flexible options around when and how they trade with us. They are extremely busy people and it's important to us that we continually look at new and alternative ways to support them. With MyCropMarketing, our customers can become more involved in the grain marketing process with access to additional information, live trends and updates. They have more control over their marketing activity and the option to deal with us in a new way that may better suit their business."
As well as price alerts, users of MyCropMarketing will also receive important market updates by email. Simon explains, "If there are factors impacting the market, our customers should know so they can check the influence it's having on prices for their grain.
"MyCropMarketing lets us share more market information with customers than ever before, helping them to make well-informed decisions to benefit their business."
The platform also serves as a useful record-keeping system, with all confirmed contracts stored in the user's account and easily accessible with the help of useful search filters. Users can refer back to historic contracts, compare them with new ones and download any that they wish to save to their personal records.
Any device with internet access can be used to connect to MyCropMarketing, giving growers the option to trade from the office or even out in the field.
If you are already a user of Frontier's online portal, MyFarm, you can instantly access the new MyCropMarketing service. If you do not have an account, please speak to your Frontier contact if you have one, or contact the support team by email at This email address is being protected from spambots. You need JavaScript enabled to view it. or by calling 03330 141141.
You can learn more about MyCropMarketing here.