Multi million pound investment in Kent to benefit local farmers
The first phase of a multi-million pound, three-stage investment programme at Frontier Agriculture's Kent hub in Wingham officially opened this week. The site previously operated as Grain Harvesters and became part of the Frontier business in 2014. Investment since then (topping £2 million during this first stage alone) has centred on improving site efficiency, capacity and safety for the 19 people employed there and their arable farmer customers. Work completed in phase one includes:
Relocation and build of a new weighbridge.
New roadways and water capture infrastructure. Changing the flow of activity at the site to keep vehicles and people apart, with obvious benefits to safety.
A state-of-the-art, purpose built laboratory (used for testing farmers' grain quality).
Andrew Flux, group commercial strategy director from Frontier who officially opened the site said, "Today's opening is a demonstration of our commitment to farming in the region. We are particularly keen to invest in Kent because we see it as a region of opportunity for growers as well as an area where we can strengthen and develop the whole supply chain. As well as this new hub at Wingham, we also have sites within our group at Wrotham (The Agronomy Partnership - TAP) and Appledore (Anglia Grain Services - AGS).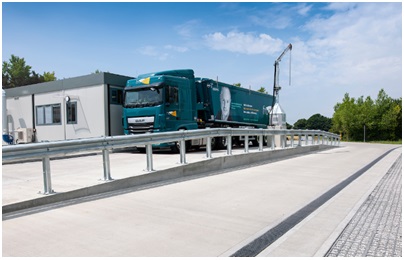 In Kent there's lots of potential for farmers to access a number of key markets for their grain but to help them do that we needed to create a storage and handling facility capable of handling increasing demand and Wingham will do that."
The Kent hub is ideally positioned to enable Frontier to link growers to a number of profitable markets. These include mills - one on site and the chicken feed mill in Ashford. Further afield the site has links with malsters in East Anglia and export markets via links with local ports. Many of these end homes have specific requirements regarding grain quality and the Frontier Kent team has grain handling and storage expertise to ensure farmers find the most profitable end destination and match their grain to end users' specifications.
Andrew added, "It's great to see the first phase come to fruition and we're already beginning work on phases two and three. Over the next couple of years we will spend several million pounds more on improvements including 20,000 tonnes of grain storage and elevation infrastructure to manage the movement of grain around site. Kent is now firmly on the map for Frontier."
The Wingham site team gather to mark the official opening of their new site facilities with Andrew Flux, Group Commercial Strategy Director (front, second from the left):