Drem crop protection store opens for Scottish farmers
The official opening of a new Frontier Agriculture crop protection store and sprayer contracting facility took place earlier this month. The store, at Drem, is set to benefit growers managing crops between Fife and the Scottish Borders, and beyond.
As well as serving local growers, the store will be a strategic base supplying Frontier's other Scottish stores at Turriff and Invergordon, improving the service for farmers using those stores too.
Cutting the ribbon at the opening event, Steve Wooldridge group operations director at Frontier said, "Frontier is committed to Scotland and we're delighted to open this new facility. Its introduction will enable us to provide even better service as well as strengthening our position in the region."
The store at Drem Airfield will be 'COMAH' registered and has the storage capacity for up to 420 pallets of products vital to local farmers in the production of crops.
I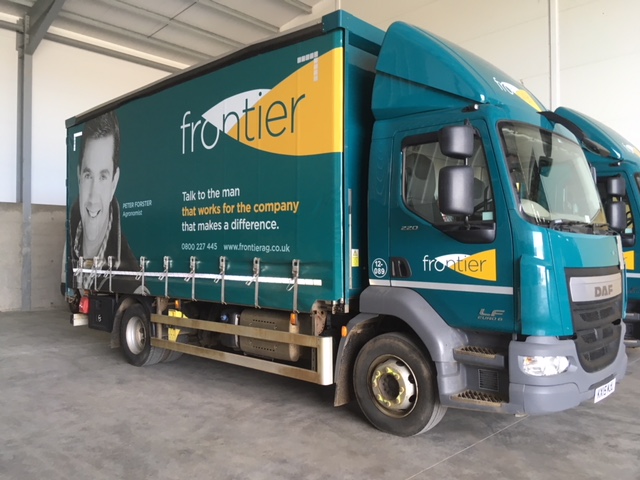 t will be supported by a fleet of four delivery vehicles which will provide same or next day delivery to farmers. Frontier has seven agronomists working with farmers in Fife, East Lothian and the Borders and the advice and recommendations they give will be facilitated by service from this new store. The contract spraying operation consists of four self propelled sprayers catering for all tramline widths and cropping options.
Andrew Ainslie, commercial director north for Frontier added, "Having the ability to store over 400 pallets enable Frontier to stock key products in advance of their requirement avoiding situations where product demand is high and the pull of stock south of the Borders limits availability to growers in Scotland later in the season."
The new store at Drem is operated by kind permission of the landlord Andrew Black (senior), and his sons, Andrew and John.
(Left to right) Andrew Ainslie, Andrew Black (senior) and Steve Wooldridge.