Frontier invests in five farm-scale Soil Life demonstration sites
21st August 2019
Five sites located on working farms - four in England; one in Scotland.
Researching soil management best practice using a range of measures including no/zero tillage, cover crops and organic manures.

Field scale tramline comparison treatments on a range of soil types over at least five years.

Opportunity for knowledge exchange and working in partnership with AHDB, Environment Agency and The Allerton Project.
To further strengthen its commitment to soil and plant health expertise and innovation, Frontier has introduced five new 'Soil Life' demo sites which will be part of the company's '3DThinking' trials and research programme.
Long term research into sustainable soil improvement
Working in partnership with host farmers Frontier will use these sites to research and demonstrate best practice around soil management over a period of at least four/five years; helping farmers to develop sustainable arable systems.
Sites have been chosen to reflect a wide range of soil types and challenges within the rotation. Common elements of plans for all of the sites will be reduced or zero tillage, subsoiling, long term cover crops and organic manures.
The sites will also use two different types of field layout. One in which all the various treatments are contained and compared in one field, and another where the treatments are across neighbouring fields but confined to one tramline in each field.
Each site has the support of a Frontier agronomist as well as advice and expertise from the wider Frontier soil and plant health team.
Two levels of report – Soil Life Fundamentals and In Depth
Soil Life is Frontier's bespoke soil health check service which provides comprehensive testing of soils and post testing expert analysis of results and advice. The service includes two levels of report, Soil Life Fundamentals (which gives a basic look at the characteristics of the soil) and Soil Life In Depth (which investigates the physical properties of the soil, such as compaction, in detail).
The sites are building on the interventions and practices that can help farmers manage and improve soil condition. They will be used to gatherinformation, experience and practical solutions which Frontier will use in a number of ways.
Data from the sites will be used to better inform Frontier agronomists which will enable them to talk with confidence to their growers about practical soil improvements solutions that they can implement on their own farms.
Alistair Hunter Blair, host farmer at the Soil Life demo site in Herefordshire, said: "One of our biggest problems is organic matter and we are trying to increase that. We would like to increase the water retention of our soil and one of the ways to do that is to increase organic matter. Having Frontier on board is really, really helpful because we have access to their technical expertise. That's the one thing that I struggle with. I can read as much as I can but having access to the labs and everything else that comes with Frontier's technical support is very important."
Soil Life demo site locations
| | | |
| --- | --- | --- |
| Location | Soil type | Specific site challenges/interventions being investigated |
| Haddington, East Lothian | Silty clay loam. | Soil structure and organic matter levels/widening the rotation. Producing potatoes without the use of the plough. |
| Consett, Durham | Silty clay loam. High altitude - soils remain cooler longer and lose heat more rapidly in autumn. | Organic matter levels and microbial activity/using imported organic materials, cover crops and grass leys. |
| Nassington, Wansford, Cambridgeshire | Clay loam. | Black grass and compaction/long term use of cover crops. Addressing compaction to enable optimum rooting. |
| Ross on Wye, Herefordshire | Sandy/silty clay loam. | Organic matter levels and water retention/reducing cultivations, min till. Reducing mineralisation through improved organic matter. |
| Tonbridge, Kent | Silty clay loam. | The use of catch crops to improve soil health. |
This news is demonstration of Frontier's commitment to invest in soil and plant health research and also follows the appointment of Jamie Stotzka earlier this year.
To keep up to date with developments from Frontier including the Soil Life demo sites register for the Frontier blog and follow @frontierag /search #SoilLife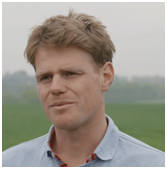 "Having Frontier on board is really, really helpful because we have access to their technical expertise." Alistair Hunter Blair, Weir End Farm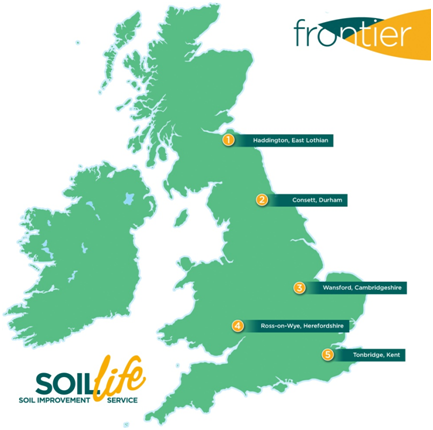 There are five Soil Life demo sites with varying soil types and agronomic challenges.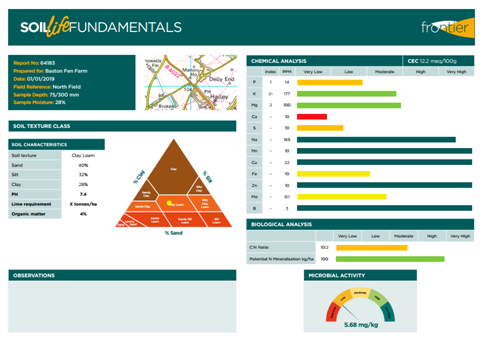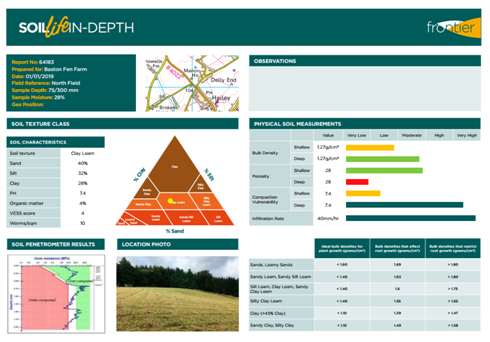 Frontier's Soil Life service has two levels of report 'Fundamental' and 'In Depth'.