Last year Frontier committed to providing a safer and more efficient collection only service for grain samples.
Following feedback last harvest that more support was needed on how to sample, Frontier has produced two videos and a poster to support its customers and help them make the transition to successful sampling on farm.
Farmer Paul Myhill at Hardingham Farms in Norfolk who features in the videos said: "I have been sampling grain in this way for a number of years now. I believe it is the safest way to sample. It also means I have a set of accurate samples and I can work with my farm trader, Carl Ashworth to make better decisions about marketing what I have in store. For example, we sampled our malting barley in this way last year and as a result we identified variable quality. Because we knew exactly what was in each part of the store, we were able to separate the grain and sell the bulk as malting barley for a premium, and the smaller area of lower quality as feed."
Over the next three weeks Frontier grain customers will receive a grain sampling pack containing instructions and sample bags as well as a weatherproof sampling poster and links to instructional videos demonstrating the easiest way to ensure accurate samples are taken.
The videos
Hardingham Farms
The importance of safe and efficient sampling


Instructional video
How to carry out self-sampling on your farm



The poster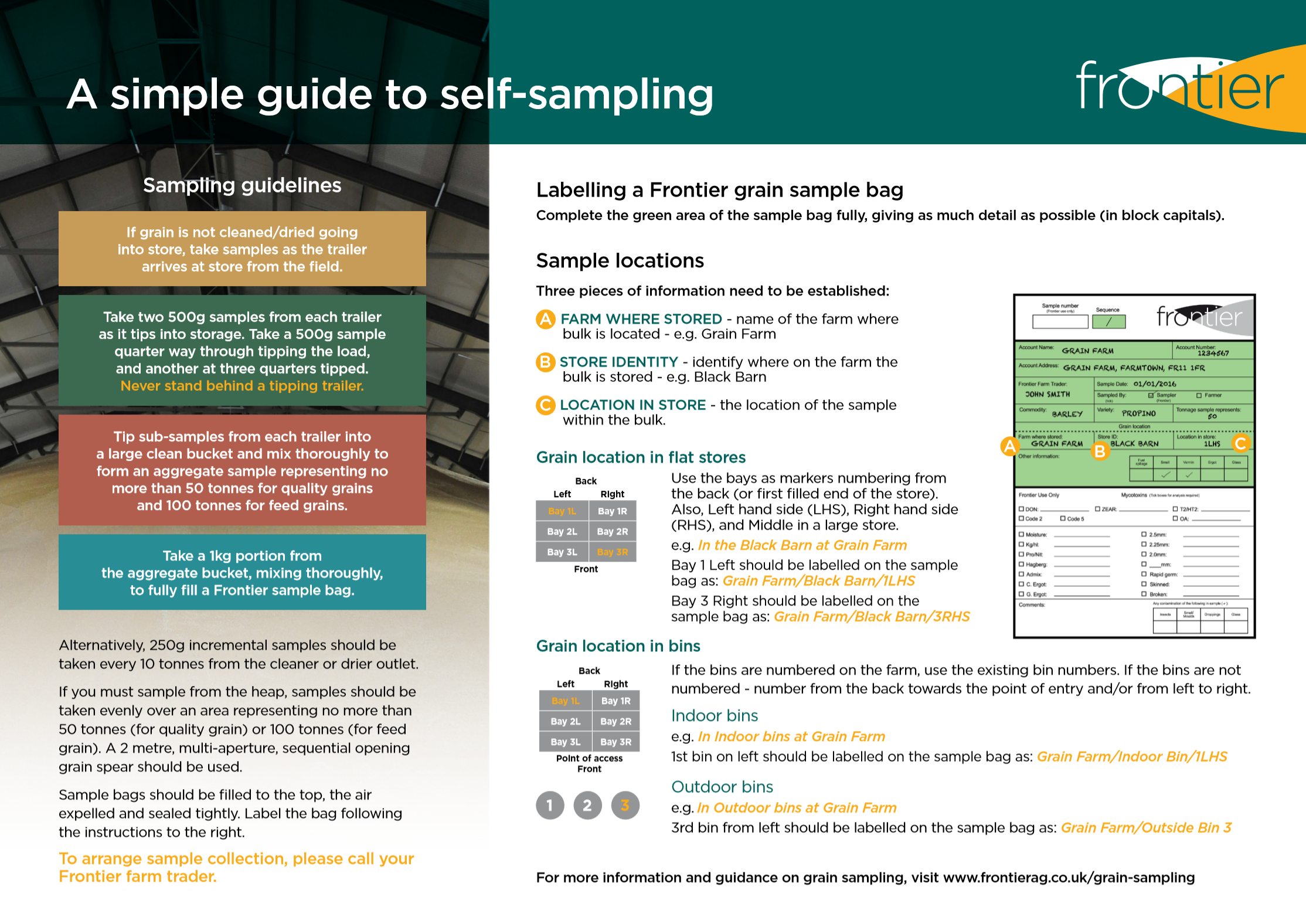 This large, visual representation of how to self-sample will help people sampling on farm follow the process. The poster will be mailed to Frontier grain customers. (NB the poster is designed to printed in A2 format.)
Speaking about self-sampling on farm, Nick Heald, Frontier's commercial director said: "We were pleased with the response from farmers last harvest but we also had feedback that some farmers wanted more support on how to implement a sampling system on farm. This led to us producing these materials which we are sharing with our customers, but we hope that the wider industry will find useful too."
All materials related to safe and efficient grain sampling can be found on the Frontier website.
For advice and support with sampling and grain marketing speak to your local Frontier farm trader. All Frontier customers have free access to grain sampling results, live grain market pricing and extended trading hours via Frontier's farm management platform MyFarm.