June 2022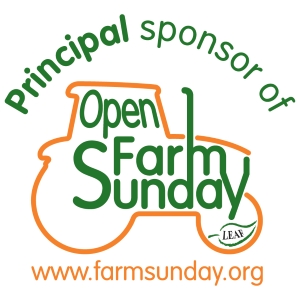 Frontier Agriculture is once again supporting Open Farm Sunday (OFS) – UK agriculture's annual open day.
Taking place this year on Sunday 12th June, OFS provides an opportunity for farms around the country to open their gates to the public to give them an insight into British agriculture. Every event is unique to the individual farm it is hosted at.
Prior to the pandemic, more than 350 took part in the popular campaign, and last year, more than 100 farms across Britain reopened their gates under Covid guidelines.
2022 marks the 15th consecutive year that Frontier has supported OFS, making it one of the longest standing principal sponsors of the event, but the company's involvement extends far beyond financial support, with many of its employees assisting their farmer customers at local events.
Mark Aitchison, Frontier's managing director said, "Our industry has a great story to tell and Open Farm Sunday does a fantastic job of connecting farmers with the public. As well as supporting customers, Open Farm Sunday provides an opportunity for our people to showcase their expertise at a local event and explain the important part they play in the arable supply chain."
Highlighting health this Open Farm Sunday
Each year LEAF (Linking Environment and Farming) – the organisation which manages OFS – allocates a theme for OFS and this year the focus is health. From the benefits of soil and plant health for our planet, to the association between nature and personal wellbeing, farmers are showcasing how agriculture can have a positive impact on everything around it.
"Helping people understand the health benefits that sustainable agriculture brings to both the planet and its population is an important message," says Mark. "We are proud to support our farmer customers and the wider farming industry through our continuing involvement with Open Farm Sunday."
Alongside Frontier, sponsors of the event include: Agriculture and Horticulture Development Board (AHDB), Arla, Asda, BASF, Co-op, Department for Environment and Rural Affairs (DEFRA), Farmers Weekly, John Deere, LEAF Marque, National Farmers Union (NFU), Sainsbury's, Tesco and Waitrose.
Farmers who want to learn more and find out how to open their farm on Open Farm Sunday should register at www.farmsunday.org.