June 2022
Customers of Frontier Agriculture now have the option to use a closed transfer system (CTS) to safely decant product from an IBC into a sprayer for fast, clean and safe loading, with the added benefit of reduced reliance on and manual handling of plastic containers.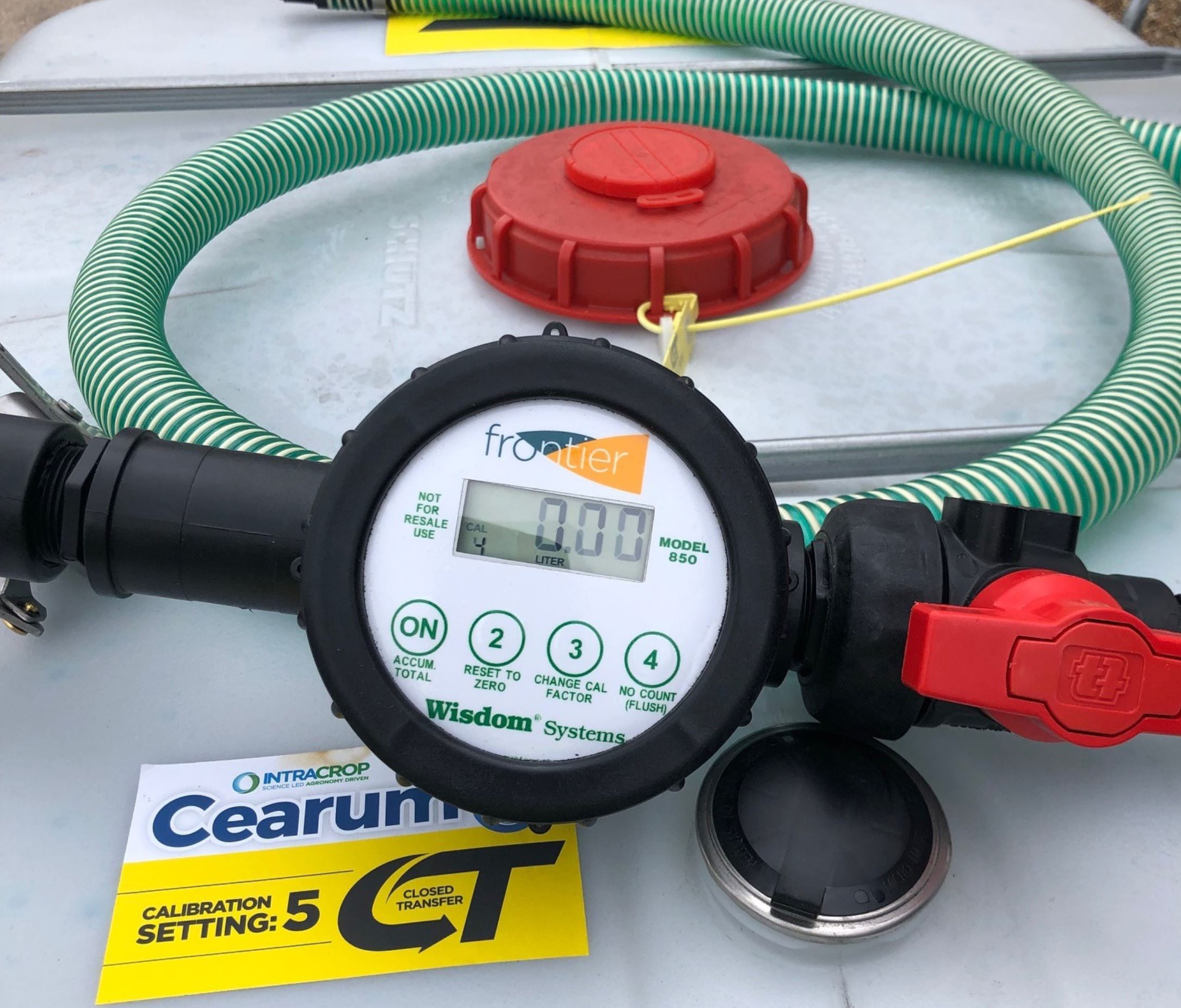 Developed by Richard Garnett of Wisdom Systems and now available from Frontier, the CTS is a safe and sustainable option for farmers and sprayer operators that has so far been used with Crown MH on potatoes and more recently with Cearum CT and Nutrino Pro CT from IntraCrop. The latter is a first for the industry, with IBCs that can be refilled as many times as needed over a five-year period.
"Due to legislation on some products, the industry has seen a compulsory move from a bottom-emptying tap to closed transfer systems," explains Nick Badger, Frontier's crop protection commercial manager for roots and horticulture and lead on the development of the service. "It is a means of improving the stewardship around crop inputs; vastly reducing potential point source contamination and thereby protecting operators and the wider farmed environment. The system generates much less plastic on farm too, reducing waste management costs and increasing sustainable farm practices."
The CTS works by using the suction from the sprayer to draw product from the IBC directly into the venturi, where it is then diluted ahead of travelling to the sprayer's tank. The process reduces the risk of exposure to the sprayer operator, strengthened further by its one-way valve and a tamper-proof opening on the IBCs themselves. Industry-standard connections mean it's simple and easy to use, and it can be adapted for use with the majority of powered sprayers. Once the product has been used, there's no requirement to rinse the IBC or pay for additional plastic waste disposal. Instead, the containers are collected from farm free-of-charge, as long as they remain undamaged with all protective seals intact.
Nick continues, "Historically, IBCs have had to remain on farm or be managed by specialist recycling services after each use but with our new CTS, each IBC can be collected from the grower and refilled, reducing the amount of plastic waste on farm and efforts to manage it.
"This is important for many agricultural businesses and product manufacturers, especially following the introduction of the Plastic Packaging Tax (PPT) in April this year. The tax is a new expense for suppliers, and there's the risk that any additional costs to them could ultimately be passed down to farm."
The PPT defines plastic packaging as anything that is predominantly more than 50% plastic by weight. The rate of the tax is set at £200/t on plastic packaging that contains less than 30% recycled plastic, with liability resting with UK manufacturers producing 'finished' packaging (i.e. 'the last substantial modification' to the packaging that is used).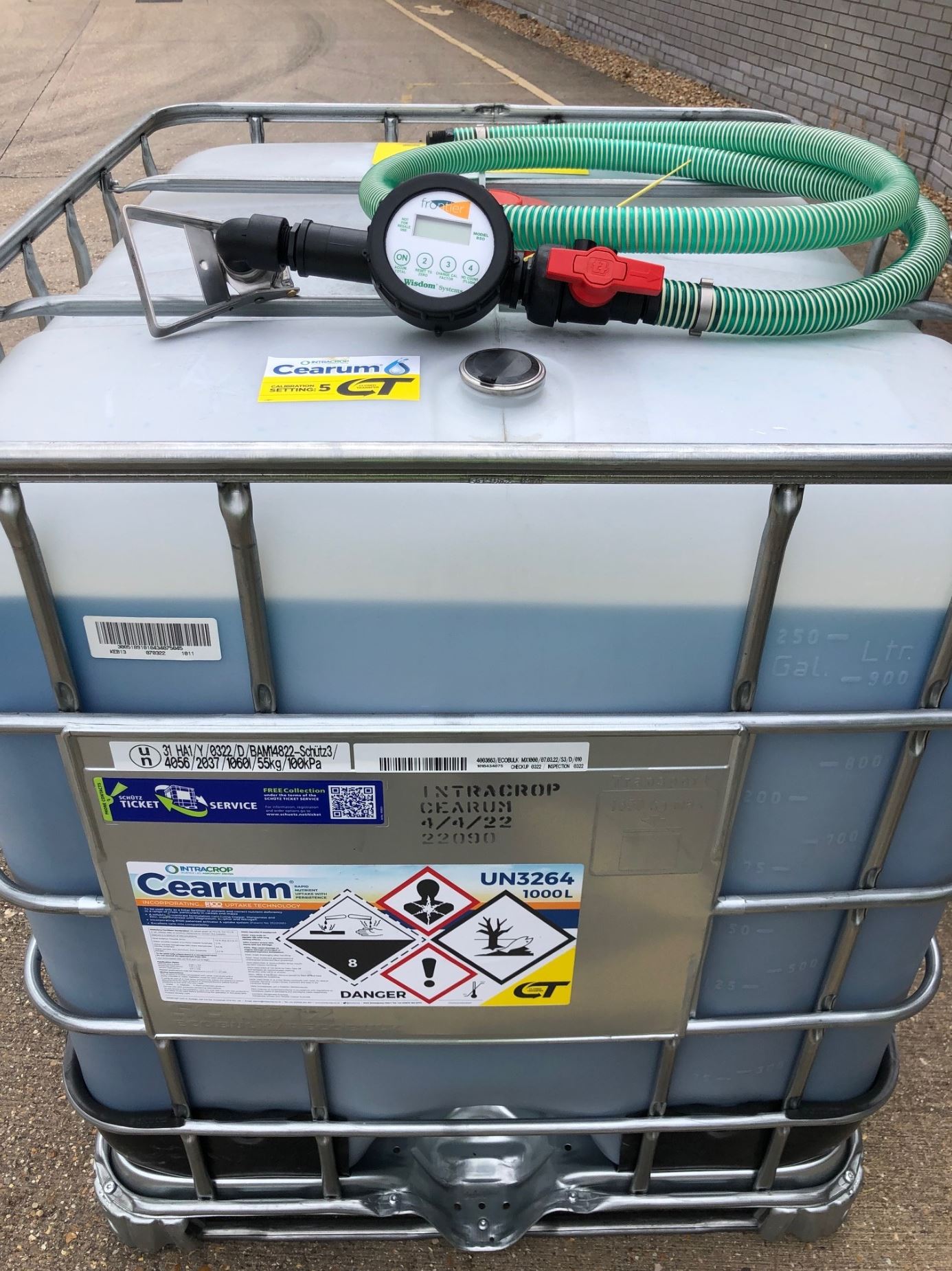 Nick continues, "The CTS could help to mitigate the burden for everyone – manufacturers can adopt a more sustainable approach to product supply and delivery, and farmers benefit from having less plastic on farm and therefore reduced waste management costs."
The new system has several advantages beyond the point of filling too. Due to the speed that product is transferred to the sprayer – typically 25l/min – it can allow for an extra two loads of product to be applied in a day. This means that growers can cover a greater area when weather conditions are favourable, helping to manage workloads and improve overall productivity.
Learn more about Frontier's new closed transfer system at a Frontier 3D Thinking open day
Growers attending Frontier's annual programme of 3D Thinking variety demonstration events will have the opportunity to learn more about the CTS from key advisors.
"We're excited to be introducing the CTS at our open days this summer," says Nick. "It has the potential to make a big difference for so many farms, and during what feels like a lingering period of uncertainty, growing policy requirements and mounting pressures in the industry, it's a real positive to be able to bring a solution like this to growers and sprayer operators.
"We've seen excellent results so far but there's more the system can help with. It'll be great to discuss the needs and wants of our farmer customers so we can continue to build and develop the service."
More information about Frontier's CTS service can be found at www.frontierag.co.uk/CTS, including access to Wisdom System's efficiency and savings calculator as well as support with kit set up and management.