Harvest is fast approaching and after an extremely wet winter left soil nitrogen levels low, fortunes have changed and many growers are now hoping for high yields after more recent conditions have produced forward crops, full of potential. This is clearly good news, but for milling wheat growers, achieving full premiums could be a challenge. Multi N is the answer.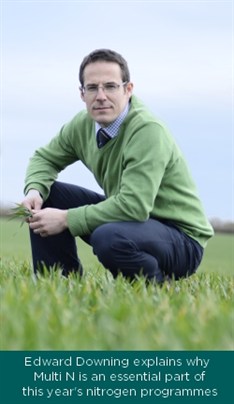 With 12 years' consistent performance on farm in all weather conditions, Multi N is the most efficient foliar nitrogen fertiliser available. Edward Downing, Frontier's fertiliser technical manager, explains why it's particularly important this season, "Yield potential is very good at the moment, but high yields dilute grain protein, meaning more nitrogen is needed to reach the right protein specification. It's vital that growers understand this risk and address it with late fertiliser applications, making a foliar product like Multi N an essential part of this year's program."
He goes on to describe Multi N's many benefits, "A significant advantage is that volatilisation, which can cause significant nitrogen loss to the atmosphere from simple urea solutions, is not an issue with Multi N. It's been formulated to create a skin on the surface of the droplet, which prevents this loss, becoming rainfast in just 30 minutes. It can then be readily absorbed by the plant with no worries about leaf scorch, making it safer than a foliar urea. All this means Multi N performs consistently well, year on year, whatever the weather."
With quick uptake, Multi N works by delivering nitrogen and sulphur to boost protein levels in the most efficient way, helping growers to comply with NVZ constraints and ensuring that adequate nitrogen is taken in by the plant. Used in conjunction with a robust nitrogen programme designed to maximise protein potential, Frontier trials have shown Multi N increases protein levels by 0.5-0.7% when applied at the recommended rate of 33l/ha at GS69-75. This lower volume allows the product to be supplied in IBCs or bulk, so there is no need for liquid storage on farm.
Edward concludes, "Multi N isn't complicated to use. It can be safely tank mixed with most agrochemicals and applied through conventional nozzles, with a window of 14-20 days to apply it. It also saves time and money; because the application rate is less than that of conventional urea, each sprayer tank load covers a greater area, which can be particularly beneficial in changing weather conditions. Whether you grow a lot of milling wheat or just a little, it's certainly cost effective.
"Crops are full of potential this year and it would be a shame to compromise the milling quality; Multi N will help growers to address this and enable them to reap the rewards come harvest time."
For more information, speak to your local Frontier contact or click here.