Frontier Agriculture will demonstrate its commitment to increased research, innovation and development at this year's Cereals event. Its 3D Thinking concept introduces customers to the areas of Discovery, Development and Demonstration to answer the crop production questions that growers will face in the coming seasons and beyond.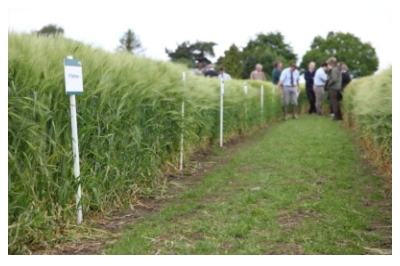 David Robinson, head of trials and development explains that flexibility of approach is essential. "Agriculture is a fascinating industry which constantly brings new challenges. With dramatic seasonal variations, no two years are ever the same and growers need to adapt and change to remain successful. These challenges encourage innovation, and the 3D Thinking approach is designed to find solutions to overcome them."
3D Thinking also ensures that Frontier's experts are continually developing their specialist knowledge. Having access to the latest research enables them to communicate the latest ideas with confidence, allowing customers to receive the best possible advice.
Discovery is driven by new developments in crop production; from new variety traits and disease resistance to technology and legislative changes. At the heart of this is soil management; an understanding of this fundamental element of agriculture allows us to make the most practical use of emerging technologies.
This is then taken to the Development stage at Frontier's national network of trials sites. Attendees will experience the Demonstration phase of the project first-hand with opportunities to discuss the latest information from trials and to take a first look at our recent innovations. For David the benefits are simple, "Sharing new information and ideas with growers will help them get the best from their crops, whatever happens."
Visitors to the marquee will have the opportunity to see Frontier's unmanned aerial vehicle (UAV). This state of the art equipment enables the user to look at crops under different wavelengths of light, revealing many aspects of crop growth otherwise invisible to the naked eye. With applications in weed control, plant populations and yield estimation the UAV is a practical example of how Frontier adopts emerging technology and tailors it to benefit farm businesses.
Intelligent use of information technology allows farmers and managers to make astute, informed and profitable business decisions. The event will see the return of the popular 'technology lounge' where growers will get the chance to see how Frontier's MyFarm can help them manage their farm business efficiently and effectively. The secure, cloud based system can be used on a range of mobile devices and brings together data from a number of different sources, allowing simple, fully integrated management of the whole farm. Frontier experts will be on hand to demonstrate the full range of features and answer any questions.
Precision crop production techniques allow growers to improve the economic, agronomic and environmental performance of their farm business. SOYL provides expert advice and a comprehensive range of services including SOYLsense variable rate nitrogen, soil nutrient management, conductivity scanning and variable rate seed. The experienced team will be in the marquee highlighting how some simple changes can ensure sustainable production for the future.