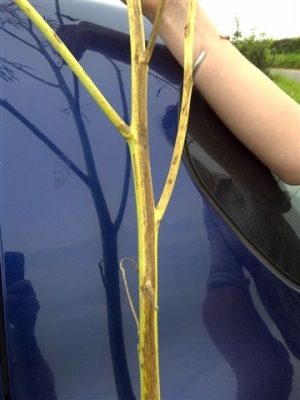 With rape harvest well underway, Frontier's technical team says that the yield-robbing disease, verticillium wilt is noticeably easier to find this year.
Brian Ross, from Frontier's technical team advises: "This is a disease affecting oilseed rape that should not be taken lightly, particularly with the short rotations currently in place which improve the disease's ability to multiply. Farmers need to be vigilant and where the disease is apparent, there are a number of actions that can be taken to mitigate the negative effects such as variety choice and changes to the planned rotation."
Verticillium wilt (Verticillium longisporum) is a soil borne pathogen found in many European oilseed rape crops and other cruciferous crops globally. The microsclerotia from infected plants can live in the soil for over 10 years and are stimulated to germinate by root exudates from the rape seedlings. They produce hyphae which invade roots in the autumn. At stem extension the infection spreads from the tap root into the vascular system and then impairs the xylem flow, causing premature ripening of the pods and seeds. Ultimately this leads to yield reduction.
"The difficulty growers have is that the disease is often not visible until late on in the crop's life," says Brian. There are sometimes earlier symptoms such as chlorosis of branching and leaves or a yellowing of one side of the leaf, though the latter is not a reliable indication.
With the disease apparently on the rise, what can growers do to reduce the threat? Brian says there are a number of points to consider: "It is important that farmers and their agronomists monitor crops pre-harvest to assess the levels of disease. If levels are severe, rotation length should be increased and seed from an infected crop shouldn't be used. I would also advise paying attention to good early establishment and agronomic practices in the crop's life. For example, poor rooting or poor control of phoma and/or light leaf spot can aggravate the disease's effects."
"Where growers find the disease they could consider choosing a variety with better tolerance. Recent work has identified that some varieties are less able to cope with the disease than others. However, verticillium wilt is a relatively new disease and more information is gathered annually which should be taken into account."
Varietal choice
(NB based on limited information available to date since disease emerged in the UK)
Apparent moderate tolerance: DK Cabernet and Fashion.
Apparent reasonable tolerance: Cullin, Compass, Ovation and Trinity.
Research into verticillium wilt control
Swedish research has shown yield losses of up to 50 - 60% and points to short rotation situations being particularly vulnerable. Studies carried out in the UK have indicated that yield loss can occur when more than half the stem circumference is affected and plants are ripening prematurely. In extreme cases individual plants can have decreases in TGW of between 12% - 24%. Canopy collapse and seed shedding can cause greater losses, as demonstrated in Sweden. HGCA work has also reported external seed contamination on seed that came from a heavily infected cropleading to a warning not to use seed from these crops.
The disease can attack many types of crops and research has been ongoing for many years. In the last 5-7 years, Swedish researchers have been investigating the interaction of certain types of antagonistic bacteria coupled with making use of cultivars which express resistance against the pathogen in oilseed rape crops. The aim is to see if these can be used to develop a protective seed coating.
Biofumigation with certain types of mustard is under investigation to help with the problem of verticillium in strawberry crops (caused by Verticillium dahliae, one of the parents of Verticillium longisporum) and therefore presents a possible solution in rape rotations. Including this type of crop in a rotation could enable reduction of the disease but it would be a challenge to incorporate the biofumigant crop prior to drilling rape.
Additionally, breeders are now seeking resistance tolerance traits in new cultivars. Differences in disease levels between varieties is classed as 'resistance'. Tolerance relates to differences in yield loss where varieties have the same level of disease during crop development. A scoring system has been created to help decide the degree of severity of verticillium wilt which will aid decision making when planning rotations and determining if crops should be used for seed or not.
Brian concludes: "Research is underway that may offer solutions such as seed treatments or management techniques but in the meantime good crop management and agronomy advice will help crops tolerate a level of infection. The key message is to monitor rape crops for the disease so you know what you are dealing with. Where verticillium wilt is found, assess the severity in order to gain an understanding of how to proceed in the future."