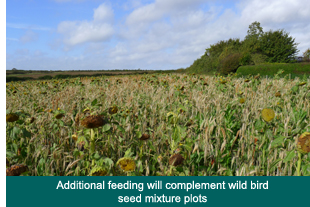 Kings Game Cover and Conservation Crops has welcomed news that Natural England is offering two key options to support farmland birds this winter. Given the challenging weather conditions and reduced seed yield this season, supplementary feeding options (EF23 in ELS and HF24 in HLS) are expected to be a lifeline for many farmland bird species.
With payments of up to £822 available, the options are financially attractive but Kings is highlighting the need to source quality seed for use in feed options. Richard Barnes, from Kings explains: "This is great news but it's going to be important to use the best seed available. There could be a significant risk of introducing problematic weed species if low grade feed is used across wild bird seed plots. At Kings we work hard to source the highest quality seed for planting and we take the same approach for seed that will be spread as feed in an option."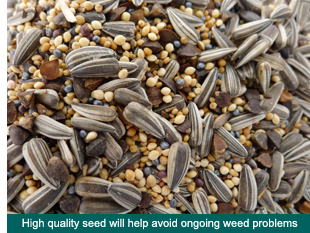 The ELS option requires a simple mix of 75% wheat and 25% mix of red millet, white millet, canary seed and oilseed rape. This option attracts 630 points per tonne of seed used and applies for agreements that utilise either wild bird seed mixtures (option EF2) or extended overwintered stubbles (option EF22).
The HLS option requires a mixture of wheat (maximum 65%) and a selection from the following elements: mustard, safflower, oats, niger, hemp, sunflower hearts, red millet, white millet, canary seed and black sunflowers. This option offers a payment of £822.00/tonne of seed used.
Feeding will start in January and carry on until March/April. For both options a feeding diary must be kept, detailing the mixture components, costs, amount fed and locations used. Seed can be fed on tracks, within the stubble or wild bird seed plot areas or via feed hoppers. Hoppers must restrict the access of non-target species such as crows, pigeons and pheasants.
Kings offers complete mixtures for both options as well as 'pre-mix' options which are suitable for use with growers' own farm-saved wheat. All Kings' mixtures are created using the highest quality seed. For further details of these two options and how Kings can help with feeding advice and supply of mixtures call 0800 587 9797 or visit www.kingscrops.co.uk.