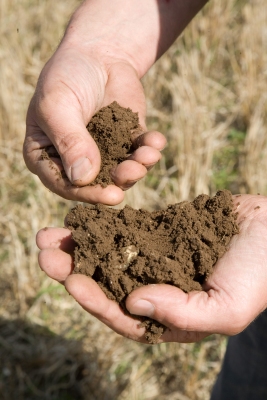 Mike Slater, Fertiliser Technical Development Manager for Frontier urges growers to test for nitrogen levels in soil this autumn, cautioning them not to take anything for granted - no matter how much autumn soil nitrogen is expected.
After such a challenging growing season and harvest, a key question for growers this autumn is how much mineralised nitrogen will be left in soils - vital to support successful establishment of winter cereals and oilseed rape.
Heavy rain will have caused some nitrate to be taken down the soil profile especially on lighter soils. With yields below what was hoped for, it is true that less nitrogen than expected will have been removed from the field by the grain. However, growers should not take this for granted as monitoring in late June 2012 indicated that crops, (although looking well to the naked eye) actually had low levels of dry matter accumulation and total nitrogen uptake. This indicated that yield potential was already under threat back then, which raises questions about what is actually happening to the mineralised nitrogen in our soil.
The quantity of nitrogen removed in the crop can be calculated by multiplying the grain nitrogen percentage by the yield of grain dry matter.
| | | | | | | |
| --- | --- | --- | --- | --- | --- | --- |
| Fresh yield | Dry matter | Dry matter yield | x | Grain nitrogen | = | N removed |
| 8t/ha | 85% | 6,800kg/ha | x | 2% | = | 136kg N/ha |
(In wheat, grain protein divided by 5.7 = grain nitrogen)
If straw is removed an extra 10 kg of N per Ha will also be removed
For every 1t reduction in yield, nitrogen removal will fall by 17 kg N/ha
Mineralised nitrogen test results already conducted this autumn from heavy soils in the eastern counties indicate that soil nitrogen levels are 25 to 30 kg/ha above the long term average for those following cereal and oilseed rape crops. However, it is highly likely that on the lighter soils more nitrogen will have been lost through leaching. Growers with concerns over nitrogen levels in their own soils, are advised to check by arranging their own tests.
Damage to soil structure
For this autumn, a careful evaluation of soil nitrogen levels will be vital to ensure full establishment of crops, especially oilseed rape. Even where there appears to be adequate nitrogen and phosphate in the soil; root development will be restricted if soil structure has been damaged in the struggle to harvest crops. In these cases, the plant's access to all necessary nutrients will be impeded. For example, oilseed rape crops have a nitrogen uptake requirement of 75 to 80 kg of nitrogen to achieve a green area index of 1.5 by the end of November. Although total nitrogen in the soil could be adequate, a boost of early nitrogen (25 to 30 kg/ha) could be advisable in order to encourage good establishment, particularly on lighter soils. Of course it is important to also recognise and adhere to best practice in nitrate vulnerable zones (NVZs). Soil nitrogen testing is available from SOYL precision farming, a division of Frontier.