Kings, a long term supporter of the Gamekeepers' Welfare Trust (GWT), recently made a third consecutive annual donation to the charity.
This year's cheque for £2,090 was passed to the GWT at the Midland Game Fair on Saturday, 15th September 2012.
The money comes from Kings' commitment to give £1.00 for every acre pack of Wildlife Winter Holding Cover that is sold. Kings support for the Trust began back in 2010 and a grand total of just over £5,000 has now been donated by Kings to the GWT.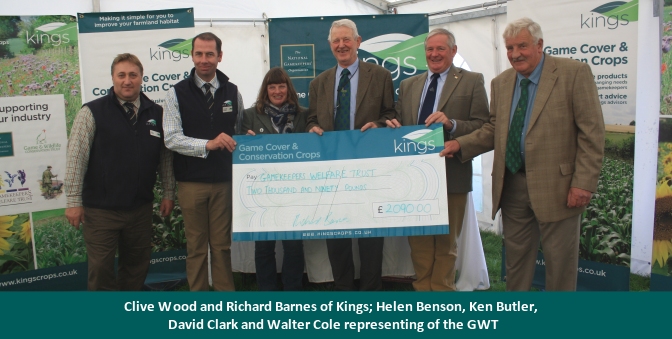 Presenting the cheque, Richard Barnes, Manager for Kings, said: "At Kings we feel it's important to 'put something back' into the gamekeeping community that we're all involved with on a day to day basis. Our Wildlife Winter Holding Cover is very popular; it gives great cover and growers who plant it have the added benefit of knowing that buying this seed helps other keepers who are in need."
Helen Benson, speaking for the GWT added: "We are very proud of our association with Kings and are immensely grateful for their long standing support of the Gamekeepers' Welfare Trust. Their friendly, professional, hands on approach in providing expertise and an excellent service to gamekeepers throughout the country is well known and their commitment to the gamekeeping community is self evident by this year's magnificent cheque. Thank you so very much from us all."
The GWT was formed to offer financial assistance to keepers in need. The Trust can assist keepers themselves, a member of their family, or those who have retired from the profession. The Trust provides a helpline and follow-up assistance to help keepers and their families tackle problems they may face, including redundancy, retirement, housing and other issues which may impact adversely on their lives. Providing the most appropriate assistance with a sympathetic, practical approach, for as long as needed is a key part of the service and it's all fully confidential.
The Trust provides financial assistance for home adaptations, transport for disabled people, direct grants for heating costs and top up fees for residential homes. A job register is kept for gamekeepers and students which provides information and guidance, as well as matching those seeking a position to employers.
For further details see www.kingscrops.co.uk or call Kings on 0800 587 9797.
To learn more about the Gamekeepers' Welfare Trust visit www.thegamekeeperswelfaretrust.com