Harvest results are in from the first year of research at Frontier's site to investigate control of blackgrass.
Chris Harrold, who is leading the project at Staunton near Newark, says, "The plant and head count figures for this year have shown some encouraging differences. For example, delaying drilling from mid September until mid October in autumn 2011 resulted in a 44% reduction in the number of blackgrass heads/m2 in the crop (as counted in June 2012). This is a significant reduction given the lack of rain at the trial site last autumn."
Staunton - harvest results 2012
Establishment system

Blackgrass heads/m2 June 2012

Yield t/Ha

September 2012

Plot 1 Continuous plough October sown winter wheat

173

7.09t/ha

Plot 2 Rotational plough October sown winter wheat

192

7.15t/ha

Plot 3 Min till September sown winter wheat

502

6.39t/ha

Plot 4 Spring wheat sown February

7

7.58t/ha

Plot 5 Min till September sown winter wheat low seed rate

513

5.79t/ha

Plot 5 Min till September sown winter wheat high seed rate

503

6.56t/ha

Plot 6 Min till October sown winter wheat low seed rate

287

7.80t/ha

Plot 6 Min till October sown winter wheat high seed rate

220

8.49t/ha

Plot 7 Direct drilled October winter wheat

298

8.28t/ha
Other positive differences were noted where higher seed rates were employed and between the different establishment techniques. However, the most significant reduction in blackgrass heads has been in the spring sown wheat plot. While spring crops will not appeal to everyone they should not be dismissed outright as their place in the rotation could become important in the fight to control difficult grass weeds such as black grass.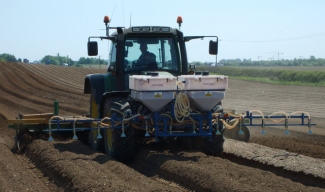 The yield results recently taken from the site have generally reflected the differences seen in the black grass populations across the plots earlier in the season. The autumn sown crops have yielded more where establishment was delayed until October, regardless of the cultivation technique used. Yields were also greater where higher seed rates were sown, which is more surprising as the differences in black grass populations was not as great earlier on. Spring sown wheat also yielded comparatively well. With lower overall costs of production and a very low potential blackgrass seed return, the benefits provided to those who can grow spring wheat are clear.
The long term project
The site near Newark has been selected due to a high population of resistant black grass and the project has been set up to challenge a whole range of management techniques and rotations to see how they work together. By making changes to different elements of the cropping plan and cultivation/establishment programme, control of grass weeds can be increased.
The focus of this project is to assess the cultural methods that can be used to minimise black grass seed return. This includes assessing the impact of employing different establishment techniques (minimum tillage, direct drilling and ploughing), in combination with different drilling dates and seed rates. There are also plots which examine more extreme measures including spring cropping, and winter wheat following a 12 month fallow. All plots are established using the host farm's equipment.
The plan is for the trial to run for four years which will allow data collection and comparison over a significant combination of methods. In this way Frontier will be able to show how these techniques influence the blackgrass population and crop yield and profitability over the course of a full rotation. This project also complements the work already being carried out on black grass control at other Frontier sites around the country.
Mr Harrold concludes, "The results from a single season at the site should not be taken in isolation as the key learning points are expected to come towards the end of this long term project. All of the learning points need to be judged in relation to each other to build a complete picture throughout the whole rotation - not just in one season. That will be the key to consistent control and profitability in the future."