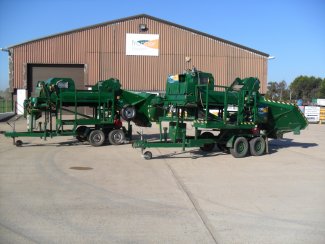 Frontier has introduced a mobile seed treatment service which will help potato growers with the application of a new liquid seed treatment fungicide, 'Maxim 100 FS'. Maxim 100 FS is used to reduce diseases that affect the cosmetic appearance of ware potato tubers produced from untreated seed. Typically, top quality potatoes can attract healthy premiums - sometimes the differential can be as much as £100/tonne.
Maxim 100 FS is manufactured by Syngenta and distributed through a new Frontier initiative, known as 'Meet and Treat'. Frontier will provide Meet and Treat customers with a comprehensive on farm seed treatment service. This includes the application of Maxim 100 FS over a roller table onto the grower's seed and the subsequent transfer of that seed either into weighed trays or boxes.
Tony Grayburn, National Sales Manager for Frontier says: "The financial benefits of producing a cleaner, better quality crop are clear. However, applying a liquid product requires specialist equipment and, for many, that might be a barrier to using Maxim 100 FS. Frontier's Meet and Treat service removes that barrier and enables growers to trial this new product without the initial expense of purchasing the equipment required. Growers may decide to purchase their own application equipment in the future but Meet and Treat is a lower cost way of trialling Maxim 100 FS in its first year."
Maxim 100 FS is a flowable concentrate containing 100g/litre fludioxonil. It is useful in the control of seed borne Rhizoctonia solani (black scurf), and the reduction of seed borne Helminthosporium solani (silver scurf) and Colletotrichum coccodes (black dot) in potatoes grown from treated seed tubers.
Frontier will be showcasing this new service at Potatoes in Practice on 9th August 2012, as well as a number of regional shows this summer.
To discuss Meet and Treat, growers should call Darren Wonnacott at Frontier on 07867 907919 or email This email address is being protected from spambots. You need JavaScript enabled to view it.