Frontier agronomist, Christine Lilly with an update on disease pressure levels in this challenging year and some advice for growers ahead of drilling for next season.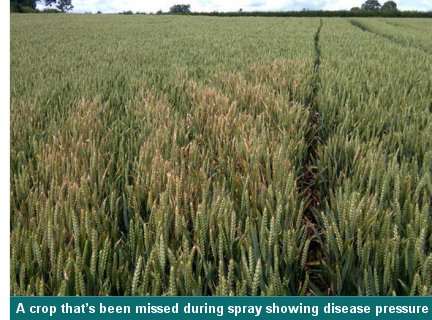 Ear blight
It is clear that we are set to see high levels of ear disease in wheat crops this season. Colleagues from Frontier's agronomy team around the country are indicating that high levels of ear blight are now commonplace.
Much of what we are now experiencing can be traced back to early June when the weather was poor which prevented full pollination of crop ears. The resulting 'blind' florets have a tendency to gape which then results in a higher likelihood of fusarium infection. Constant wet weather, of which there has plenty, results in the perfect conditions for disease to develop.
Although most growers have wisely used robust fungicide rates and made timely applications, a combination of extremely wet weather and the fact that the products we apply are not primarily created to combat fusarium - have all combined to produce the particular disease challenges we see now.
Although the fungicides we have available are enough to ward off disease in a 'normal' season, when put under severe and relentless pressure (as has happened this year) it is difficult to withstand that challenge.
Fusarium
Only the 'true' fusarium species produce mycotoxins e.g. fusarium culmorum. However, other ear diseases will reduce other aspects of grain quality such as colour (alternaria and cladosporium) or specific weight (microdochium nivale). Microdochium nivale and cladosporium are perhaps the most common of the ear disease complex, both causing a black appearance of the wheat ears in wet years.
The HGCA Crop Monitor survey has found fusarium culmorum and fusarium graminearum in the east, and microdochium species everywhere. The primary source of infection came during anthesis (flowering) from infected windblown ascospores and rain splash from previous crop debris. If the weather conditions are moist when this happens, the fungi will develop producing the characteristic pink fungal growth above the point of infection.
Often the infected grains show this pink colour. However, pink grains do not necessarily indicate mycotoxin contamination (as was found in 2004). Conversely, grains of normal colour may actually contain mycotoxins!
Laboratory analysis is currently the only accurate means of assessing levels of mycotoxin, although there are quicker 'ELISA' tests being developed and assessed.
Questions have been raised about specific variety resistance to fusarium species. The HGCA Recommended List carries a comparative measurement between varieties which shows there is relatively little difference between species.
The most forward early crops can appear to be more severely affected but this will be caused by them being more advanced and possibly having received ear fungicide treatment earlier in the season.
Applications of fungicides at this stage are almost always going to be after the recommended latest timing for applications (most have cut off dates from GS69 to GS71). None of the fungicides have eradicant activity, so application now will not have any effect on disease levels.
It's natural for us all to look back and ask: what else we could have done this year to reduce disease? The answer unfortunately is, probably very little. A second fungicide at the end of flowering may have made a small difference and indeed we currently have a trial to investigate this at our Frontier Haywold trials site. However, with such an unusually wet growing season it is almost inevitable that pressure will always overwhelm fungicide protection to some extent.
Protecting next year's crop
Harvest will be late this year and will reveal the full extent of the effects of disease. What actions should growers take post harvest to reduce disease threat in the coming season?
Many of this year's seed crops will carry fusarium infection and some may carry septoria nodorum infection. Therefore seed crops should be checked and growers should ensure that all seed has been treated to give adequate protection.
Crop debris, stubble and volunteers can be a more significant source of fusarium than seed. Early infections in wet weather can cause seedling diseases such as 'damping off' which may then threaten establishment where untreated seed has been used.
The key point here is that autumn 2012 should not be a season when untreated seed is considered an option. This is particularly important where drilling takes place in September.
Protect your 2012/2013 crop by making full use of seed treatments available.
Always speak to your agronomist before making cropping decisions. To arrange for expert advice from the Frontier technical team, get in touch with us today.