Frontier and Open Farm Sunday 2012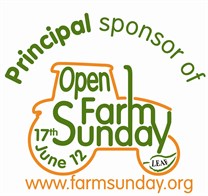 The seventh annual Open Farm Sunday (OFS) event took place on 17th June, 2012. And the team from Frontier Agriculture was out on customers' farms across the UK, lending a hand and helping to promote British agriculture.
OFS is run by LEAF (Linking Environment And Farming) and supports farmers with putting on an event that is not only enjoyable, but gives visitors a really fascinating insight into aspects of the countryside that they would not usually see or experience on an average day out.
Frontier is one of the principal sponsors of OFS and has supported the event for five years now.
Many of Frontier's expert advisors were helping at events on the day and here are just a couple of examples of the ways in which the Frontier team was involved: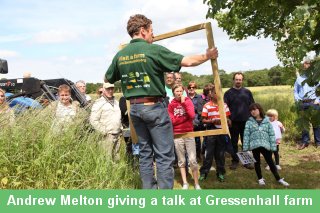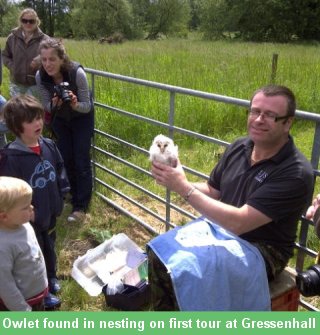 Norfolk
In Norfolk, Andrew Melton's farm has been opening its gates for OFS since the very first event in 2006. Andrew, who is also a regional manager for Frontier, says "We had a great day last Sunday. The weather was kind to us and it was fantastic to see families engaged with farming and food production. The event is a real collaborative effort; we involve staff from Frontier, our farming neighbours and even my kids lend a hand serving refreshments and cakes! It's one of the highlights of our year and I really look forward to it every year."
Visitors to Gressenhall were treated to a variety of activities, displays and talks including: conservation, crop production, sheep shearing, a bug hunt, popcorn making and tractor and trailer rides.
Herefordshire

Frontier customers, Bill and Gina Quan, opened their Herefordshire farm for the third consecutive year on 17th June. And Bill says this was the most successful event yet.
Bill's was supported by neighbouring farms and his advisors from Frontier, Jon Allard (agronomist) and Robert Preston (farm trader).
Jon Allard says: "As well as talking to people about our roles and how we support farmers, one of the things we did on Sunday was to provide a 'then and now' comparison between farm prices for present day and 60 years ago. This proved extremely popular and people were fascinated to hear how things have changes."
Along with talks on crop production, guests were treated to tractor and trailer rides and a number of displays such as sheep shearing.
Bill concludes: "The general public is often disconnected from food production and we have a great story to tell in agriculture. Open Farm Sunday does a good job connecting people back with farming and everyone here at Quan had a great day on Sunday. I am sure we'll be back next year. Thanks go to all the helpers and neighbouring farmers who contributed to making it a good day for farming. The event wouldn't have been possible without their help."

Dorset

Frontier Farm Trader, Fiona Cobbold, helped out at Graham Birch's farm at Blandford in Dorset. Fiona used a set of posters depicting the grain chain, along with a set of samples of grain in various stages of processing to talk to visitors about how grain is used to make food and other products when it leaves farm. Fiona says: "The number of children, and adults for that matter, who wanted to put their hands in the buckets to 'feel the grain' was staggering. To then show them some of the products these commodities go into really does get our message over. The biggest surprise for most was clingfilm; who would have thought oilseed rape can be used to make clingfilm!"
As well sponsorship support, Frontier provides host arable farmers with resources for their event such as a set of posters depicting grain and oilseed rape production processes.
Frontier has already committed to supporting OFS 2013.
For more information about Open Farm Sunday visit www.farmsunday.org