Members of Molson Coors Growers' Group are joining forces with employees at Molson Coors Brewing Company and Frontier Agriculture in a charity bike ride, which will take them on a 180 mile journey, from Grain to Glass. The ride, which mimics a joint National Farmers' Union and British Beer & Pub Association initiative launched at Parliament at the end of last year, will begin at the Molson Coors maltings in Burton-upon-Trent and ends at the company's brewery in Alton, Hampshire.
The riders will be undoubtedly be in need of a pint by the time they reach Alton, having completed the 180 mile journey, through the heart of England's barley growing belt, in just three days.
The group, which consists of two Molson Coors employees, a regional manager from European Food and Farming Partnerships (EFFP), the grain trading director from Frontier and four barley farmers, is raising money for The Prince's Countryside Fund, which provides funding for projects that help ensure the countryside remains the national treasure we all love and enjoy.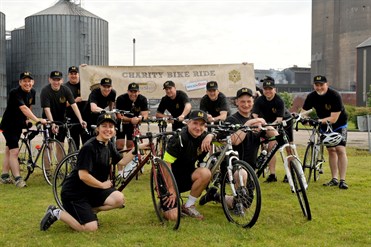 Jerry Dyson, category manager for brewing raw materials at Molson Coors:
"I can't say I'm excited by the prospect of cycling 180 miles, but it is great to raise the profile of the Grain to Glass initiative and the strong relationship between farmers and brewers and the products we produce. That is also why we are cycling in support of The Prince's Countryside Fund, which promotes a sustainable future for British farming and greater consumer awareness of how things are produced - two aims which are very close our hearts at Molson Coors."
In 2008, Molson Coors in partnership with Frontier Agriculture, with the support of EFFP, set up the Molson Coors Growers' Group (MCGG), dedicated to ensuring a regular and guaranteed supply of top-quality malting barley. The members of the Growers Group enter into a 3-year contract with Molson Coors, with price set at the beginning of each year. The Group now numbers about 100 members and provides nearly 30,000 tonnes of barley to Molson Coors a year. In addition, it creates an opportunity for farmers to discuss current issues and share best practice on topics such as resource efficiency and environmental stewardship.
Jon Duffy, grain trading director for Frontier Agriculture, said:
"The Growers Group is going from strength to strength and it's great that we can build on our successful commercial relationship by organising events that benefit the wider farming community. I'm looking forward to the ride; we'll be raising money for a good cause and increasing awareness of countryside issues. That said, I'm also looking forward to getting to Alton and lifting the first pint to celebrate the end of our ride!"
David Hall, regional manager for EFFP added: "I am very pleased to be involved in something that is raising money for such a worthy cause and an initiative that is being driven by the members of the Growers Group. I hope that we can do the group proud and raise as much money as possible and enjoy the beer along the way."
Those taking part in the bike ride and raising money for The Countryside Fund are:
David Hall - Regional Manager EFFP
Jake Freestone - Farmer
James Cox - Farmer
Andrew Roberts - Farmer
Mark Blakeway - Farmer
Jon Duffy, Grain Trading Director for Frontier Agriculture
Jerry Dyson, Category Manager for Brewing Raw Materials Molson Coors
Debbie Read, Corporate Responsibility Development Manager at Molson Coors
Those wishing to donate can do so at www.virginmoneygiving.com/team/MCGG.