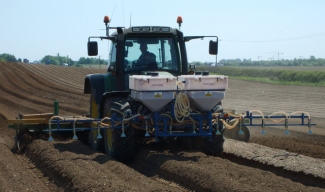 This week's BP2011 event will be used by Frontier to raise awareness among growers of the benefits of calibrating their nematicide application equipment.
This growing season has seen a number of instances of nematicide residues in potatoes. Dr Reuben Morris, for Frontier explains: "We believe this issue arises largely because growers of short-medium duration crops have to work to the limit when it comes to harvest intervals. Growers need to do this to meet the requirements of their particular end markets. In seasons such as we have just experienced a short period between nematicide application and crop burn-down or harvest leads to residue issues. One way to control this is to have the accuracy of application equipment checked, annually."
If equipment is not properly checked and adjusted as Dr Morris recommends, this could cause incorrect application of product.
Under application can lead to:
Reduction in control
Crop yield and quality issues
Cost implications.
Over application can lead to:
Potential crop residues
Nematicide build up
Possible delay in crop marketing
Cost implications.
As well as this, poorly adjusted equipment can also cause product banding and incorrect depth or rate during product application. To avoid these situations, and the potential negative financial implications, Frontier advises that nematicide application equipment receives an annual NSTS test and certification.
Frontier offers this with their on farm checking service. This includes calibration of the machine and replacement of any worn or broken parts. Following this, the grower is provided with an NSTS certificate, which is valid for the year.
Dr Morris concludes: "For a more precise application and reliable results, our advice is to 'concentrate on calibration'. It's the first step to a successful potato crop. Accurate equipment will help avoid both under and over application of nematicide. Having your kit properly checked is the only sure way of doing this."