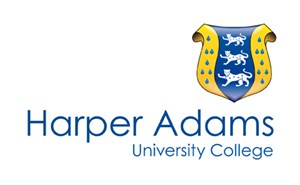 Harper Adams University College has received a capital donation of £170,000 from Frontier Agriculture.
Frontier is supporting the creation of the 'Frontier Crops Centre', which will be used to accommodate staff and research students engaged in crop or crop-related activities, as well as providing a new base for on-farm teaching.
The Centre will be housed in a redeveloped former barn along one wing of the historic Ancellor Yard, part of the original home of Thomas Harper Adams, after whom the University College is named.
Since the relocation of the Harper Adams Dairy Unit to a greenfield site adjacent to Ancellor Yard in 2009, the University College has been keen to provide education and research facilities closer to the new heart of its farm operations. The redevelopment of Ancellor Yard is part of the University College's strategy for ensuring that students have access to top class facilities for their agricultural higher education. In addition, the new accommodation will provide much needed space for expanding numbers of research students and staff engaged in crop-related applied research projects.
Commenting on the project, Harper Adams Principal Dr David Llewellyn said: "This generous donation from Frontier will enable us to expand our research and teaching activities on the University College farm, and build on our resources for farm-based higher education. We are extremely pleased to have gained the support of Frontier for this scheme, and we hope it will form the basis for other collaborations between the company and the University College that will be of lasting benefit to the agricultural sector."
Mark Aitchison, Frontier's Managing Director, said: "We're pleased to support Harper Adams and its students in this way. This is a significant financial commitment but it's one we are delighted to make. At Frontier, we recognise that if we want to continue to employ the best talent in agriculture then it's vital to invest in the next generation. To draw the brightest people to a career in our industry and enable them to reach their potential, we need to provide great learning facilities for them.
"Frontier already has a successful and productive relationship with the University College and a number of our expert team joined us from Harper. We hope this new investment will help young agricultural professionals of the future put down strong foundations for a rewarding career and, for some of them, perhaps that career will be with Frontier."
Work on the building development is in progress, with completion scheduled for the spring of 2012.