Kings Game Cover and Conservation Crops has recently donated £1542 to the Gamekeepers' Welfare Trust (GWT) and at the same time confirmed that they will continue to support the Trust next year. The money comes from Kings' commitment to give £1.00 for every acre pack of Wildlife Winter Holding Cover seed that they sell. Kings began supporting the Trust in this way in 2010 and this is the second cheque passed to the organisation this year, with a total of £2,945 now donated.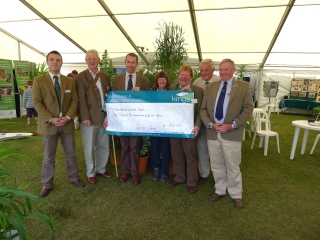 The money was passed to the GWT at the Country Land Owners' (CLA) Game Fair earlier this summer.
Presenting the cheque, Richard Barnes, Manager for Kings, said: "Supporting the Trust really works for us and our customers. It gives something back to an organisation that exists to benefit people across our industry. The Wildlife Winter Holding Cover continues to be a popular product and we're delighted that sales of this mixture are raising money that will be put to very good use by the Trust."
Helen Benson speaking for the GWT says: "Kings has been incredibly generous to the GWT for the second year running with this donation and we are very proud of our association with a company who so thoroughly understand gamekeepers, their work and their lives. This cheque will help us to expand our service and provide comprehensive assistance to those for whom life becomes difficult."
The GWT was formed to offer financial assistance to keepers in need. The Trust can assist keepers themselves, a member of their family, or those who have retired from the profession. The Trust provides a helpline and follow-up assistance to help keepers and their families tackle problems they may face, including redundancy, retirement, housing and other issues which may impact adversely on their lives. Providing the most appropriate assistance with a sympathetic, practical approach, for as long as needed is a key part of the service and it's all fully confidential.
The Trust provides financial assistance for home adaptations, transport for disabled people, direct grants for heating costs and top up fees for residential homes. A job register is kept for gamekeepers and students which provides information and guidance, as well as matching those seeking a position to employers.
For further details see www.kingscrops.co.uk or call Kings on 0800 587 9797.
To learn more about the Gamekeepers' Welfare Trust visit www.thegamekeeperswelfaretrust.com
Cheque presentation at the CLA Game Fair 2011 - (Left to right) Meehal Grint (Kings), Ken Butler (GWT trustee), Richard Barnes (Kings), Helen Benson (GWT co-ordinator), Mike Swan (GWT trustee), Walter Cole (GWT trustee) and David Clark (GWT trustee)