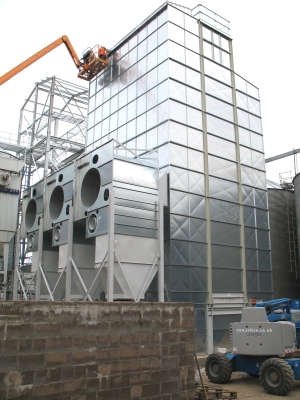 Frontier Agriculture is investing £1.3 million to update and improve drying and storage facilities used by farmers at its Lowick site in Northumberland.
Work is well underway and will be complete in time for farmers in North Northumberland and the Borders to benefit this harvest.
The £1.3m investment will enable the following improvements to be made:
The installation of a Schmidt Seeger continuous flow grain drier which is capable of drying malting barley to 12% moisture at 46 tonnes per hour (tph), and other grains at 120tph. This state of the art equipment is the first of its type to be installed in the UK and was sourced by Frontier from Germany
New grain handling and cleaning equipment which will process and carry grain from the intake at an impressive 150tph (up from 60tph). This will significantly reduce tipping and waiting time for hauliers at the site, making transportation more efficient
Installation of a new pre-cleaner and dresser that will allow grading and dressing of all grains to meet the exacting specifications often required by end consumers in order to adhere to the latest food and safety legislation
New 'wet' grain storage bins with greater capacity, up from 350 tonnes to 1,050 tonnes. This will increase the storage capacity for wet pre-processed grain, enabling more than double the previous daily intake. This will match the output levels of high capacity combine harvesters used by many growers. It will also provide greater flexibility on the varieties of wet grain that can be accepted each day, delivering improved levels of service for farmers at harvest
Converting from gasoil to LPG fuel which will improve energy efficiency, reduce CO2 emissions and lower the environmental risk associated with oil storage
Health and safety in the workplace at the site will be improved through reduced noise and dust levels.
Speaking about the news Darren Jenkins, Site Manager at Lowick, says: "The equipment we are installing here at Lowick will make a difference for local farmers, hauliers and the end grain consumers such as the brewers and maltsters. All parties involved in the grain supply chain are set to benefit - especially if we have a wet harvest.
"Once complete, we will have increased capacity and to process twice the amount of wet grain than we could before. Increased efficiency of the haulage, intake speed and wet storage capacity will result in a quicker uplift of wet grain from farms reducing the risk to the quality of our customers' harvested grain.
"We've made a significant investment here at Lowick which will mean that even in a poor harvest year we will be able to ensure our farmers supply grain that will meet the customers' specification," Mr Jenkins concludes.