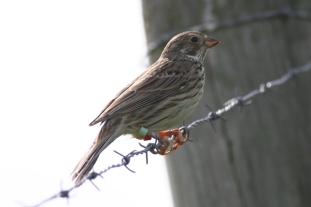 During one of the harshest winters since records began, Frontier Agriculture has stepped forward to supply food for struggling wild farmland birds in Wiltshire. The Wiltshire Ornithological Society has confirmed that this has helped ensure the survival of some of our rarest and best loved wild birds.
Frontier supplied 2.5mt of grain 'screenings' which have been used by the Society to feed birds at eight separate sites across the county, an area covering 200 square miles. Matt Prior, Conservation Officer in the area says: 'It's always a challenge for us to ensure adequate food sources for these birds in the winter and this year it's been worse than usual, with the coldest December for more than 100 years. We're very grateful to Frontier for their generosity. It's made a marked difference to the wildlife population in the areas we have been able to provide an additional food source. In these places we have seen a higher population of tree sparrows, corn bunting and yellow hammers.'
Alistair Knott, Commercial Director for Frontier adds: 'We're delighted that we were able to help the Society during the freezing conditions we endured this winter and that we're now hearing such positive results for the local wildlife population is very pleasing.'
Frontier actively encourages customers to get involved in conservation by supporting the Campaign for the Farmed Environment through the various stewardship schemes available, providing advice and products related to this.