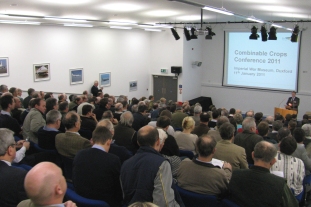 Frontier Agriculture has recently held its annual series of Combinable Crops Conferences.
During the events, attended by more than 500 farmers in January, Frontier shared findings from its scientific based national trials programme. The trials are conducted throughout the year on three separate sites in East Yorkshire, Cambridgeshire and Lincolnshire, consisting of approximately 10,000 plots over 100 hectares.
Expert presentations
This year's key findings were outlined by the company's expert team in a number of presentations. Among the issues highlighted was the importance of ensuring oilseed rape (OSR) crops have adequate sulphur and boron.
Additionally, and uniquely within the industry, farmers heard updates from Frontier's trading team. Barley, wheat and oilseed traders at the events gave an insight into world grain commodity markets, current volatility and how that can affect farmers' choices in relation to crop production.
Jim Carswell, National Trials Manager said: 'Our Combinable Crop Conferences have always proved popular and we've had some thought provoking findings to share this year. The trials we conduct at the three main trials centres are extensive and the results are used by our agronomists to assist them in providing farmers with the best advice on farm during the coming season. The farmers who attended were able to hear firsthand some of the trials findings which might help maximise output on their own farms.
'It's great that we can add value to these events by inviting colleagues from our grain trading desks to update farmers on the markets and that's one of the reasons we believe our trials events are so well attended. Through the expertise of our teams we are able to help farmers make sound decisions in relation to crop production and marketing.'
The benefits of boron
By and large, there has been little research into how much boron modern winter OSR varieties require in spring. Frontier's results last year indicated that a fast growing hybrid variety required 600 g/ha, whilst a slower growing, non hybrid needed 900 g/ha (on Wolds soil). Differences between treated and untreated plots showed in the extent of stem splitting (evidence of boron deficiency). More split stems were displayed in the faster growing hybrid, possibly because the root system was less able to keep up with crop demand during rapid stem extension in spring. The seed yield responses of +0.41 t/ha (Excalibur) and +0.19 t/ha (Ovation) were economic.
Ensuring adequate sulphur for OSR
Trials over a number of seasons have shown increasing responses to top dressings of sulphur applied in spring. The latest trial indicated that seed yield responses were positive up to 200 kg/ha of SO3 applied in spring. The 2010 results also supported evidence from the previous season that non hybrid varieties seemed more likely to show a larger response to sulphur than hybrid varieties, possibly as a result of a less extensive root system with less ability to scavenge for nutrients in the soil than hybrids. Jim added: 'The level of sulphur being deposited from the atmosphere is reported to have fallen significantly and we need to consider where our crops are going to find this essential element.
'Farmers need to start with good soil analysis, backed up by plant tissue tests where appropriate and then carefully plan what needs to be added for maximum benefit. What the farmers here today have heard is a flavour of the kind of advice we can give to them either through our Trials Club or by using our agronomy services' Jim concluded.