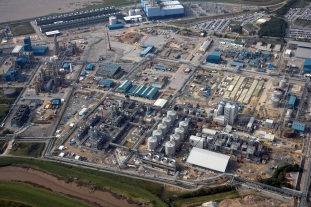 Hundreds of farmers in the regions surrounding the new Vivergo bioethanol plant have been packing meetings to find out about the new Humber gold wheat club and how it can link them into supply of the plant.
The plant goes into production later this year and will require 1.1 million tonnes of wheat annually which will be used to make bioethanol. Frontier is the exclusive supplier of grain for the site and farmers in Yorkshire, the Midlands and Lincolnshire now have a major opportunity to benefit from this by joining the Humber Gold club.
Speaking at one of the meetings in Nottinghamshire, Mike Ayers, Humber Gold club manager says: 'Hundreds of farmers have already joined the Humber Gold club. This is a brand new opportunity about to come into play for farmers. We have a huge facility opening on our doorstep and it's going to need a constant supply of wheat, all year round. This is one of a series of meetings we are holding so that we can spread the word with farmers about how they can benefit and also answer their questions. We already have a wide customer base in these areas and we're signing new customers every day as a result of Humber Gold.
'Humber Gold and the new plant will mean that wheat that has traditionally been exported as animal feed will now stay in the UK and be used to make bioethanol along with an animal feed co-product.'
Robert Shaw of Debdale Hill Farm, Caunton, Nottinhgamshire adds: 'I've already joined the Humber Gold club and I went along to the meeting to find out more about how the club works and also about how the wheat will be used as well. This is going to create a huge market for us and the meeting was interesting and very useful to me.'
To be eligible to join the Humber Gold club farmers must commit to supply Frontier with a minimum of just 120 tonnes of wheat through the Club (four lorry-loads). In return these are just some of the benefits they will gain:
More flexibility on moisture content levels - Members are given priority on wheat accepted by the plant at up to 17 % moisture content. Ensuring grain is at the specified moisture level for the end consumer and the costs that are associated with achieving that can present farmers with a huge challenge, not to mention the worry of having their delivery turned away at its destination. Being a member of Humber Gold helps remove that worry.
Batch loading within 30 miles - This will allow farmers to better plan their business, as any club member within a 30 mile radius of the plant will be able to arrange collection of their grain to suit their needs. If that means collecting 10 lorry-loads of grain at once, Frontier will do so. The plant also has flexible and lengthy opening hours.
Attractive terms for supply - Including priced, un-priced and pool contracts with preferential payment terms of 21 days and in some cases farmers can qualify to be paid within just 7 days.
Load analysis by text/online -Just 30 minutes after a load of grain has been tipped at the plant, farmers will be able to obtain a full breakdown of weight, moisture content and quality.
Average moisture contracts -For larger contracts Frontier will assess the average moisture and provided it is within the tolerance of 14-15.5%, all will be accepted, reducing the number of claims on a farmer's account.
Carbon scoring -Humber Gold farmers will be able to evaluate the carbon score of their crop production and use the results to drive a reduction in their environmental impact.
Farmers interested in joining should call the team on 01482 420311 or email This email address is being protected from spambots. You need JavaScript enabled to view it.