Frontier Agriculture has expanded the quality and range of services it offers to end grain consumers and farmers with the opening of a brand new facility in Hull.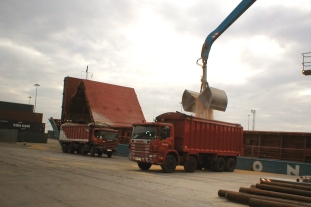 The Frontier Import Terminal (FIT) will handle imports and exports for the company and is located a short distance from the previous Frontier silos in King George Dock. The site comprises:
A 16-20,000mt store, subdivided by commodity, into six bays
An office and laboratory building
Two new weighbridges.
Handling thousands of tonnes of grain annually, the primary focus of FIT will be the import of maize and milling wheat not available n the UK. However the site will also be used to export barley, pulses and potentially some of the animal feed co-product from the Vivergo bioethanol plant, when it opens next year.
The first shipment to be loaded into FIT arrived on 18th November with 3,000 tonnes of French maize discharged from the mv Wilson Brake, destined for the local animal feed industry.
Anthony Whitaker, import trader for Frontier said: 'This new terminal will allow us to grow the business and improve our service to better meet the needs of end grain consumers and farmers. As there is a move towards bioethanol production in the north of the England, we will see less wheat exported in the future. However, we still have a healthy export market in other grains and FIT will also be very busy importing grain for millers and the animal feed industry.'