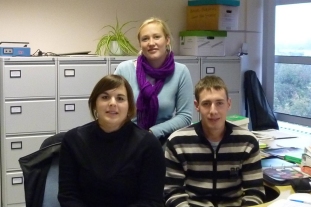 Frontier Agriculture's Norfolk agronomy team recently welcomed three students from France on a month-long placement. The group from the LEGTA Auxerre La Brosse Agricultural College arrived on 18th October to spend time with Frontier and some of their farmer customers, learning about British agriculture. Two of the students have been based at Frontier's office in Diss, and the other at their Swaffham facility.
The trip was sparked by a number of articles written in the UK farming press by Brian Ross, one of Frontier's agronomy team in Norfolk. Tutors from the university in mid-France made direct contact with Brian last year asking if Frontier could provide placements for their students. Brian explains: 'The staff and students at the university follow the UK farming press and had seen some articles that I had written about agronomy. They were looking for opportunities for their students to enhance their agricultural studies and English by spending time with a British agricultural company and chose to contact Frontier.'
Frontier has a strong culture of encouraging and supporting learning and development and one of the company's strengths is the level of agronomy expertise it has in-house. For instance Frontier has more holders of the BASIS Diploma than any other company in the UK and has an excellent record of recruiting and developing UK graduates, training them to become professionally qualified agronomists.
Brian adds: 'This visit is the first of its kind that the French college has organised and it's been lovely that one of our own young agronomists, Laura Buckingham, who joined us a couple of years ago as a graduate and has since qualified, has helped to host the visit.'
Baptiste Naudet, one of the visiting students, who comes from a farm 100kms from Paris says: 'The average farm size in Norfolk is far bigger than those in the area where I study. The machinery used is bigger and newer too. There are a lot of outdoor pigs here in the UK too, something we don't see much in France.'
Commenting on the differences between training to be an agronomist at a college in France compared with the experience of graduate recruits who train with Frontier, French student Celine Panettier says 'In France, we have two years' theory to learn at college and then are deemed capable of being an agronomist. At Frontier they recruit graduates and then coach them through their agronomy training with a mentor. That seems a better way, as they are able to learn 'on the job' in a real customer environment. That means they gain both practical and people skills at the same time. Both are important if you are to be a successful agronomist and that's what I have enjoyed about the visit.'
Brian concludes: 'Frontier often provides expert comment in the trade press but I never thought that the advice I was giving would be read as far away as France, or lead to us hosting a student visit from a European college. It's been very interesting for everyone involved.'