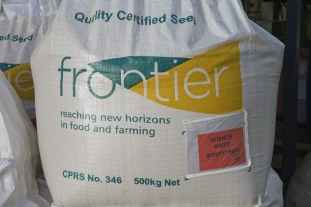 Frontier Agriculture, the UK's largest crop inputs and grain marketing business, has invested £370k in plant and machinery for its seed processing plant in East Yorkshire. The money has been used to replace equipment and bin storage that is used in the processing of seed which is destined for drilling by its farmer customers in the following growing season. Frontier employs 38 people at Cranswick and that number is almost doubled during harvest. The facility processes thousands of tonnes of seed annually.
Better plant and machinery deliver production efficiencies and help to drive seed quality improvements. Frontier has a programme of continuous investment across the company, spending more than £2m in 2010 alone.
Top quality seed for farmers
Paul Lacey, National Seed Production Manager for Frontier explains: 'We're the leading producer of seed in the UK, with one field in five already grown in partnership with Frontier. However, we pride ourselves on also having the highest standards of seed quality in the marketplace. We have recently launched a new set of seed marketing standards that see us aim to get a purity of product and standard of germination way above EC minimum standards.
'We know that high purity standards and good, robust levels of germination are something farmers care about very much. That's why first-class seed processing standards are so important to us in Yorkshire and indeed at our other three UK plants in Diss, Hermitage and Sandy too. Growers want to know that the seed we deliver is exactly what they ordered and when it's planted, it will germinate and grow into a top quality crop which is perfectly suited to the purpose for which it was grown.'
Seed is harvested, sampled and where appropriate, transported to Cranswick where it undergoes a rigorous cleaning operation. The cleaned seed then has specialist seed treatments applied before being bagged to order ready for planting again. Paul says: 'This processing all takes place in a relatively short window of just 8 weeks from harvest. You can imagine the kind of pressure our machinery is under - it is vital that we constantly reinvest to ensure our ongoing ability to provide high quality seed to our farmers.'
To boost the haulage service it provides in Yorkshire, Frontier has purchased two brand new bulk grain HGVs that are based at Cranswick. Previously all haulage was sourced from other depots in the UK. Richard Pollard, Head of Operations and Logistics for Frontier adds: 'By providing our own vehicles at Cranswick, we're able to give customers an even more consistent service. Farmers want to know that when they sell their grain to us, we will turn up on time, every time. '
Frontier has a long history of working in partnership with arable farmers to process and supply seed. Investment of this nature helps secure the success of that partnership in the coming months and years.