This week sees the loading of a 55,000 tonne Panamax vessel, th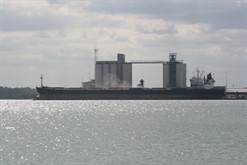 e MV Lioness, by Frontier Agriculture at Southampton Grain Terminal (SGT). The cargo of feed wheat is bound for Vietnam in what is thought to be the first such deal brokered in the UK.
Simon Lock, National Feed Wheat Trader for Frontier Agriculture, said: "We're keeping grain moving for farmers as we approach the end of the trading year. The departure of this Panamax is the result of collaborative working between Frontier Agriculture, the port authorities, hauliers and of course the farmers who trade with us."
Frontier is the UK's largest crop inputs and grain marketing business, managing the sale of more than 4.5 million tonnes of grain per annum. Frontier exports more than one million tonnes of grain to countries including Spain, Portugal, Netherlands, German, Italy and North Africa. Grain is exported from a number of UK ports, with SGT alone exporting 350,000 tonnes this year.
With the introduction of a new grain dryer at Southampton this August, Frontier and its farmers will have even more export capability. Simon Lock explained, "In a joint venture with a number of farmers in the south, we are investing in a grain drying facility at Southampton. Some destinations require grain at lower moisture levels and the new drying facility will increase our ability to actively market to these destinations."
David Bate a farmer in West Harting, near Petersfield concluded, "This is excellent news for wheat farmers in the south as access to markets beyond the EU will help the UK to develop extra value for our grain. As Southampton Marketing and Drying LLP establishes high speed drying capacity at SGT, we expect this type of trade to become a normal part of grain marketing from the south of England."
Loading of the MV Lioness is taking place at a rate of 7,000 tonnes per day and is expected to be complete in around one week.