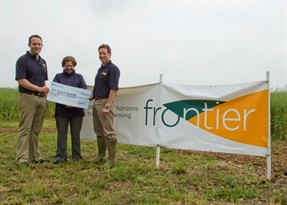 A number of 'Moisture Meter Clinics' organised by Frontier Agriculture as a service for farmers have raised £640 for the East Anglian Air Ambulance.
In order to comply with the Farm Assurance Scheme farmers are required to check the performance of grain moisture meters and temperature probes annually. To help its customers meet this obligation Frontier Agriculture organises a number of clinics around the country, where farmers can have these instruments checked for a small charge.
For every piece of equipment that is tested Frontier Agriculture donates £5 to a local good cause. In this case money was raised in 2009 in the Lincoln and Norfolk areas for the East Anglian Air Ambulance charity.

Andrew Melton, Regional Sales Manager for Frontier said: "We provide support for farmers in every aspect of farming and checking that this equipment is working properly is something we encourage farmers to do. We're delighted that as a result of the checks we are also able to support this fantastic cause."
Photograph of the cheque presentation (left to right): Andy Hoyles (Frontier Agriculture), Ellie Walker (East Anglian Air Ambulance) and Andrew Melton (Frontier Agriculture).