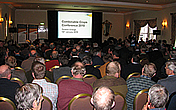 Over 500 farmers attended a series of three Combinable Crop Conferences held during January 2010. "The response to these events has been fantastic, with numbers building year-on year," said National Trials Manager Jim Carswell, "and clearly shows the interest in guidance to help maximise crop output on our customers' farms."
One key area was the difference between hybrid and non hybrid varieties in yield responses to sulphur applications in spring. Whilst it was expected that both variety types gave very positive yield responses to sulphur compared to straight ammonium nitrate, the almost exponential yield response to the highest SO3 rates applied to the non-hybrid type were surprising.
Sulphate rate had little effect on oil content of the hybrid variety but increased from 48.3% in control to 49.1% where 175 kg/ha of SO3 had been applied to the non hybrid.
In a separate trial, the non hybrid had also shown more yield sensitivity to type of sulphur fertiliser compared to the hybrid.
"Clearly more work had to be done to investigate these results' asserted Jim Carswell 'but this early evidence does highlight the attention to detail, including differences between hybrids and on-hybrids, needed to help maximise output of winter rape crops."