The Complete Crop Nutrition Service
Everything we do is focussed on the successful nutrition of all the crops on your farm. Nutrition is one of the key elements of efficient crop production and we are here to help with every aspect of that from soil sampling through to creating a complete crop nutrition programme; from choosing and supplying the most appropriate products to offering advice on making the best application.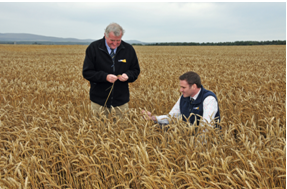 Expert advice from qualified agronomists and farm traders
Our FACTS-qualified agronomists and farm traders draw on technical data from our replicated trials and SOYL precision services to create nutrition programmes based on each field's specific requirements for both macro and micro nutrients, supporting higher yields and sustainable crop production. Many of our agronomists also hold the prestigious BASIS Diploma, comprising a number of modules including 'Advanced Nutrient Management Planning'.
Through continual training and research, we stay at the forefront of technical and environmental developments and changes in legislation to give you the most accurate and up-to-date advice for your farm. Furthermore, by working with colleagues from Kings Crops, we combine this service with advice and products to ensure we can assist not only with compliance with the farming rules for soil and water but actually maximise the benefits that stewardship, green cover and soil management can provide to your farm.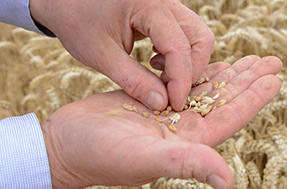 Greater nutrition insights with our field grain analysis service
With many economic impacts influencing future fertiliser decisions and nutrition programmes, we know there's a lot to consider to ensure optimum crop performance. Toegther with SOYL, our team provides a field grain analysis service - the ultimate end-of-year report card for your crops.
By testing a barometer of individual fields or trailers at harvest (prior to traditional sampling from the heap), you can access a measure of all the macro- and micro-nutrients present in your crops. The data is interpreted to give you actionable next-steps for the following seasonso that you can revise and optimise your fertiliser programmes going forward.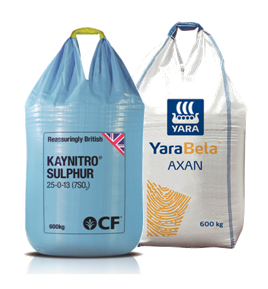 A wide range of highly effective products
We have strong, strategic relationships with all leading solid and liquid fertiliser manufacturers to provide the widest range of quality products to meet your individual requirements. Every year we make a significant investment into replicated crop nutrition trials and research to test the latest products and technologies to analyse their performance and continue to bring you products that provide the best returns.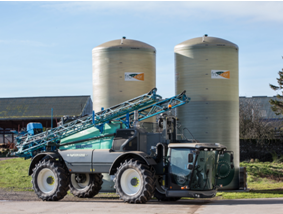 An end-to-end crop nutrition service
Our involvement doesn't stop with advice on choosing the best nutrition product for your crops. Through our dedicated support team, we oversee and manage all of our fertiliser deliveries, making sure they arrive exactly when and where they should. This is especially true of our liquid fertiliser deliveries, when prompt delivery in the spring is absolutely essential. In fact, our service starts before the spring with the careful and correct siting and sizing of the liquid tanks. In some regions, we can even apply the liquid or suspension fertiliser through our fleet of self-propelled sprayers. We can also help with risk management and cash flow; for example, with our Flexi N package for purchasing nitrogen and sulphur fertiliser. We are here to help and support you through every aspect of successful crop nutrition, from the initial soil sample through to the final accurate application of fertiliser.
---
Fertiliser security and storage
Find out more about fertiliser security here.
Find out more about the safe storage and handling of fertiliser here.