Analysis
From nutrient mapping to yield comparisons, the use of technology to record, store and analyse data enables informed decision-making.
Choose a system that allows single inputting of data
Improve communications through sharing data with your agronomist
Technology leads to greater productivity and time saving.
Data on its own is often meaningless, but data which is correctly recorded, analysed and acted upon will make decision making easier, faster and more reliable.
There are many ways growers can assemble data: from soil analysis to nutrient mapping, plant tissue analysis to yield comparisons. Efficient record keeping is key to managing a successful business, staying compliant and maximising crop performance year after year. Managed with the right system, data recording can be streamlined and analysis quickly generated.
We use a range of systems and technologies that enable growers to avoid double entry of data, insure information is captured digitally and easily share data with all the reporting tools that may need it. Technology is moving apace in agriculture and will be a key factor in overcoming many of the challenges we now face.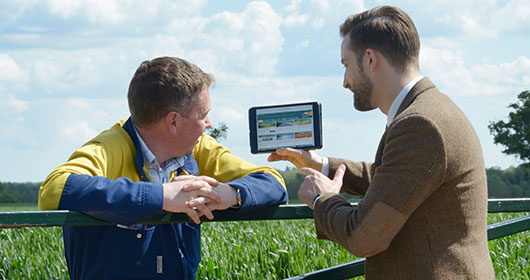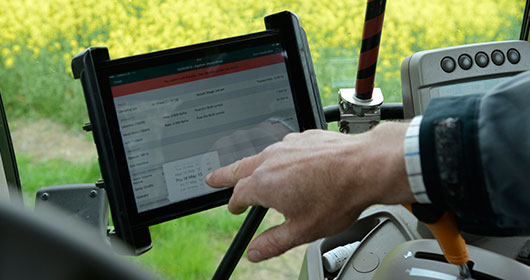 The use of data to improve farm performance is not limited to crop production. It is important to have access to market data to inform decisions on grain marketing, as well as trials data to understand new techniques and protocols and how they might work for your business.
Take a Precise Approach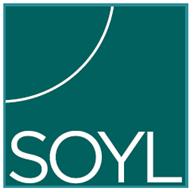 MySOYL allows analysis of complete datasets from all your precision mapping. Variable rate treatment plans are created, amended and transferred to the iSOYL tablet-based application system, which also records completed work and returns the data to MySOYL. SOYL is a division of Frontier Agriculture. Please click here to find out more about how they can help.
MyFarm
Frontier customers can benefit from the latest data recording and analysis technologies through MyFarm, our online farm management system. Growers can capture key information electronically in the field using our phone and tablet apps, and exchange cropping and farm colleagues. All information is collected within the MyFarm website where it can easily be monitored and analysed. Every part of MyFarm is focused on increasing efficiency without compromising the integrity of data capture. To find out more about MyFarm, please click here.