A farm-based research network focused on sustainable soil management.
Investing in research that looks at progressive soil management approaches and technologies is a vital part of our Soil Life service. While there is now a greater focus on soil health across the industry, we know that what works for one farm doesn't always work for another.
Our Soil Life demonstration sites are part of our 3D Thinking trials and research programme. The seven sites are all working farms located throughout the UK and, in partnership with the host farmers, we're able to research and demonstrate best practice around soil management. Any solutions or challenges discovered are invaluable and help us to provide practical and relevant advice for other growers.
Soil Life demonstration sites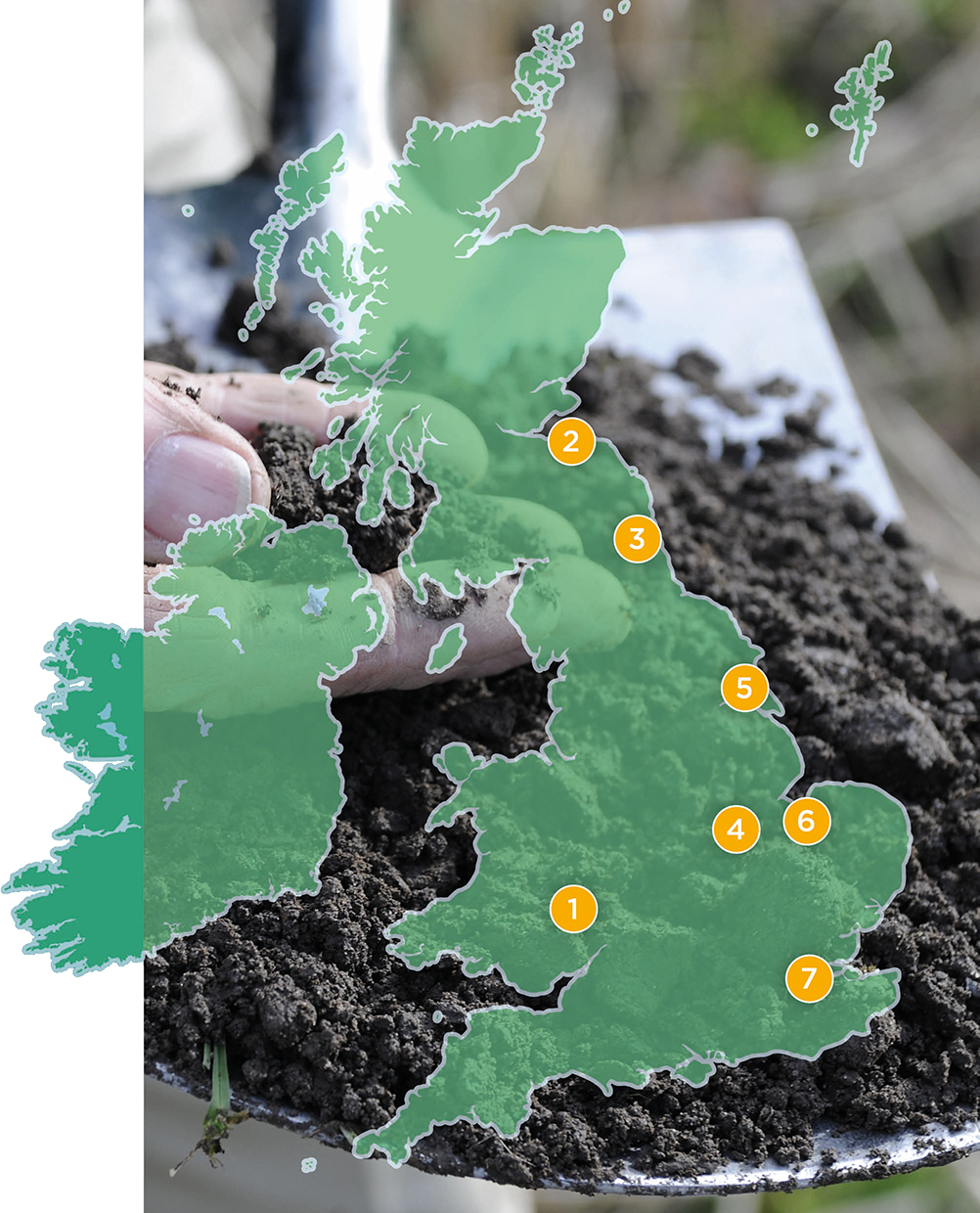 1

Ross-on-Wye Herefordshire

Soil type: Sandy/silty clay loam

Focus: Investigating methods for successfully building organic matter levels and exploring how this benefits the wider health and functionality of the soil.

2

Haddington East Lothian

Soil type: Silty clay loam

Focus: Improving soil health in a potato rotation through increased organic matter, while also supporting greater biological activity and nutrient availability to improve yields.

3

Consett Durham

Soil type: Silty clay loam. High altitude - soils remain cooler for longer and lose heat rapidly in autumn

Focus: Investigating methods of building organic matter in a zero-till system to improve long term soil sustainability and yield potential, including the use of cover crops, organic material and grass leys.

4

Nassington Peterborough

Soil type: Clay loam

Focus: Carbon management. Investigating methods for monitoring and quantifying carbon storage within soils, as well as soil management techniques to increase soil carbon capture and reduce the farm's carbon footprint.
5

Beverley East Yorkshire

Soil type: Clay loam

Focus: Exploring the use of zero-till and imported organic materials alongside cover, catch and companion crops to improve soil health. The impacts of a wider rotation with reduced winter crop frequency are also being assessed.

6

King's Lynn Norfolk

Soil type: Sandy loam over chalk

Focus: Regenerative agriculture. Work is focused on investigations into the core principles of regenerative agriculture in order to provide a better understanding of effective management techniques backed by scientific data.

7

Longfield Kent

Soil type: Clay loam over chalk

Focus: Employing a flexible system of crop establishment to improve soil health on a farm with varying soils.
Soil Life information booklet

Learn more about how the Soil Life service works and see a breakdown of the different soil analysis packages available.

Compare our Soil Life reports

Ready to investigate what's going on beneath your feet? Our reports are split into three categories so you can find the one best suited to you.

Learn more about our 3D trials

Across sites throughout the UK, our technical experts undertake significant research into all aspects of crop production.
Would you like a greater understanding of your soils?
Speak to your local agronomist or click the link below to get in touch.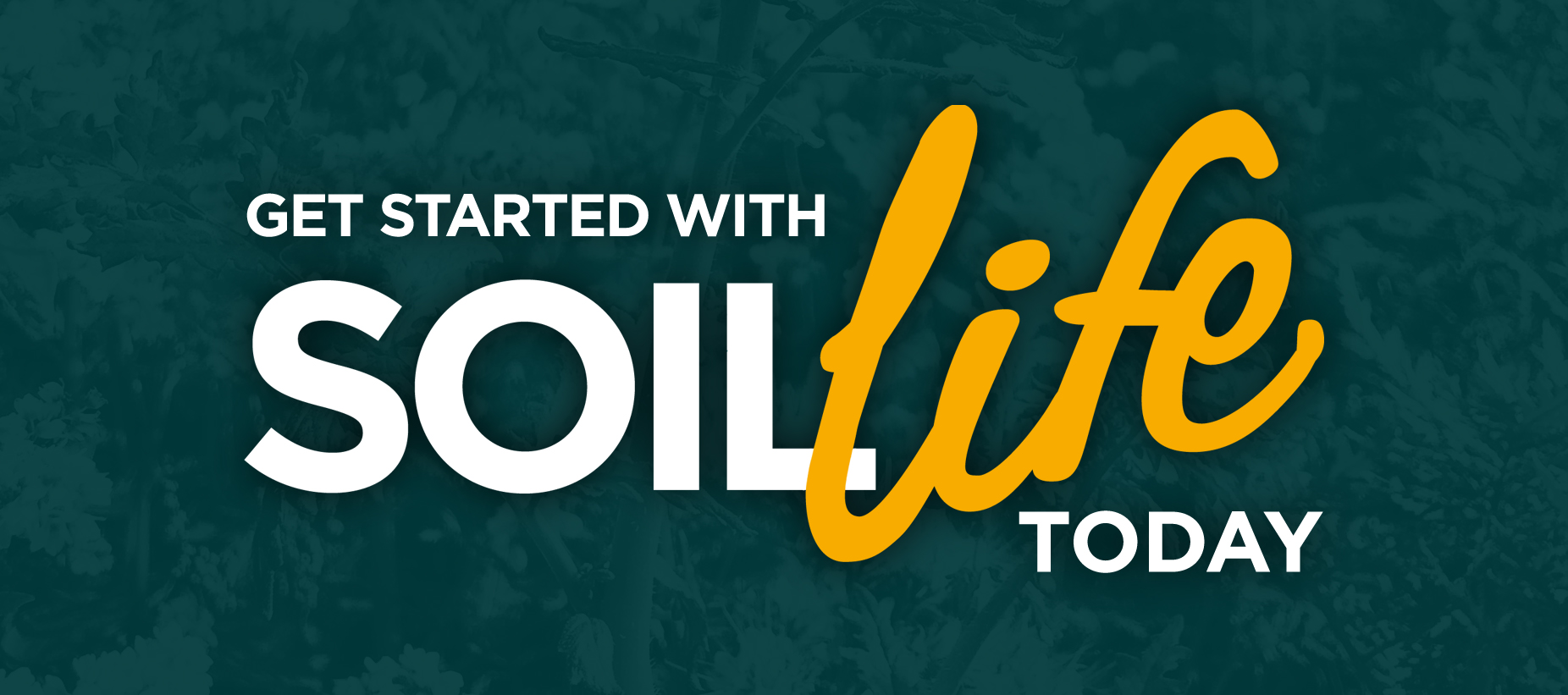 A joined up approach to improve the resilience of your farm business
MyFarm: Keep an eye on the major components of soil health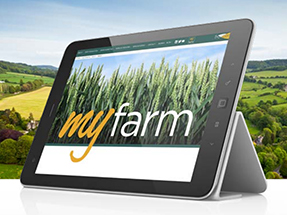 Our MyFarm platform, together with our experts and precision technology from SOYL, makes it easy to monitor some of the key characteristics of your soil. It's easy to log benchmarks, run comparisons and save any records of activity so you can really assess the impact of your soil management methods. Click here to learn more about the platform.
Kings Crops: Stewardship and environmental management techniques to improve your soil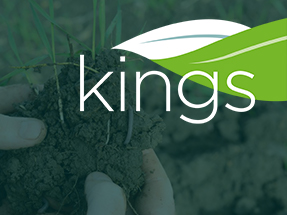 Kings can help you implement strategies to improve soils, water management, farm biodiversity and overall productivity. With experts able to support with farming policy, stewardship and environmental scheme requirements, Kings will help you safeguard your farm's 'natural capital' in a way that supports sustainable productivity and your bottom line. Click to find out more.
SOYL precision: Detailed soil insight to help you make informed decisions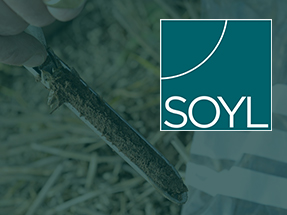 SOYL's precision farming services, coupled with the technical advice and guidance from its experts, can provide you with a whole range of data about your soils. In addition to a Soil Life report, precision technology such as electrical conductivity scanning, GPS sampling, analysis and mapping can help further determine how to get the best from your soils going forward. Click here to find out more.
3D Thinking: Frontier's trials and research programme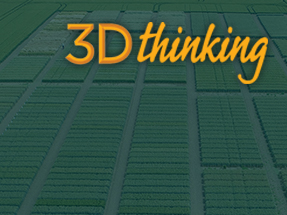 While soil health and management is a core part of the work undertaken as part of our 3D Thinking programme, trials work also looks at crop production strategies around varieties, nutrition, inputs, spray technology, seed rates, seed treatments and pest control. Click here to learn more about the work of our trials and technical teams.