Analytics
Use your farm's pre-existing data to create a detailed financial analysis of crop, variety and field performance.
With MyFarm analytics, you can create a single knowledge centre for your farm. Here, you can measure and manage your budgets to reduce business risk and strive towards optimal productivity, with over a million acres of farm data to compare against.
---
Benefits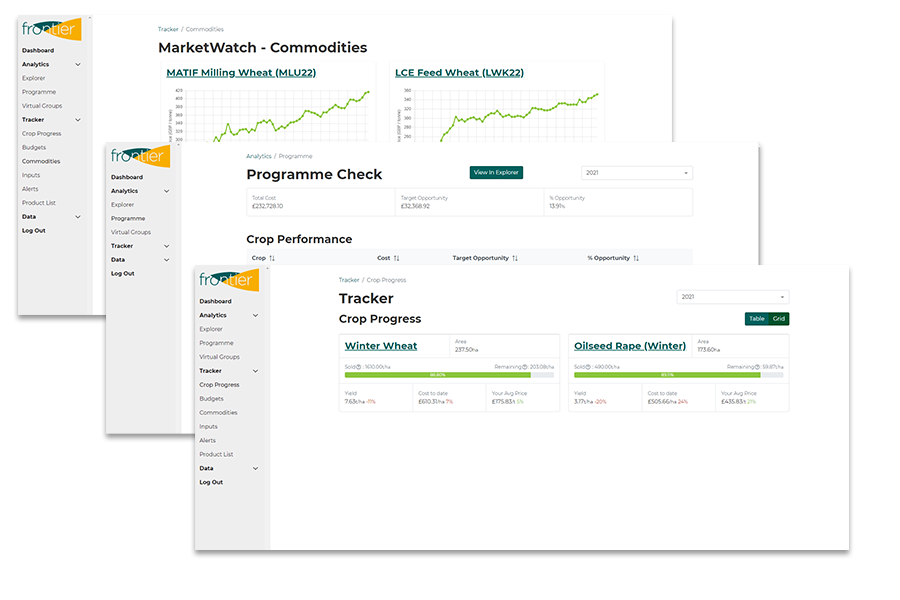 Verified data - Anonymously compare your farm performance against verified and standardised data sets from farms nationwide
Insights at every level - Examine your variable cost of production from crop, variety and field level
Enhanced collaboration - Enhance collaboration between you and your advisors by sharing your insights
Data analysis - Review historic farm performance, discover trends and evaluate and learn from decisions
Budget overview - View your crop spend and track against set budgets

Improved sales strategy
Improve your overall sales strategy by tracking what works well
"Data-based analysis is an essential tool for growers who want to improve their farm performance. MyFarm analytics helps with understanding the farm in more detail."

Ed Schofield
Crop Protection Advisor
---
Privacy
Stay in control of your data. With MyFarm analytics, all data remains owned by you and is never used or shared outside the platform. Data is used to create anonymous benchmarks within the system only.
Pricing
£5/ha
Many farmers who use data platforms benefit from long-term cost-savings, but the value of MyFarm analytics goes far beyond financial return. Whether you are looking to grow the business, mitigate risks or simply gain a better understanding of your farm, MyFarm analytics supports growers to explore every possibility for development and growth.
Find out more
If you'd like to speak to someone in more detail about MyFarm analytics, or request a demonstration, please call us on 03330 141 141 or email This email address is being protected from spambots. You need JavaScript enabled to view it..