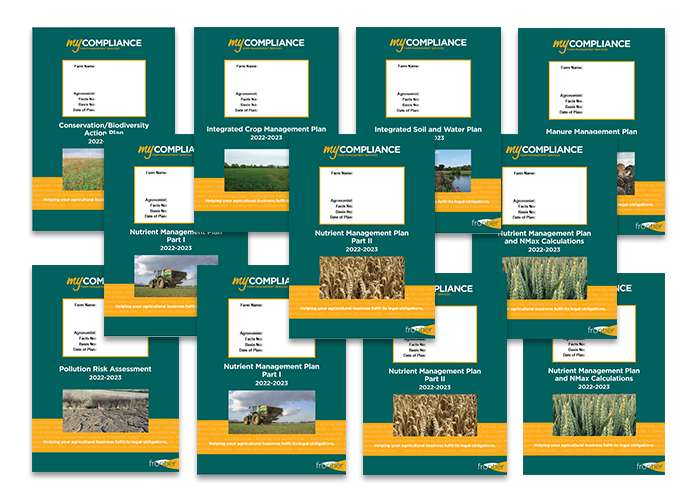 As the volume of agricultural legislation increases, it's becoming more difficult for growers to stay compliant.
MyCompliance is a service that helps businesses to fulfil their legal obligations, prepare for inspections and avoid financial penalties.
The MyCompliance service is comprised of five key areas. Each of these can be tailored to meet the specific needs of your farm.
1. Cross compliance
If you are collecting rural payments for your farm, including Countryside Stewardship and the Farm Woodland Premium Scheme or the English Woodland Grant Scheme, you must follow the rules of cross compliance as set out by the Rural Payments Agency. Although cross compliance is expected to finish in 2024, many of the rules included are also general requirements for farmers and land managers under UK legislation and Codes of Good Agricultural Practice (Air, Soil, Water, and Use of Plant Protection Products).
What you'll receive
Tailored guidance for meeting the 13 Statutory Management Requirements (SMRs) of the Rural Payments Agency
Tailored guidance for meeting the 7 Good Agricultural and Environmental Conditions (GAECs) of the Rural Payments Agency
Tailored guidance and calculations on the different nitrate legislation for England, Scotland or Wales, including a Nutrient Management Plan and Manure Management Plan*, along with risk maps.
*Where applicable.
---
2. Supply chain requirements
This is a rapidly increasing area of compliance in which supply chain contracts are requiring an array of plans or policies on farm.
What you'll receive
Tailored guidance on your requirements as part of the supply chain
Bespoke plans as designated by individual contracts, such as

Integrated whole farm policy for LEAF Marque certification
Integrated Soil/Water Management Plan
Pollution policy and assistance with energy policies
Guidance on carbon requirements and projects in collaboration with the Sustainable Crop Production team.
---
3. Farming Rules for Water

The Reduction and Prevention of Agricultural Diffuse Pollution (England) Regulations 2018, more commonly known as the Farming Rules for Water, are regulations in place to prevent water pollution from agricultural sources and to increase water quality.
What you'll receive
Guidance on nutrient management and how to fulfil crop needs over the season
Maps to comply with the Farming Rules for Water
Nutrient Management Plan
---
The Farm Assurance Standards are standards that must be met in order for farmers and land managers to achieve Red Tractor membership status.
What you'll receive
Integrated Crop Management and Integrated Pest Management Plan

Aimed to help minimise chemical use and incorporate cultural control methods.

Soil Management Plan

A field-specific plan to satisfy Red Tractor Standards.

Farm maps and yard plans
Templates for all standards

To help organise your business and aid preparation for audits, presented in an inspector-friendly folder.
Where applicable
Conservation Action Plan/Biodiversity Plan - This is a tailored plan, required by dairy protocols and the Fresh Produce Farm Assurance Standards, for protecting and encouraging key target species for your farm.
Water Management Plan – A risk assessment and record-keeping tool for land that is irrigated.
Pollution Risk Assessment – A collection of risk assessments that outline your farm's measures to prevent pollution incidents and the actions you will take if incidents should occur.
Rodenticide Plan - Comprehensive collection of documents necessary to comply with farm assurance vermin standards.

Other risk assessments as specified by Farm Assurance standards
---
5. Stewardship (ELMs/SFI)
Environmental Land Management Schemes (ELMs) are the primary mechanism for distributing the funding previously paid under the Basic Payment Scheme (BPS). The Sustainable Farming Incentive (SFI) is part of ELMs. Our SFI packages are delivered in collaboration with our colleagues at Kings Crops and SOYL and will continue as new standards are rolled out over the next few years.
What you'll receive
Expert advice on Stewardship schemes, conservation and sustainability.
Tailored advice and seed recommendations to support the establishment and management of key habitat features.
A farm documentation consultation with a MyCompliance expert.
Guidance on areas for improvement and farm objectives for Stewardship.
Plans required by the standard(s) for which you have applied such as the Soil Management Plan for SFI, which is a bespoke information and recording tool with a soil assessment and action plan.
Other SFI products will follow.
Find out more
For more information, to receive a quote or to arrange a visit from a Frontier advisor, please contact our dedicated helpline on 0333 0044555 or email your trading title and postcode to This email address is being protected from spambots. You need JavaScript enabled to view it..