MyFarm
Your farm business management tool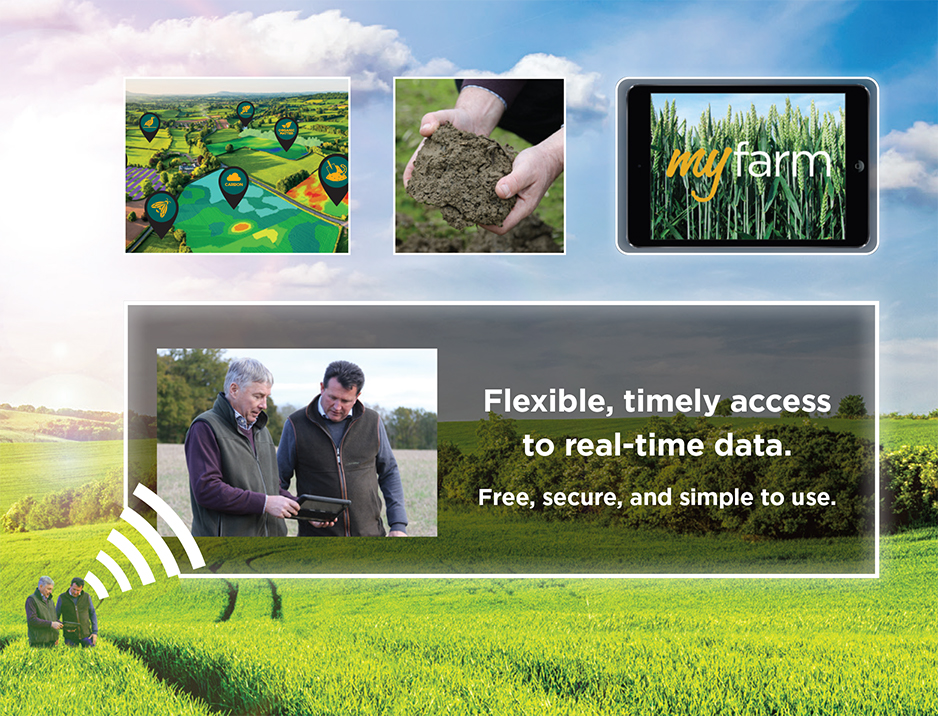 Why use MyFarm?
Free to all Frontier customers

View and manage all financial and business information associated with your Frontier account

24-hour access to live futures prices and exchange rates

Set price alerts and trade grain outside of normal office hours

Manage, store and analyse precision farm data

Plan, map and record natural capital and environmental management alongside conventional crop production activity

View and analyse your crop production costs, from overall cropping down to variety or field levels


Store crop records, plan operations and share information between farm colleagues and your agronomist

Secure storage of your information prevents the risk of lost or compromised records.
---

Learn more about the different tools available within MyFarm*.
Frontier's online grain trading tool, MyCropMarketing, allows you to view market prices 24-hours a day, set target price alerts and sell grain.
The tool continuously monitors movements in the grain market so you don't have to, giving you the ability to view current trading prices at any time, day or night. You also have access to extended trading hours and can set automatic alerts to be notified by text or email when the market reaches a certain price, giving you the choice to sell instantly or contact one of our traders to discuss your situation. A perfect combination of expertise, relationships and technology.
Discover more about the benefits of MyCropMarketing here.
MySOYL enables you to manage, store and analyse your precision data from SOYL, letting you make more intelligent, informed and, most importantly, profitable business decisions.
By using MySOYL, you can:
Make seed rate files and nitrogen maps in minutes

View cropping, nutrient data, yield and soil types

Analyse up to eight layers of data at one time

Create variable rate maps for spreading, spraying and drilling

Examine biomass imagery

View yield maps and interrogate information with the award winning Yield Insight Tool.
You can learn more about MySOYL here.
MyFarm gives you access to TELUS Farm Management, a service which hosts your crop records, lets you document crop inspections and makes it easy to plan and record operations. You can also seamlessly move information between you, your team and your agronomist, making communication easier across all business operations and satisfying your legal obligations. As end users demand more information from the supply chain, you are also well placed to be accountable and traceable about how you have grown any crop. TELUS Farm Management and its partner iOS app, MyRecs, means you are never out of touch - whether in the office or not.
With MyFarm, you can access the new cloud-based Gatekeeper Online platform from FarmPlan. No matter your choice of platform for crop recording, by using Gatekeeper Online you will have all your farm management tools in one place.
If you have a Frontier account, you can view all trading, financial, grain and movement information associated with it, meaning you'll never need to request a copy of an invoice or contract, query a statement or search your office for a grain sample result again. You can also allow access to trusted members of your team.
MyMarkets gives you access to live prices for all the major global agricultural commodities from CBOT, together with insightful commentary from Frontier experts and live currency exchange rates. With the ability to open MyMarkets on any device, you have continued live pricing straight to your office or out and about - wherever and whenever suits you.
MyFarm Analytics helps you to benchmark crop production costs so that you can assess the data in the context of your own business. The service, coupled with the experience of our advisors, can help you drill down into the costs associated with overall rotational planning, variety selection, soil husbandry, cultivations, weed control and wider crop inputs.
Farm performance metrics are compared anonymously to that of other growers in a secure digital environment, allowing you to draw comparisons and get a better understanding of what's appropriate for your business. The current year's performance can be compared to agreed budgets and previous seasons.
To request more information about MyFarm Analytics, email

This email address is being protected from spambots. You need JavaScript enabled to view it.

.
Get started with MyFarm today
Discover the benefits that MyFarm can bring to your farm business.
For any queries or assistance regarding MyFarm, contact the below
Helpline 03330 141141 | Email This email address is being protected from spambots. You need JavaScript enabled to view it.


*MyFarm is free of charge and available to all Frontier customers. Subscription charges apply for MySOYL.