Flexi N
A nitrogen risk management tool
Nitrogen is the key driver for crop yield and quality but its price is heavily influenced by market volatility, which can make it hard to manage costs. Flexi N is a risk management tool designed by Frontier to protect buyers from the highest costs in the season through offering a stable market averaged price from May to March for those who commit.
---
The benefits of Flexi N
Take advantage of Frontier's buying power to lower your costs
Delayed payment for fertiliser when committed and delivered as per Frontier's terms
Guaranteed market averaged price for applicable products
Proven quality, industry-leading products.
Nitrogen price volatility is influenced by many market factors, including climate issues, supply and demand rates, politics, oil/gas prices, currencies and production pace. Any one of these could cause an unexpected rise in fertiliser values during the season, which could impact growers looking to buy.
However, at Frontier, our significant buying power allows us to purchase nitrogen through the course of the season regardless of market volatility. For our customers committed to Flexi N, the benefit is that we can offer nitrogen products at a market averaged price from May through to March. This protects members from unexpected or significant price rises when buying fertiliser and means nitrogen costs can be spread out through the year.
---
How much could you save?
The graphs below shows the price of Nitram on farm compared with the average price for the same period offered through the Flexi N service.
Although no two seasons are the same, if you're concerned about volatility you'll see that it is possible to smooth out the risk by using Flexi N.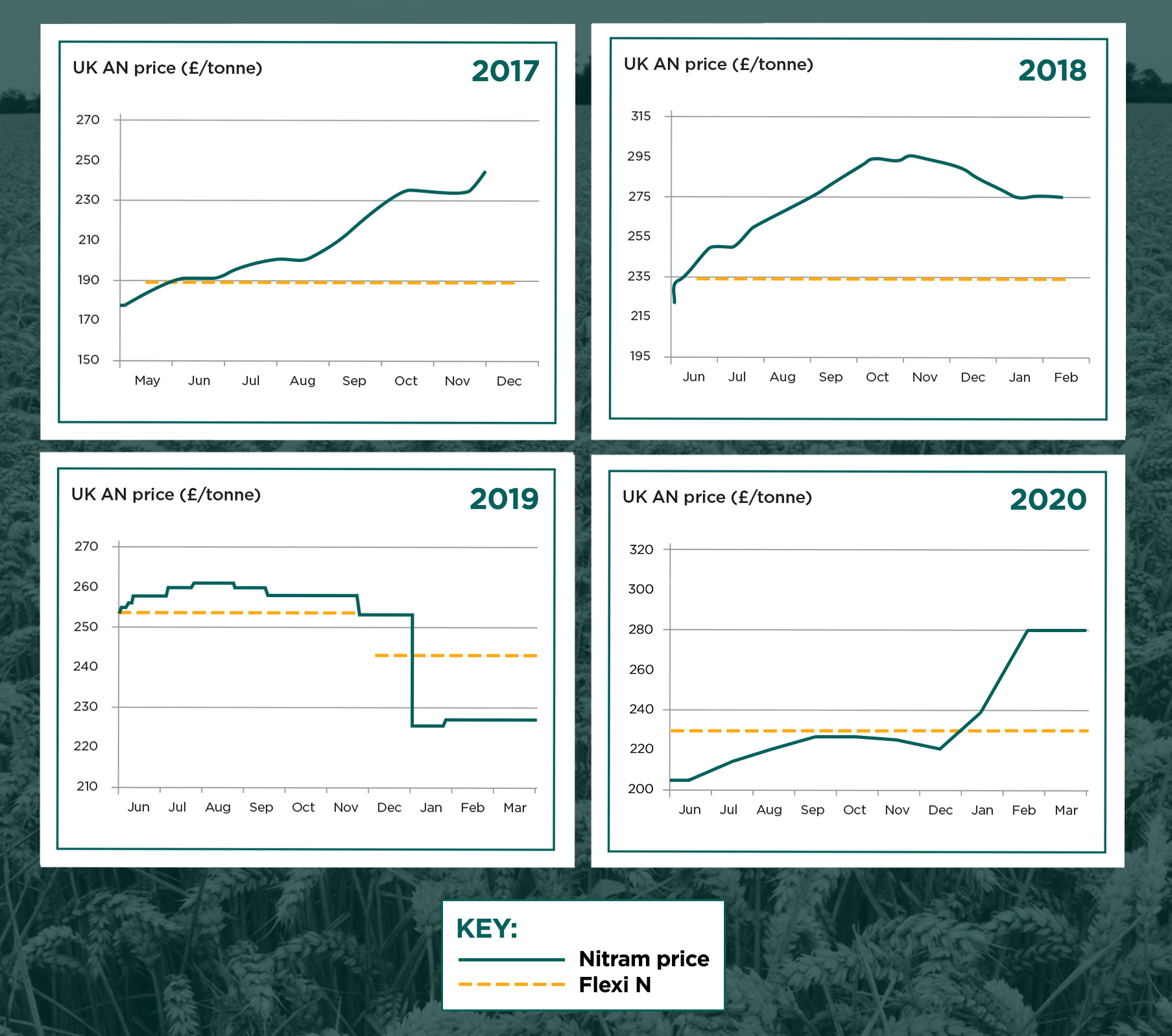 ---
Flexi N Schemes

The Flexi N scheme can be used against the following products:

Nitram – 34.5N

Pack sizes available in 600kg or 1,000kg bags.

Harvest Flexi N

Spring Flexi N

My Tracker Flexi N

Minimum commitment

2 full loads

Payment

20/02/24

Delivery

Minimum 50% May to July and remainder September to November.

Minimum commitment

2 full loads

Payment

20/05/24

Delivery

Minimum 50% October to December and remainder January to March.

Minimum commitment

3 full loads

Payment

20/04/24

Delivery

Minimum 1/3 June to July, 1/3 October to November and remainder January to February.
---
How to join
Anybody can commit to the Flexi N scheme. If you would like to express an interest in joining and find out more, please get in touch with your local Frontier farm trader. Alternatively, you can call us on 0800 227 445 or email This email address is being protected from spambots. You need JavaScript enabled to view it..