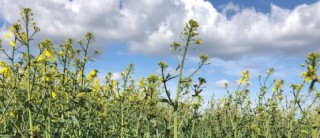 With some long overdue rain finally dampening seed beds in the past week, oilseed rape drilling is now well underway for many parts of the UK.However, for some of us the fields are already playing host to thousands of OSR plants, well before we've even set to work putting next year's crop in the ground.

These early occupants haven't come from the drill but have emerged straight from the soil instead. This strangest of seasons and earliest of harvests has highlighted more than ever the scale of oilseed rape volunteers left in field seedbeds from previous years.
Increasingly we look upon these volunteers as a cause of concern, rather than a happy boost to OSR establishment. We regard them either as a source of competition for our drilled varieties; reducing their access to nutrients and raising chances of lodging, or as the potential cause of a more recent trial for the OSR grower: high erucic acid content.
Erucic acid
After the 2016 harvest saw a noticeable increase in the number of OSR loads with high levels of erucic acid, the European Union has moved to reduce the legal limit from 5% to 2%. Potential rejections or hefty claims for breaching these levels have pushed the farming industry to look for options to manage the risk, searching for causes and possible solutions to the upwards trend of erucic acid levels. There are the obvious possible culprits; high-erucic-acid weeds such as charlock and hedge mustard, or cross pollination from local High Erucic Acid Rape crops (HEAR). However, oilseed rape volunteers are under increasing scrutiny as a potential contributor.
Clearfield
Good news for OSR growers comes in the form of Clearfield technology. The system combines seed varieties and BASF chemistry that allows for post-establishment removal of oilseed rape volunteers and weeds whilst leaving behind a healthy oilseed crop. The results can be astonishing, as thick canopies of volunteers give way to the clearly drilled lines of Clearfield varieties:
Even better news is that the remaining Clearfield plants are now a 'known quantity'. Whilst certified seed is bound to the legal limit of 2%, in reality all seed crops come in far below that. Frontier works to a maximum of 0.5% erucic acid, with the highest level in Frontier-grown certified seed from 2017 being just 0.07%. We can therefore be confident that the seed being sown will not be the source of erucic acid in the subsequent crop.
With the removal of the majority of the volunteers, charlock, and hedge mustard, we are cleaning out other potential sources, not to mention relieving competition pressure on the true OSR crop sown.
These advantages of establishment and weed control mean that more hectares than ever will be drilled with Clearfield varieties in the coming weeks; an excellent example of how improvements in seed breeding technologies can play a major part in crop production strategies, helping growers with the challenges in the field and delivering greater certainty that the oil qualities will meet the end market requirements.
Images of the same field taken October 2017 (left) and April 2018 demonstrate the effectiveness of Clearfield in clearing weeds and volunteers

For more information on Clearfield varieties and agrochemicals or to order seed for this drilling season, please speak to your Frontier farm trader or agronomist.