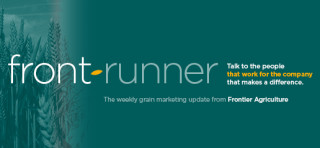 Problems accessing this blog? Click here to go to our main blog feed where you'll be able to see our latest post at the top.

One grain ship leaving a Ukrainian Black Sea port was sufficient for world wheat futures markets to come under notable selling pressure this week. US Chicago Board of Trade (CBOT) wheat fell to a six-month low.

You can also listen to the Frontrunner podcast - press play to hear the latest report. The report is read this week by marketing assistant, Faye Lee.