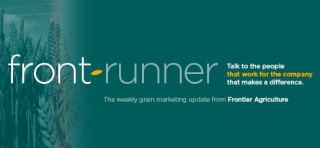 Problems accessing this blog? Click here to go to our main blog feed where you'll be able to see our latest post at the top.

The General Authority for Supply Commodities (GASC) made its largest single wheat purchase for over 13 years this week, buying 815,000 tonnes for shipment during August, September and October. Last weekend, the Egyptian Minister for Supply and Internal Trade said his country needed to import ten million tonnes of wheat over the next six months while having secured 3.9 million tonnes from local farmers and having wheat reserves sufficient for almost six months.

You can also listen to the Frontrunner podcast - press play to hear the latest report. The report this week is ready by marketing assistant, Becca Russell.